The Hurricane Club

Both refined and junky—broccoli with Cheetos? Yams with homemade ranch dressing?—at Park Avenue Autumn, chef Craig Koketsu cooks the kind of food that I like to eat.
The food at Hurricane Club, a dark, glossy, multi-level restaurant that looks more '70s-art-deco-adaptation than Polynesian, is even more snacky. A few cocktails, a selection of pupu and a shared plate or two is more than enough. It's a scene for nibbling not a multi-course meal.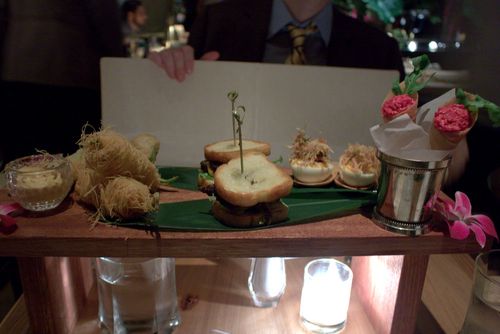 In fact, you're only presented with a cocktail and pupu menus when you first sit down. I would've preferred seeing the other dishes before making a choice. The Imperial Platter showcases a selection (not up to you) of five of the nine offerings ranging from Asian-ish fried, taro-wrapped shrimp to new American near-cliché in the form of beets, toasted walnuts and goat cheese tucked into cones (don't let Andrew Knowlton and his hair hear about this). The finger sandwiches with peanut butter, guava jam, prosciutto and Thai basil were as distinct as the croque monsieur spring rolls were muddled. Devilled eggs, meant to be Samoan in some fashion, rounded out the set.
Not only are the drinks not particularly tiki (most of the rum is found on a separate list to be taken straight) they were surprisingly unsweet, so much so that it almost felt like they were making a statement with their bitters. Take us seriously, please. The only place I drink sweet, fruity cocktails is at Cheeseburger in Paradise because come on, garnishes a.k.a. garnimals wearing miniature sunglasses? I prefer a stiff drink yet my #17 (Montecristo spiced rum, coconut, lemon grass, kaffir lime and coconut nib bitters) from the Boat Drinks section, teetered so close to savory that I almost felt like I was drinking food. I'm not saying I didn't like it.
The peking duck-style pork was decadent, an undeniable success—and pricey. Positioned right in the center of the menu like a bull's eye, the not-so-subtle psychological nudge worked on us. Besides the awkwardness of trying to fit angled chunks into the fluffy steamed buns, the meaty + fatty + crispy skin combination made a more than fitting substitute for the more typical rich poultry. Ginger sauce was an interesting extra, but the traditional hoisin, cucumbers and scallions did the job by themselves.
Sides were a gut-busting mistake with the amount of food we already had ordered. The bean thread noodles with a Thai basil pesto were much heavier than I expected, thanks (or no thanks) to the parmesan.
I loved the Asian patatas bravas, though. I imagined there would be a red blanket of Sriricha to mimic the spicy, Spanish-style tomato sauce but these potatoes were completely unique, fried hard for an extra crisp exterior and cut thick enough to maintain soft middles. I worry about such stubby cuts veering into horrible steak fry territory. A mystery sauce (I couldn't see it from where I was sitting) is poured over the potatoes tableside and is pure umami. All I know is that bonito flakes are involved and that the liquid is pale, possibly clear—maybe it's infused oil? An ultimate bar snack, these would probably be even better with beer.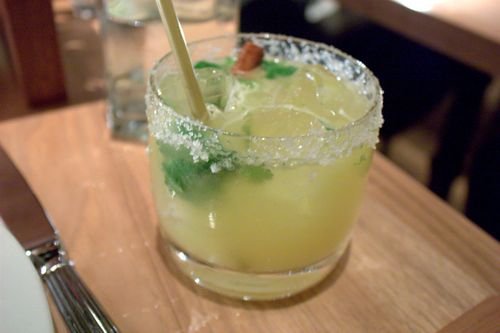 After I knew the score, I went straight to the Strong section of the cocktail list, no playing around with creamy and the fruity. The #88 (Patron Silver, kalamansi, cinnamon bitters and house made triple sec) was like a pleasingly sour, bone dry, margarita (I wasn't expecting a salted rim) with an extra cinnamon hit from the floating roll of bark. It actually paired well with the fatty and rich pork and potatoes. However, the woman sitting at the table next to me sent hers back to be sweetened up.
 
The Spanish-speaking gentlemen on my other side were sharing a bottle of Chardonnay, so obviously, not everyone was enjoying the cocktails. Much of the Friday evening crowd appeared to be kicking off their night, taking the club part of the name seriously. The wine drinkers, kind enough to offer us some of their sweet potato fries (those sides are heavy!), had Greenhouse in their future. Me, I was just trying to figure out how The Smiths snuck onto the bass-heavy play list. Sixteen, clumsy and shy? Not on Park Avenue South.
The Hurricane Club * 360 Park Avenue S., New York, NY