Bread Bowls 'R' Us
Like taco salads served in fried tortilla shells, it's hard to take a bread bowl seriously.
The starchy serving device was the butt of a joke on Weeds a few weeks ago. In what will likely be the only amusing blip of the entire season, Andy remarked to his new boss, a snobby French hotel chef in Seattle, "I noticed you're still serving things in bread bowls. That is so '80s."
A few months ago on the JFK Airtrain, a loud man with a heavy Brooklyn accent discussing where to eat on the way home, described a chicken salad in a bread bowl as "bangin'." I immediately wanted to know where they were going and swear I heard "Jordan's." The only Jordan's I know is a lobster place, promisingly near the airport, but there's no bread bowl on the menu that I can see.
In August I read Tao Lin's Richard Yates (as part of the Rumpus Book Club, which has been some of the smartest money spent in recent history. I've read more fiction in 2010 than I have in over a decade, years lost to the internet. Don't tell anyone, but I only thought to read anything by Richard Yates because of this title. Last night I finished The Easter Parade and am still processing it. I only watched Revolutionary Road on the flight from Bangkok in March because I was so bored and had so much time to kill—I had no idea the story was so bleak. I wonder if everything Yates wrote is full of the kind of loneliness and despair you shouldn't curl up with on a 20-hour-flight) and liked the book more than I thought I would even though I probably wouldn't like the author who seemed to be very much present in the protagonist, Haley Joel Osment. Uh, but he and Dakota Fanning refer to bougie, white trash types as "cheese beasts" initiated by Dakota Fanning's mom bringing home crab Rangoon, pretty much my favorite junk food ever. Being a major cheese beast, I took offense. The shorthand could've easily been replaced with bread bowls.
But to the point, I had no idea that San Francisco is the epicenter of bread bowl culture. I knew better than to stroll around Fishermen's Wharf, but it had to be done, if only to try and dredge up some tucked away nostalgia from barely remembered childhood visits.
I don't remember all of these hawker-type stalls with pre-scooped loaves of sourdough waiting to be filled with chowder and shrimp salads.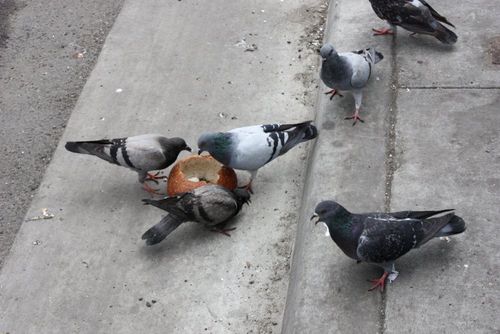 The pigeons might love bread bowls even more than the tourists.
This bird was using a stale loaf as an edible perch.
One cheese beasty/bread bowl-esque activity I long grew out of is buying souvenir t-shirts on vacation. Then again, I just don't wear t-shirts.
1983: I was bought a lavender sweatshirt that read San Francisco in an electric '80s script and had geometric shapes floating in the background. I loved it so much that I completely over-wore it in sixth grade. A fact directly broadcast to me by Nathan, a biracial popular kid (his being the only black male student in our class raised his social standing) who punched me his first week as a new kid in third grade because I corrected him when he asked, "Where's the libary?" No one likes a goodie two shoes (even my mom who replied, "that's their business" when I told her that Nathan said his parents smoked pot—and they were cops!). "How many years have you been wearing that sweatshirt?!" he chided. It totally hadn't been more than a year; it probably just seemed longer. Thanks to the magic of Facebook, I saw photos from my double-decade high school reunion earlier this month and he was the only youthful-looking, non-obese person in the bunch. I imagine he's still popular.
1987: During a San Francisco pit stop on the way to Patterson that only involved my dad and sister, I bought an oversized Fido Dido t-shirt featuring the Coit Tower and some loopy text that ended with the line "sometimes I get lost but it's ok." That shirt never got made fun of (at least not to my face). Even though there isn't a Wendy's on the wharf now, I'm 90% sure that's where we ate that afternoon. I skimmed through some local alt-newspaper and fixated on a photo of a man in a band called Pray for Rain that I'd never heard of (I suspect this is the same person) and thought San Francisco must have much cooler guys than Gresham, Oregon. My sister and I tried tracking down a postcard with a photo of Andy Warhol to mail to our friend who insisted she didn't know who he was. He'd just died. Later, we got called "punkers" at a mall in Santa Rosa while eating See's candy on a bench, which is kind of the opposite of punk.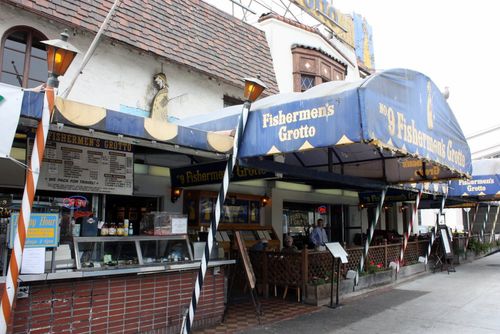 On this bright and cool 2010 afternoon, I wasn't planning on eating anything at Fishermen's Wharf. We still had a late lunch planned for Tadich Grill and Laotian food in Oakland for dinner. Yet I couldn't resist the lure of the festive, candy cane striped poles decorating Fisherman's Grotto, standing out like little rainbow beacons among bread bowls. I remembered those carnival-esque, giant birthday candles from an earlier visit, when they already seemed of another time, as anachronistic as the "hamburger sandwich" still being served on the Little Fisherman's section of their menu.
First, we peeked upstairs at the enormous near-empty dining room. The adjoining bar is amazing with shiny, blue tufted chairs, but it wasn't open. I'm certain nothing but the prices have changed since 1983, or even 1953, the date on the painting in the small ground floor bar where we settled into stools in the back and ordered two pints of Sierra Nevada Pale Ale.
A raucous crew of middle-aged men (truly middle aged, 59-61, give or take, not the current anyone-over-35 usage) ordering lunch and drinking red wine (wine is so not an elite thing on many pockets of the west coast) were hamming it up with the bartender, obviously a careerist, adept at engaging tourists as well as holding his own with locals. I never wanted to leave. The only thing missing was the presence of cigarettes, though the musty scent still lingered in the wood paneled pores of the narrow room, impossible to Febreeze away even 12 years after the 1998 ban decreed on a piece of paper tacked below the bowling trophies and above the busts of composers.
If I were unable to see the bay outside the open doors, I would've sworn we were in a classier Carroll Gardens social club. "Sicilian" was bandied about; some were Italian, some of their wives were from the Mediterranean island. Turns out that everyone including the bartender had grown up together in San Francisco and were having a reunion and seemed to be having a hell of a lot more fun that I would've at my high school meet-up that as going on this very same weekend.
Apparently, the wharf used be dominated by vendors with fresh crab. I did not ask about when bread bowls came on the scene.
We did order one, though. No disdain. Why was I feeling sheepish? It's merely thick, starched up clam chowder surrounded by baked sourdough, not a foodie scarlet letter necessitating BB to be scrawled across my chest.
We spent so much time soaking up the scenery that we threw off our whole day's schedule, barely making it in the door of Vientian Café before closing. I wouldn't have said that a bread bowl was a fair culinary trade for a plastic container of tripe-filled beef larb with fermented fish sauce, but the experience would've been.