Napa Valley Sunday
The San Francisco trip was semi-impromptu so securing a French Laundry reservation just wasn't going to happen. Besides, I'm not a "people who have BMWs or are looking at BMWs".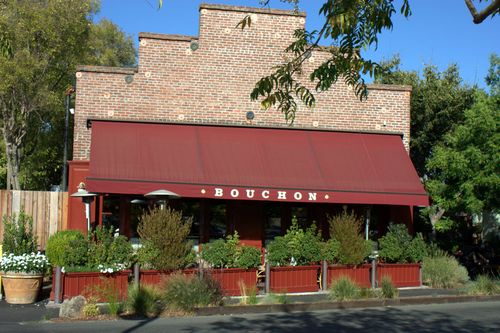 After a few winery pit stops (photographic evidence) we did poke around Yountville and ate at Bouchon, instead. I didn't feel inclined to blog my meal because I wrote about the Las Vegas location before, and I've been trying to wean myself from the practice. It's like smoking; I technically quit in 2003 but you might see a cigarette in my hand a couple times a week.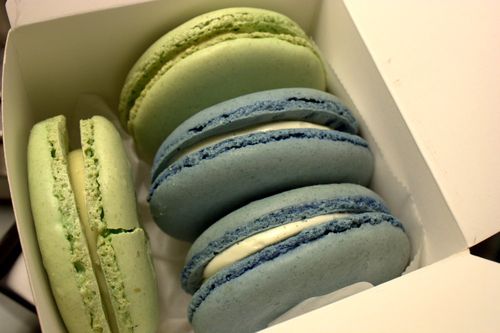 However, I did photograph macarons from Bouchon Bakery. I could really take or leave the cupcake of the foodie world. It's just a cookie, but I'm a sucker for rainbow hues.
And the blueberry wasn't just pretty to look at—there's no way the interior shade of azure is naturally derived—the texture and flavor was dazzling. Only a white cream layer is obvious at first glance, but there's also a swipe of deep blue chunky jam in the center of the substantial macaron. The pistachio one was fine, but couldn't compare to the boldness of the blueberry.
I've never been to the Napa Valley, and wasn't sure what to expect. Yountville, a mini neighborhood constructed around the presence of the French Laundry, was peculiar in its manufactured quality. I wouldn't say Disneyfied, if only because I loathe that shorthand, but intentional despite its nothingness like an outlet mall planted off a highway exit, a far flung Ikea on a street called Ikea Lane. It felt about 12 blocks long, which is about right if you look at the patch on a map.
The rebellious suburbanite in me wanted to wreak havoc on the pseudo tiny town. For one, I couldn't figure out how French Laundry's garden, directly across the street from the storied restaurant, could be open to the public without people snatching produce. What's to keep someone from pocketing a souvenir Jerusalem artichoke? "That's so Brooklyn" James chided, even though he had the same thought. Humans are not that good. If they're stealing serving vessels from Alinea, plundering gardens is a step down.
Greenhouse tomatoes and herbs begging to be picked.
Melons being my most loathed food, it took restraint to not bop one of these cantaloupes lazing under foliage on its webby noggin.
After a charcuterie plate, black cod and lobster with accoutrements that reminded me a lot of this tete de cochon from Eleven Madison Park, a cheese course including a Fleur du Maquis that tasted like pee-soaked hay (not saying that's a bad thing) and a few glasses of un-California riesling—oh, and a sherry—we set out to explore Yountvile after dark.
I rest secure knowing that while it's not something I'd do in NYC, I appreciate that public libraries exist everywhere. When I get older and move away to become more hermitty, I'll always be able to find work traumatizing the community from behind a reference desk. I wonder what kind of patrons use the Yountville public library?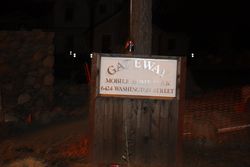 If you cross back over the main entry road from highway 29, the neighborhood tapers off into trees and half-standing houses in mid-construction.  The bad part of town? That's where you could sneak off and get high if you were a teen. I wanted to nose around the new development but a security guard was on patrol.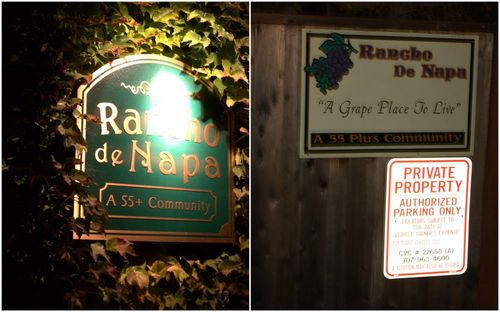 Instead, we trespassed into the over 55 community. As someone who's trying to escape the stroller-and-toy hegemony that plagues the foyers of every shared building in Brooklyn, I've come to the conclusion that the only place I could live in orderly peace would be in a complex of empty nesters.
And apparently, Rancho de Napa is a "grape place to live." What I love about the west coast is the normalcy of trailer parks. I've spent much time in mobile homes of various family members over the years. It's not trashy, it's thrifty. And this collection was comprised of more polite manufactured homes, many tricked out with multiple stories, showy panels of windows and manicured yards. It was dark, however, and I didn't want to use a flash lest we get run out of town. On a Sunday around 8pm, the whole village was practically in bed anyway, BMW-less visitors heading back from whence they came.