Haltun

Burritos get all the attention in San Francisco (and I did get one the size of tube sock filled with al pastor at El Farolito, which served as midnight snack and substantial breakfast) but Cal-Mex is hardly the only regional style available in the Mission.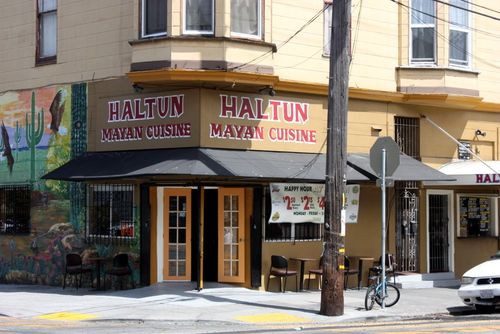 Yucatecan food was on my agenda, so I was thrilled to hear that my friend Todd had moved from Portland to an apartment around the corner from Poc-Chuc. Actually, he just said, "a Mayan restaurant," but because I am obsessive I knew which one he meant even though I haven't been to San Francisco since 1995. He was raving about a black turkey dish that sometimes had a mystery meatball floating in it. I loved the idea of random spongy meat showing up with your poultry.
With that said, we went to Haltun, another restaurant in the Mission, to see if they too plopped Mayan meatballs into the mix. Yes, they do. I must admit that my knowledge of this Caribbean-influenced style of cooking only comes from one meal at Coox Hanal in Mexico City, perhaps the equivalent of trying Southern food in NYC (which we seem to have an awful lot of lately), and from an episode of One Plate at Time. Clearly, I'm not an expert.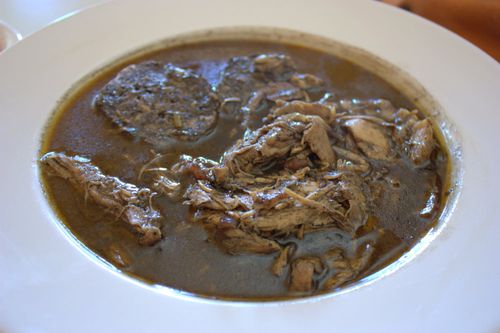 I do know that this dark, brothy dish gets its spooky color from charred chiles, often a mix of arbol and ancho. Charred is putting it mildly; the chiles are burnt and even the ash is incorporated into the mole paste. The meatloaf—it's much more than a ball—is made from pork. Apparently, Poc Chuc's version is less oily and more inky than sienna.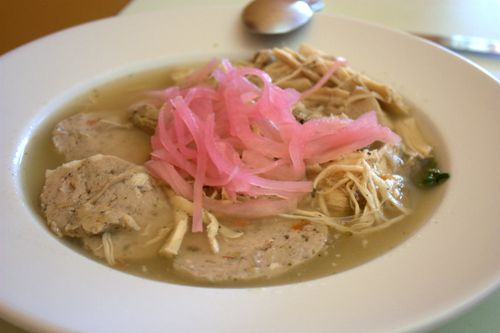 Relleno blanco is the good twin, similar ingredients minus the darkness.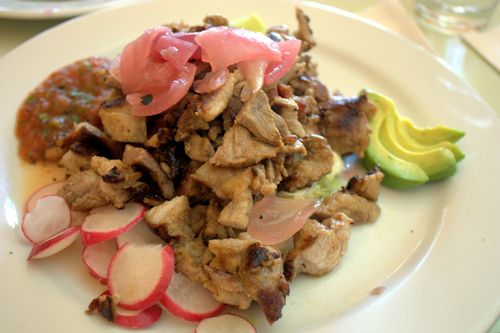 Me, I just wanted a big plate of grilled pork, the so-called poc-chuc de puerco. This wouldn't be out of place in many parts of Mexico; the Yucatecan touches were present in the pickled onions and potent salsa—habanero-usage is exclusive to this cuisine—served in a small glass dish with the circumference of thumb and first finger making the OK sign.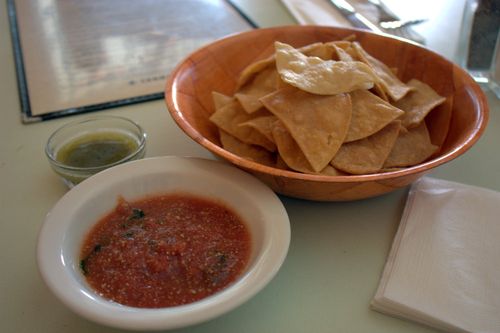 I'm pretty sure that's crumbled cheese in the red salsa even though it looks a little like Thai roasted rice powder.
While it's no LA or Chicago, I'll always defend NYC's Mexican cuisine (I'd say San Francisco fits somewhere in the middle). Still, we rarely get thick and pliable corn tortillas fresh of the comal like this. Handmade tortillas make all the difference, which reminds me that it's very neglectful of me to have not visited Corona's Tortillería Nixtamal yet.
A banner affixed to the exterior wall described a happy hour and "Mayan tapas," my favorite abused word. We were outside this time frame, but tapas meant appetizers so we tried a few at full price. Pol-can was a lima bean and pumpkin seed fritter made out of corn-based dough. Very new world.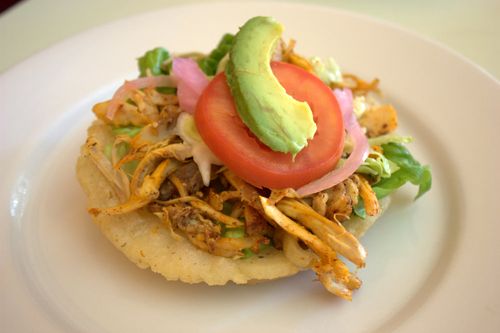 Salbutes, or salbut' as spelled at Haltun, are like tostadas. These fried tortillas were topped with chicken. I haven't seen these in NYC, but panuchos, a close kin, are served at La Superior in Williamsburg.
Haltun * 2948 21st St., San Francisco, CA