I think this might be a record between a visit and a closing; Katmandu Spice is already closed. (9/13/10)
Queens is a melting pot, sure. And sometimes that pot bubbles right over. Whether or not you enjoy the culinary chaos might depend on how you feel about eating Brazilian, Nepali and Chinese-Indian food cooked by the same chef.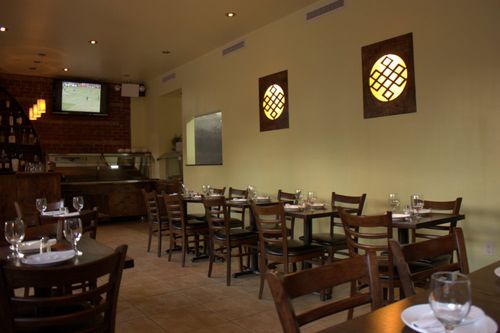 I will never say no to novelty, so Kathmandu Spice, closer to the Irish end (after dinner, I was getting into the scene at the The Cuckoo's Nest until they turned off The Smiths, flipped on the strobes and the techno DJ took over) of Woodside, lured me in. Sadly, others weren't so convinced. Not a single other diner showed up during our visit on a prime Saturday night.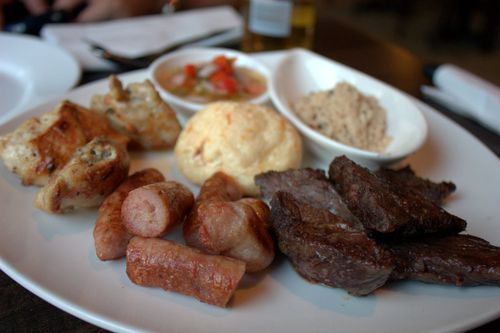 Oddly, we only ordered from the Brazilian section—I was more in the mood for grilled meats than momos or Manchurian chicken. The mixed grill contained a few chicken and beef chunks, breakfast sausage-like franks, farofa for sprinkling, and a vinegary salsa. It was a sampler but I could've gone for another pão de queijo even if this one was a little heavy on the bottom.
The peixe de praia is a very similar presentation, just with the addition of rice, beans and plantain coins atop the farofa.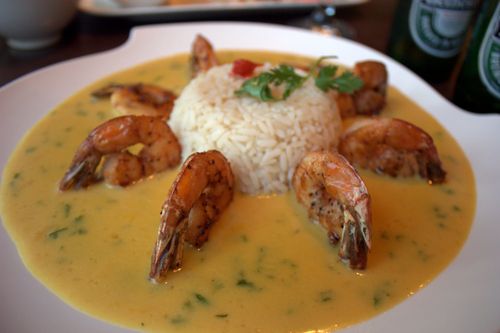 They weren't able to make the ensopado de frango, a chicken okra stew, so I opted for the bobó de camarão instead. I knew intellectually that the sauce was made of yuca puree, coconut milk and dende oil, but I kept thinking it was cheese with a hint of pineapple. Something about this dish seemed Asian, similar to a  Hong Kong fusion marrying American cheese with lobster. I ate it, and my leftovers too, so I wasn't put off by the mix. I'm not sure that I would order it again, if only to  give the Nepalese food a chance. Hopefully, diners will give Katmandu Spice a chance, period.
Next stop:  Indo Hut, the self-proclaimed "Indo Continental Bistro" covered in grand opening flags I passed this weekend on Queens Boulevard.
Kathmandu Spice * 60-15A Woodside Ave., Woodside, NY