Domilise's

While sweltering for close to 30 minutes on the corner of Tchoupitoulas and Poydras, waiting for the phantom bus 10 to whisk me to my po' boy destination, I had two inclinations: one, to faint (not from hunger—the problem with vacation eating is that I can never conjure up enough appetites to cover all the meals I have in mind); two, to give up and get in the line at Mother's, the tourist fave we were standing in front of. I'd already had po' boys at Mother's on my previous two (pre-digital photography) New Orleans visits, though. That would be pathetic.
After walking a few blocks down Tchoupitoulas to the next bus stop to see if a change of scenery would change our luck, we caved and flagged down a taxi to take us the five miles east around the bend to Domilise or Domilise's, depending on what you read. (Yes, we could've just taken the St. Charles streetcar, and we did on the return, but I thought we were outsmarting it because that involves a long sweaty walk, the trolley isn't air conditioned and using Tchoupitoulas is more direct.)
I haven't eaten enough po' boys in my life to have stringent standards. I would hope to recognize if I were eating a bad version. These were not that. Roast beef is popular, but to me that isn't much different from a hoagie, sub or your sandwich parlance of choice. What I don't often encounter in the NYC area are fried seafood sandwiches. These I associate with New Orleans.
Of course, there was that little matter of the Gulf oil spill. I did not anticipate shellfish being on menus they way it was. Either the local seafood wasn't affected or they're not using local product. I hate to say it's probably the latter and may have always been the case (you can never assume that the food you're eating–even in places known for their cuisine–came from the immediate area). I did not ask. I can enjoy my fried, breaded nuggets without getting all locavore about it.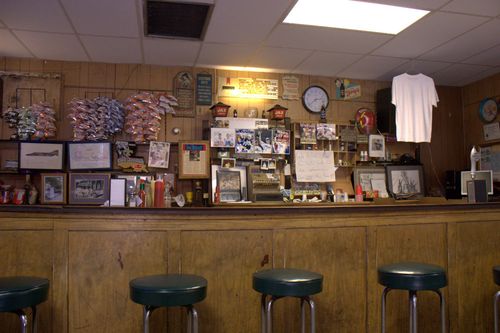 Yes, Domilise's derives much of its charm from its frozen-in-time digs. You order at the counter where the women in the family seem to man the cooking station, and order drinks at the bar where a spry, older gentleman hands you beverages amidst faded ads for Jax beer and Manning brother memorabilia. More than a few businesses in New Orleans were using mechanical cash registers.
A dressed shrimp po' boy full of shrimp nuggets. I'd read complaints that they skimp on shrimp, but this isn't paltry to me. Dressed at Domlise's means lettuce, tomato, pickle, mustard, lots of mayonnaise…and ketchup. I don't recall ketchup on others I've eaten. Very American flavors. Yep, it's a sloppy mess, though the sludge layers well with the warm, crispy shrimp and crackly crusted, fluffy bread.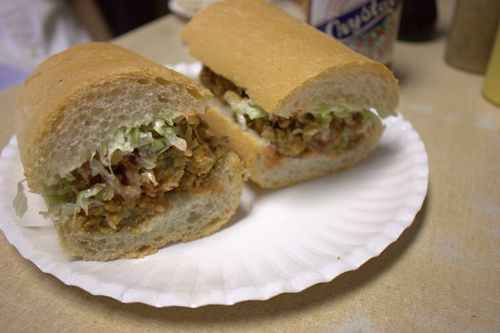 The oyster version happens to looks a little more dressed at this angle, but in all, not much different in appearance from the shrimp. Meatier, moister and flatter than than the shrimp, the oysters meld a bit more with the sandwich. This is a small. Large is four slabs.
Domilise's * 5240 Annunciation St., New Orleans, LA