Commander's Palace

Bold turquoise with turrets, white trim and jaunty stripes like a birthday cake of wood and shingles, as popular with men in bowties as with visitors flaunting the jackets preferred rule (purposely or not, I'm not sure), Commander's Palace is exactly the type of Tavern on the Green restaurant I avoided on my previous two visits to New Orleans. Now older and more nuanced, I can respect frippery. My last trip in 2004 I stayed at loft 523; this time, Le Pavillon, where I'm still marveling over a fireplace being employed in sweat-drenching July to evoke grandness, air conditioning bills be damned.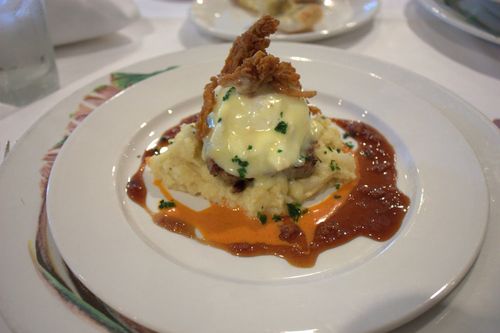 And the food wasn't bad. It's way over the top, though. When people ask, "What was the food like in New Orleans?" I think of this appetizer. The brunch includes a starter, entrée and dessert. I only ate this last weekend and I've forgotten the exact components because the fat clouded my brain (or maybe all those sazeracs caught up with me).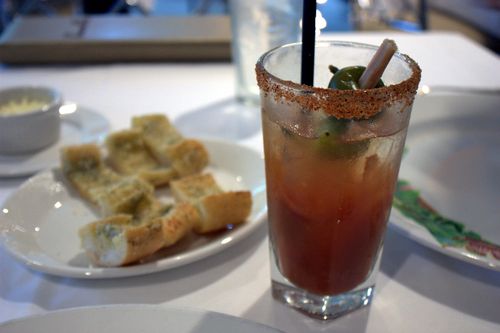 It was all a bloody mary-fueled blur of creamy, starchy foundations, eggs and multiple sauces crowned by fried bits. What I distinctly remember is that the hollandaise is made with bacon fat! Take that. And I did (which is why I'm trying to eat light and fresh as possible during August—I need to lay low nutritionally so I can overindulge again while in San Francisco over Labor Day). There is also cheesy garlic bread served with more butter.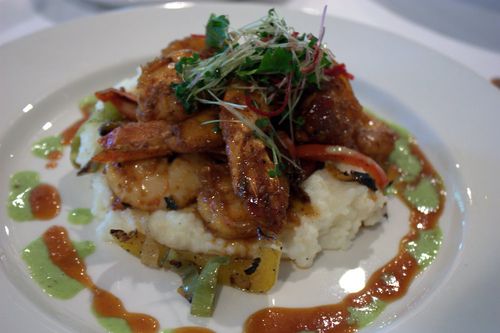 That would've been plenty, but the main dish was still to come. Shrimp and goat cheese grits. What I wasn't expecting were the mild hoisin and ginger flavors.
Eggs cochon de lait—a signature brunch dish—hits all the decadent notes, and hard: suckling pig "debris," gravy, flaky biscuits, poached eggs and…bourbon-bacon fat hollandaise. I couldn't even try one bite of this because my shrimp and grits had knocked me into a savory stupor.
I rarely order dessert anymore. Declining isn't an option at Commander's Palace, though. If I am going to do a sweet course, New Orleans is the place to do it because they showcase my favorite flavors. I'll always choose nutty and caramelly over chocolatey or fruity. Ok, there was chocolate in this pecan pie, but it was all about the buttery goo and the fleur de sel caramel sauce added just enough dimension to keep me from dutifully eating one bite and calling it a day.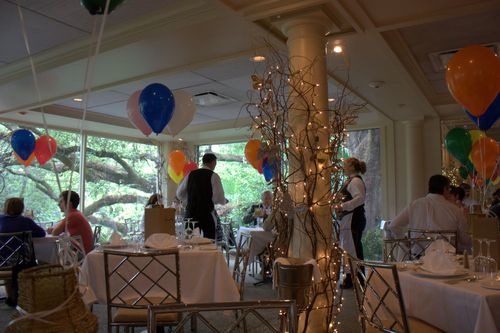 The balloons in the garden room (definitely worth requesting for the tree house effect) weren't for a party. It's always a party at Commander's Palace. The roving jazz trio played "Happy Birthday" twice, and I didn't have the heart to make them play it a third when they asked if I had any requests. I'm afraid that I came across New York brusque when I said no, but it was more a matter of having no idea what would be appropriate to ask for. After they broke into "Blue Skies" I had a better idea of their repertoire.
Commander's Palace * 1403 Washington Ave., New Orleans, LA