Battered Herb Syndrome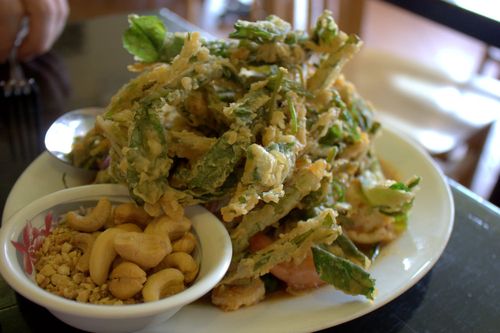 Even though it's crowded on weekend evenings, the spice level isn't always what it could be and worthy nearby competitors aren't scarce, I still rely on Sripraphai for a regular Thai food fix. It's the crispy watercress salad. I know this dish in and out.
Yet, on this Sunday afternoon visit (my second day in a row in Woodside—first for Jollibee, then back to Queens to replace a fried cable box. I need my True Blood and Mad Men. Did you know that the Time Warner office inside the Queens Center Mall is the only location in the entire city open on Sundays?) I was served a slightly different rendition than normal.
There was an unusually tall, fluffy pile of battered watercress sitting on top. More generous than I've seen before, the translucent golden stack gave the dish a more bountiful feel. The ratio might seem off, but once you mix things up and baste the herbs, chicken and seafood with the intensely savory goop resting at the bottom of the plate, the components settle down and mellow into a nice still-crunchy sog.
And the small ceramic dish filled with both chopped cashews and a small handful of whole nuts? It blew my mind. Well, almost. Self-garnishing is new. I don't even recall a crushed nut element in salads past. I liked it.
In a reversal, the drunken noodles did not come with the typical little dish of chile-spiked fish sauce. Shenanigans. Is the Sunday chef putting their own spin on the standards?
Next time, I'm in Woodside, I will force myself to try Centerpoint Thai, one block west of Sripraphai. There's no way that tales of a battered, fried papaya salad can go uninvestigated.