Xie Xie

Last year, when I was looking for worthy alternatives to the banh mi (which I still love), I kept waiting for Xie Xie to open. They took their sweet time, and so did I. Only now have I gotten around to sampling a few of their Asian sandwiches.
Part of the post-2007 high-end chefs going casual trend (I celebrated my birthday—not saying which—at Angelo Sosa's short lived Yumcha back in 2005 when he was still cooking "serious" food) Xie Xie successfully turns bread and filling into something exciting. Too bad they didn't even crack New York's Best 101 Sandwiches.
Both the bbq beef and the pork sandwiches contained meats that seemed very American despite all the accouterments. The tender short rib was akin to brisket despite the soy and sugar, basil mayonnaise bridged cultures while the carrot kimchi tasted purely Korean. The squishy sesame bun just made more sense than a baguette.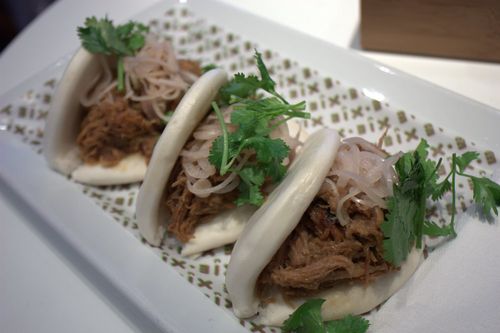 Rather than the pork belly slices you often see tucked into steamed buns, they used pulled pork, sweetened by hoisin and oyster sauce. Oddly enough, the addition of pickled onions and cilantro made this handheld meal taste Mexican. If you've ever eaten Yucatecan cochinita pibil, you'll recognize the flavors. Just swap buns for corn tortillas.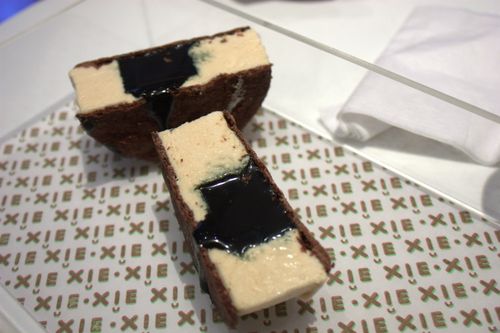 I am prejudiced against no foods except melon (yes, even watermelon) but I won't be able to tackle a 1,000-year-old egg for quite some time. The most violent stomach sickness I've ever experienced period (to be fair, I'm pretty sure I had flu the entire vacation and was not food poisoned) occurred after a big meal at the famous roast goose restaurant, Yung Kee in Hong Kong. The dark gelatinous center of the fermented egg was tough going, but Xie Xie's 1,000-year-old ice cream sandwich was a delight. I love how they approximated the same gooey blue-black color for their salted caramel center.
Xie Xie * 645A Ninth Ave., New York, NY