La Nacional

I wouldn't say that I'm one of those I've been going there since before you were born when things were better types. Yes, I remember Sripraphai when it was a single-room operation, and I'm suspicious of the new valet parking-and-reservations Tanoreen. Even though I believe there is no glory in gloating at newcomers, I feel a little sheepish about having never visited La Nacional till now. I'll never know its grimy, pre-renovation beauty.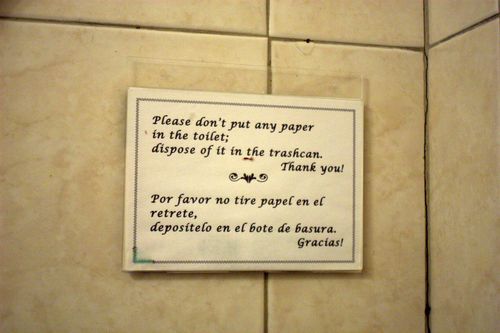 The new iteration is hardly shiny and modern, though. While commonplace in Mexico and Thailand—my last two foreign frames of reference—I never encounter the quaint please no paper in the toilet plumbing in the US. That's charm! And bizarrely, I was faced with the exact bathroom situation the very next day at Ocean's 8, a subterranean Prospect Heights pool hall/sports bar that appears to be in a former movie theater.
La Nacional's tapas are derrière-guard and old-fashioned, relying heavily on garlic and olive oil, not spherification or food play. The dim windowless main room with a spruced up checkerboard floor, is crying out for a haze of cigarette smoke. Clean air is the most un-Spanish thing about the scene.
/p>We ordered enough tapas to constitute a meal: patatas bravas, garlic shrimp and oblong and round croquetas filled separately with chicken and shrimp. Shades of brown and orange dominated.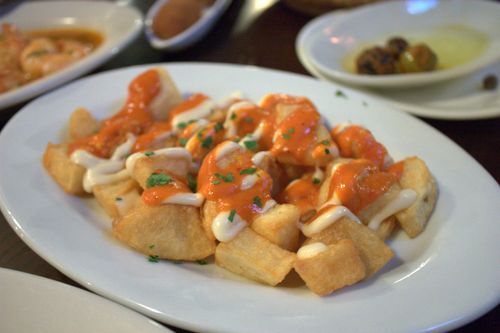 The patatas bravas were perfunctory, but lacking a super hot interior with seared edges. They could've been more golden. Huh, I have seven totally different patatas bravas in my Flickr stream, more than I thought. Maybe there is no universally agreed upon style.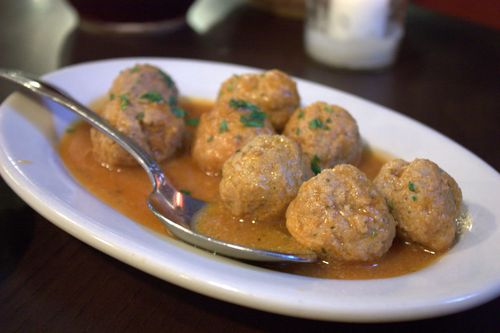 These albondigas, a pork-veal blend, were very soft and springy. Meatballs are on trend, right?
The two men on stools with similar taste in hats were easily 35 years apart in age.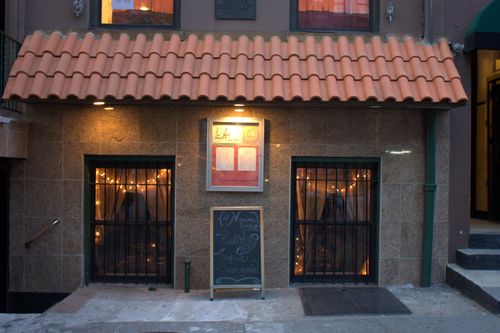 It turned out that we didn't need to order any end-of-meal cheese. We peeked our heads into the art opening that was taking place upstairs at the Spanish Benevolent Society, and wine, Manchego and chorizo were for there for the taking. I did stuff a few bucks into the donation jar.
La Nacional * 239 W. 14th St., New York, NY