BJ's vs Costco: A Showdown
No, I don't plan on becoming a freebie review blog or purveyor of haul videos anytime soon. I do have a fondness for suburban big box retailers, though. And if they ply me with baked goods, trial membership and a gift card, I will see what's what at BJ's Wholesale.
Being from the Northwest, I've always been a Costco loyalist, and am currently a member. And I'm guessing more New Yorkers are too, since Costco tends to be closer in on subway lines (Sunset Park, Long Island City, Harlem and Staten Island) even though you really need a car at least for the day to make the shopping trip worthwhile. BJ's also has four NYC locations: Starrett City, Flushing, College Point and the Bronx. Canarsie is on the horizon.
I set out to compare new-to-me BJ's to Costco, my old standby, in Edison, NJ where I normally shop once a month. (Oddly, there was just an article in the Wall Street Journal sizing up all of these warehouse clubs.) Memorial Day wasn't likely representative because so many people were out of town; the place was empty, a total breeze to navigate. I won't let the ease of shopping sway me.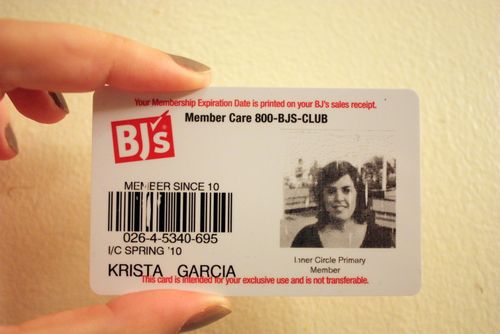 Sad as it sounds, both my grainy black-and-white Costco and BJ's card photos are about as flattering as a snapshot of me gets. I actually like this photo and my Costco one too (I've misplaced that card).
I only have a handful of things I regularly buy or look for at Costco. James has the bigger list so I used his as a checklist.
He was looking for:
Scoop Away litter in big buckets
Coke Zero
Frozen shrimp
Rotisserie chicken
We found all of these….er, and then some. This is what we ended up with in our cart.
2 packages of Scoop Away
1 case Coke Zero
1 case Seagram's Ginger Ale
1 box of 18 Kashi granola bars
3-pack of Melita cone filters
1 bottle of 1,000 vitamin C
1 case of 36 cans Fancy Feast
1 bottle folic acid
1 rotisserie chicken
10 lbs Tyson chicken wings
1 pack of 8 13-watt mini bulbs
1 6-pack Fage yogurt with honey
1 2-lb bag jumbo shrimp
1 loaf rosemary pugliese bread
1 bottle Clorox cleaner
2-pack Roc night cream
Where BJ's Wins
One of BJ's selling points is that they take manufacturer's coupons. I don't use coupons so that didn't do anything for me. The biggest differences were hours and payment methods. Costco pisses me off that they close at 6pm. I get a late start on the weekends, rarely making it out of the house by 3pm. BJ's is open till 10pm so they win on that count. Costco only takes Amex, BJ's takes all credit cards.
The biggest coup, though, may have been the $8.99 six-packs of Fage. I've been waiting for Greek yogurt to come to Costco for ages. I prefer the plain 2% since I add in my own agave syrup but I'll take the ones with honey if need be.
Apparently, Coke Zero is only occasionally at Costco (I have no interest in soda). BJ's did have it.
Along with Edison, Linden, NJ is our other favorite New Jersey suburb to hit. It's the closest town to the Outerbridge Crossing with good shopping. The Linden BJ's, which we didn't visit, has gas. Staten Island is the only nearby Costco location that has a gas station.
Where Costco Wins
I like raw shrimp in bags, not cooked. Costco has both forms in various sizes. BJ's had an entire end freezer case of shrimp but only the bag of jumbo came uncooked. I prefer extra large.
I drink seltzer water like crazy and only saw San Pellegrino in cans at BJ's, no other brands. I didn't see my usual 1 liter plastic bottles of Vintage brand.
The New Jersey Costcos carry alcohol while BJ's does not. BJ's does sell liquor in their NYC locations, but I try to avoid suburban stores in the city because they are disappointing.
To be honest, my favorite part of BJ's was the worldweary 40-something staffer with a Dorothy Hamill haircut (I'm dating myself) and the firm yet pleasant personality of a flight attendant (more stewardess, really) who was drumming up interest for a free giveaway. She was hanging out next to the rotisserie chickens, chatting into a microphone that wasn't projecting over the intercom. I tried to ignore the spiel, but James caved just like the rest of the group that formed around her platform at the end of the frozen food aisle waiting to get a free sample of the ShamWow-type product she was talking up. She had a different approach than Vince Offer, but she had a style of her own. Performance over, I spied her on our way out the door, sitting inside the model tool shed next to the entrance, cigarette in hand. The bad kids hangout.

So, it kind of sounds like on Team BJ's. We just renewed our Costco membership in March, so I won't be reevaluating this very important situation until next year. I'm pretty sure we'll give BJ's our business in 2011, though.