Pikayo

So, I've now tried $38 "mofongo," which looked an awful lot like $7 mofongo, just smaller. Ok, it was tastier too—smoked chunks of bacon have a way of transforming anything, and the shrimp, peas and saffron broth created a lighter paella effect. Frankly, the serving size was perfect. If you've ever eaten mofongo (and the funny thing is that most eateries in San Juan assume you haven't—I'm guessing New Yorkers are at least aware of its existence) you know that the mound of fried plantains mashed with garlic and chicharrones, is a gut bomb. A pinnacle of mofongory can be found at Chinese-Dominican Sabrosura in the Bronx where I once ordered a yuca version that whose leftovers stuck with me for days.
Pikayo, chef Wilo Bennet's high-end restaurant, happened to be in our hotel, The Conrad. Sure, I'll try upscale takes on local cuisine, especially when so many of the showcase restaurants in other hotels were beefy American chains like Ruth's Chris Steakhouse, BLT Steak or Strip House. (I took James to the original Strip House location for his birthday in March and never wrote about it because I've been trying to wean myself from the photograph/blog everything affliction. It was great, but not what you need to be doing while on a tropical island, even an American-ish one.)
My original intent was no photos, as the fancier a restaurant, the less appropriate it feels. But I brought my camera along just in case (it's not like I couldn't have ran up the two-flights of stairs to our room to retrieve it). It was fine; Pikayo, and much of San Juan, felt more Miami than NYC (I could just be responding to the ubiquity of stilettos and child-sized skirts). You might be spending a lot of money, but you'll be doing so informally. The wine cellar is a focal point of the room, though if you want to sip a caipirinha like I did (followed by a glass of Albariño) that's fine, too.
Not knowing if San Juan was on American or Latin dinnertime, we made reservations at 8pm to be safe. The room was filled with English chatter. By 9pm the entire restaurant was echoing Spanish and had transformed into a polished, 40-somethings-plus tablehopping scene. Everyone seemed to know everyone. High society.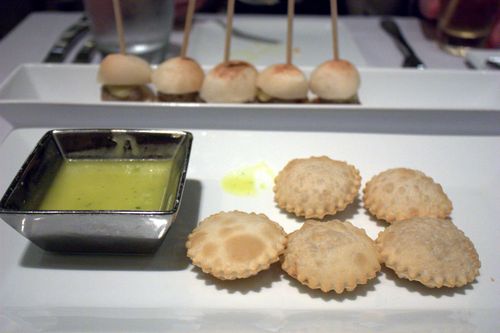 First, we started with a few very snacky "pikaydera" selections from the menu. The mini pork belly burgers were a little dry and I wanted to taste more of the gouda. Lobster empanadillas served with what I think was yellow pepper-infused clarified butter, were just decadent enough in their two-bite form.
While these were nibbles, the dessert was surprisingly hefty. We ordered the key lime pie to share (they really push the chocolate or cheese and guava soufflé that you need to order at the same time as your main dishes) and I expected a dainty deconstructed thing. Instead, we were presented with a substantial citrus custard surrounded by graham cracker walls and finished with a browned meringue tuft. The photo is a little deceiving; this tart was larger than a standard slice would be.
Just across the walkway from Pikayo was the hotel casino (I didn't realize this was a San Juan feature). James won a whopping $17.50 on a $5 slot machine gamble. Hardly a windfall, but it almost covered two drinks at the hotel lounge that had been commandeered by a sunburnt wedding party.
Pikayo * 999 Ashford Dr., San Juan, Puerto Rico