Fatty 'Cue

I knew I would like the food at Fatty 'Cue even if it was my third choice. Friday night I went looking for fried brains and bone marrow poppers at St. Anselm but they didn't appear to be in business yet. Foie gras pierogies will have to wait. I put my name on the list at Pies & Thighs, then before even sinking into the 15-person-crowd out front, gave up. At 8pm, a table for two at Fatty 'Cue down the street, was no problem.
My hesitation, why Fatty 'Cue wasn't destination one or two, stemmed from the spate of early online criticism. And after eating there myself, I am torn. I love the concept. And I love funky Southeast Asian flavors made American without being dumbed down. Pok Pok, the wildly popular Thai restaurant in Portland, is a stellar example of a restaurant doing this right.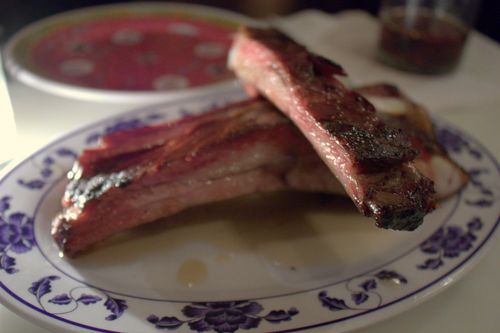 Lightly spicy, fish saucey, palm sugared pork ribs used the flavor combination of my dreams. But $4.67 per rib ($14 for an order of three—everything is served in threes, which makes splitting between two awkward and impossible among four) did seem a bit much.
Everything comes as it pleases, which is to say mostly all at once. Fun and festive or disorderly, depending on your perspective. Four dishes plus plates for eating won't fit on a table for two.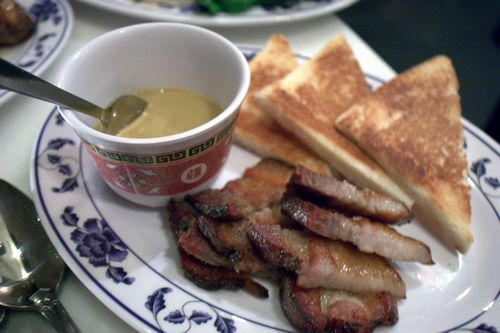 I didn't get a distinct coriander taste from the thick, meaty bacon, as was advertised, but definitely got the smokiness. The little cup contained steamed custard flavored with yellow curry, like a savory flan. It's meant to be spread on the toast points and topped with the bacon slices.

The smoked eggplant and anchovy nam prik is one of those dishes that would stymie a diner expecting more traditional barbecue menu, Asian-inflected or not. Nearby customers seemed confused by tamarind in the ice tea, so I imagine that this Thai-esque platter would be more challenging than baked beans for some. Sour green mango is one of my favorite vehicles for chile hot, fishy nam priks. This dip was more earthy-salty, nice with grilled garlic, blander radishes and crisp bok choy. Kind of healthy if you gloss over the chicharrones.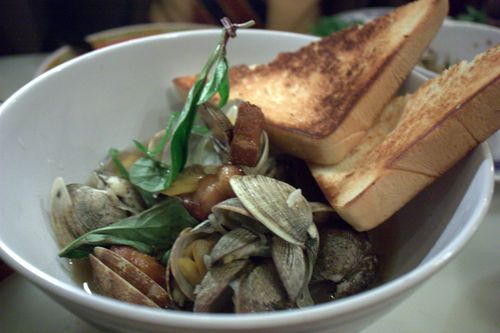 Smoky was the theme, also with the clams, rife with bacon and sitting in a pork bone broth. Texas toast was the most American part of the meal whether or not they call it dragon pullman toast.

Shoofly or s'mores pie just seemed weird, but I still wanted something sweet. The dark chocolate bar seasoned with Aleppo pepper, almonds and sea salt did the trick even if it felt more like you were eating a souvenir than a dessert proper.
Fatty 'Cue * 91 S. Sixth St., Brooklyn, NY