Bon Chon Chicken John St.

If you told me we were going to have two banh mi options when I first starting working way downtown, I might not have believed you. And Korean fried chicken? Not at all. I'm happy for the new Bon Chon, though it's still not clear who the target audience is for this location. There is a counter to order takeout in the back, a row of maybe five tables for four along one wall and a bar opposite them.
It is still more inviting than the strip mall Staten Island Bon Chon, which despite a few stools near the window, is very much a takeout operation. If you were an office worker looking for fried chicken takeout lunch you might be weirded out by the prominent bar (unless you're ok with drinking during the day–I've been tempted many an afternoon). If you wanted the dark, clubbier atmosphere from the Koreatown original, the bright lights and small space would put you off. On a Friday around 6:30pm, the clientele was maybe 65% Asian and mostly young, mixed with a few curiosity-seekers like myself, checking out the new digs before heading home. Residents of nearby dorms also seem like an obvious customer.
No arguments with the chicken. The skin is shiny and shellacked to perfection as ever, the air pocket between the crust and the dark meat revealed after the initial bite. We ordered both hot and garlic soy because I couldn't remember which I liked better. The hot, as it turned out, which isn't all that fiery.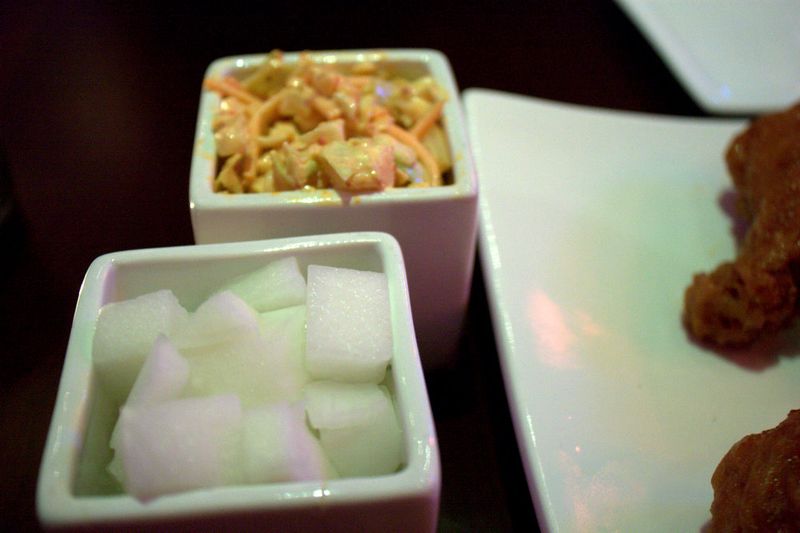 Kimchi coleslaw was chosen as our side (fries or a roll seemed odd) and came served in a little square dish along with the standard pickled radish. Fresh cabbage shreds, fermented cabbage hunks and a sparing amount of mayonnaise to hold the two together, wasn't exactly cooling but complemented the chicken.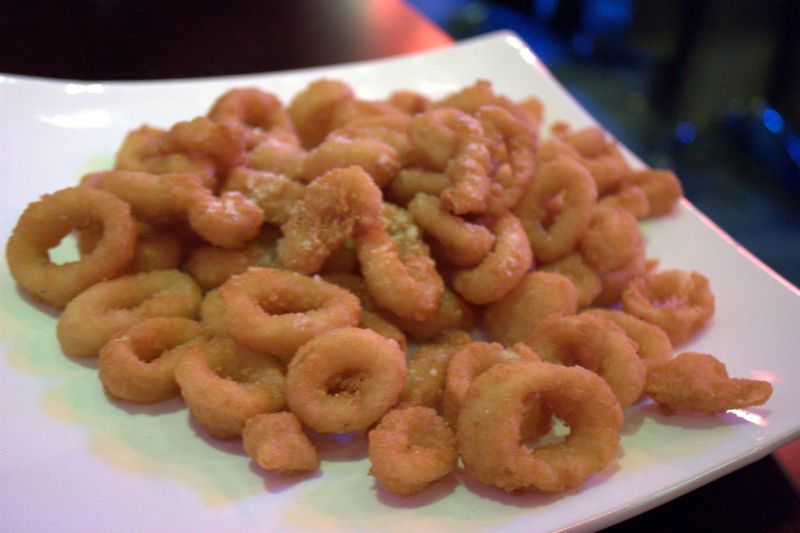 More fried food wasn't wise and breaded calamari rings are in no way special like the chicken. Like the chicken, though, they aren't wildly greasy.  I just didn't want a salad or dumplings and had already tried the pancake before.
I've not had good past experiences with sake cocktails and love the novelty of pitchers, so yes to beer and no to Asian pear soju. This Guinness/Blue Moon blend was like a giant black and tan—is that normal?
Bon Chon Chicken * 104 John St., New York, NY