In Other Words: Chains Are For Ladies, Cheap, Lonely Ladies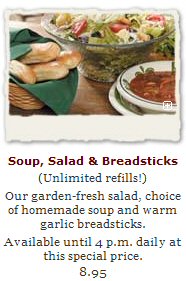 David Zinczenko is the new Hungry Girl. But instead of recreating Chili's Onion String & Crispy Jalapeno Stack with Jalapeno-Ranch Dressing using Fiber One bran cereal, Egg Beaters liquid egg substitute and fat-free ranch dressing and sour cream, the Men's Health editor shaves 1,000 calories from T.G.I Friday's Potato Skins…somehow.
Who knows because the recipes are hidden away in Cook This, Not That! Kitchen Survival Guide, a best-selling cookbook that spurred Alex Witchell of The New York Times to recreate Olive Garden's spaghetti and meatballs at home.
But first she had to acquaint herself with this thing called an Olive Garden. I didn't need a 101 but this observation was enlightening, "At the bar, every customer was a woman, some alone, some in pairs."
Ladies love their unlimited $8.95 soup/salad/breadsticks lunch combos? (Only $6.95 in NJ.) Chain food or not, I imagine it beats those 80-calorie soups Campbell's has been foisting onto eating disordered gals.