Arby's Brooklyn
What? So soon. I can't believe an Arby's couldn't make it on the Fulton Mall. (8/12/10)
Some restaurant openings garner more fanfare than others. This week we had Colicchio & Sons, Carteles and Village Tart. But Brooklyn's first Arby's was the only newcomer that spurred me into action.
Their decision to take over the Gage & Tollner space (previously occupied by a short lived T.G.I. Friday's) brought out Brooklyn's finest NIMBYism even though Arby's had to hew to historical preservation standards. No such considerations were given in 2005 when Niederstein's, Queens' oldest restaurant, was flat out razed for an Arby's, oddly enough. Brooklyn has higher sense of self worth it seems.
The end result being what might be the world's classiest Arby's. Spacious, with enough detailed dark wood, patina'd mirrors and near-steampunky light fixtures to be the envy every prefab speakeasy in the city. On day four, everything was still tidy, the staff uncharacteristically upbeat and polite for any fast food joint, suspiciously so for one in Brooklyn. If you do as directed by the sign behind the bell at the original revolving doors, "If your service was GREAT, please ring the bell," the workers break into a song-cheer. This is so totally ripe for abuse.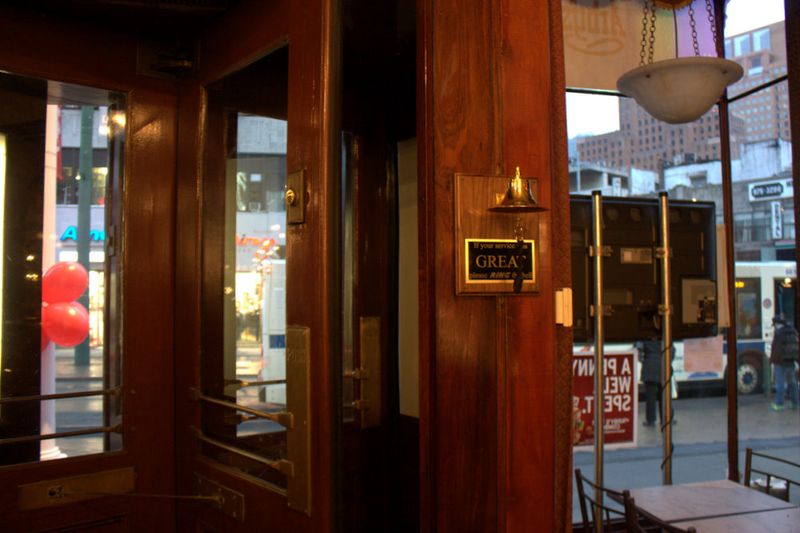 I'm fairly certain that I have not eaten at an Arby's since I was in high school. Freshman year I'd get a Beef 'n Cheddar and a Jamocha shake multiple times per week. The menu now includes salads, gyros, deli sandwiches and "Sidekickers" like southwestern egg rolls and mozzarella sticks. The core roast beef sandwiches now come in three sizes.
This was a regular. Ok, the Beef 'n Cheddar fills a similar void as Taco Bell, a fun facsimile that can become crave-worthy in its own right. If you want a real roast beef sandwich (I'm picturing Baltimore-style  pit beef) Arby's will not please you. The meat is thin and salty like Land 'O Frost (I don't think that brand exists in NYC) and the cheddar is orange and warm like nacho cheese. I happen to love processed cheese in all forms: plastic-wrapped, in a jar, spray can or foil-covered block.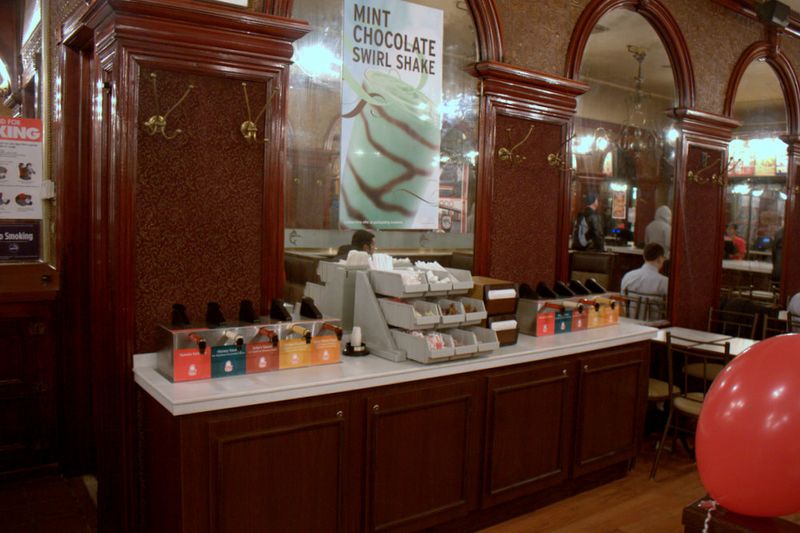 In my day we had Horsey Sauce and Arby's Sauce, a.k.a. sweet bbq in packets. That was all. Like someone who awakes from a twenty-year coma to givens like cell phones and thongs being standard underwear for women, I was dazzled by the condiment bar with self-pump service. Spicy Three Pepper Sauce? What else have I been missing out on?
Jalapeno Bites were new to me in this venue, but not new in the scheme of things. Poppers are right up there with crab Rangoon in my fried snack pantheon. These are served with a gooey candy apple red sauce called Bronco Berry. It's like sweet and sour.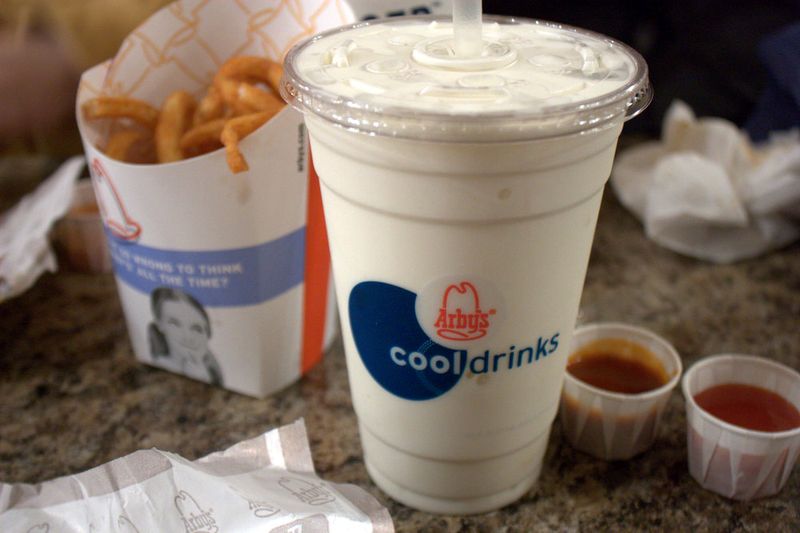 Blogging has its privileges; a man who I suspect was the manager (green polo rather than red) brought me a vanilla shake when he saw me taking photos. My loyalties can absolutely be bought, and they come cheap.
Arby's * 372 Fulton St., Brooklyn, NY