The Future is Now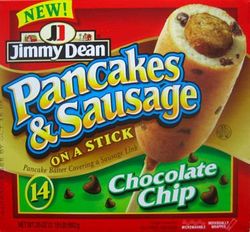 Just as I probably do every December and forget about it by the following December, I was going to say enough with the year-end foodie round-ups because I am old and perpetually crotchety.
Then I remembered that I'm guilty of contributing to the onslaught. I just covered fried chicken, banh mi, "rock star" butchers, pizza and a few other 2009 dining trends for Metromix.
I'm not much for predictions either. I wanted kalamansi to blow up for 2003, and well, I'm still waiting. I do think Peruvian will be the next big Latin cuisine, that Manhattan- Mex (Cascabel, La Lucha, Ofrenda) will continue to expand, goat meat will take off after we get through lamb and that mezcal (ok, I'm just on a personal kick) will have a heyday. Personally, I wish 2010 could be the year of the crab rangoon.
More on the near future:
Restaurants & Institutions favors pot roast, beer and eggs.
Chowhounders say food trucks for the non-L.A./NYC parts of the country, Korean as the new Thai and lots of stuff that's already happening like home canning and American charcuterie.
I had to double check Epicurious' pub date because their Top 10 for 2010 reads like trends for 2009. Ok, maybe just the fried chicken, babely butchers and lamb.
The National Restaurant Association's "Chef Survey: What's Hot in 2010" predicts the top trends will be locally grown produce (88%), locally sourced meats (84%) and seafood and sustainability (80%). True but boring. I like #77 traditional ethnic breakfast items (50%) and #157 mole (35%). Ack, #154 fiddlehead ferns, one of the world's creepiest foods regardless of taste, came in one notch above mole.
Food & Wine foresees better frozen food, butter and artisanal breakfasts.
In "A Look into The Future of Eating" The NPD Group says Generation Z will see the largest increase in heat and eat breakfasts among all age groups over the next decade. Toddlers and their Jimmy Dean Flapsticks.