The Farm on Adderley

Three-and-half-hours is a long time to wait for a table by anyone's standards. More so in a non-prime neighborhood like Ditmas Park even if said neighborhood got The New York Times' Living In treatment, "Moved for the Space; Stayed for the Food" (sounds good on paper) the very same Saturday you decided to poke your head in Purple Yam, their first Saturday in business.
Who knew there was such a clamor for upscale Filipino fare along the Q line? Tocino sliders on purple pan de sal would have to wait.
Still wanting to see what Ditmas Park was morphing into (I'd never stopped in the stand-alone-homes-with-porches enclave in the 11.5 years I've lived here) we settled for The Farm on Adderley, the type of rustic, dangling filament bulb restaurant that has overrun the northwest corner of Brooklyn but is still novel in the bulk of the borough. With their refined casualness, these bellwethers of a neighborhood's status are exactly the places I would avoid in my 20s for being too adult and prohibitively priced yet are now embraced by 21st century 20-somethings. Maybe that's a recent shift in taste, maybe that's just New York City. Do Middle American 24-year-olds dine on $20 organic roast chicken and drink bottles of biodynamic wine?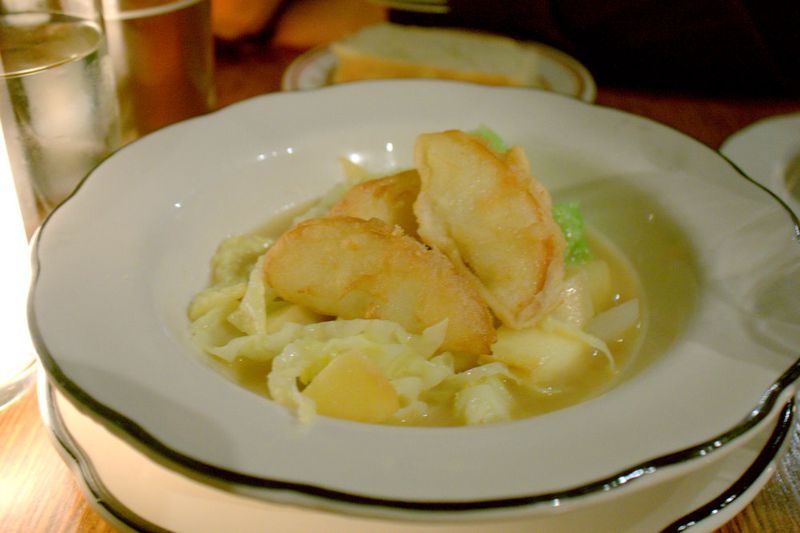 Apple tempura is certainly not something clogging the menus like homemade pickles, sausages and pork belly, though. A true novelty, the crunchy, lightly coated slices of mellow red apple sat in a porky broth dashing any notions that a fruit focused starter would be either vegetarian friendly or healthy. Autumnal, to be sure.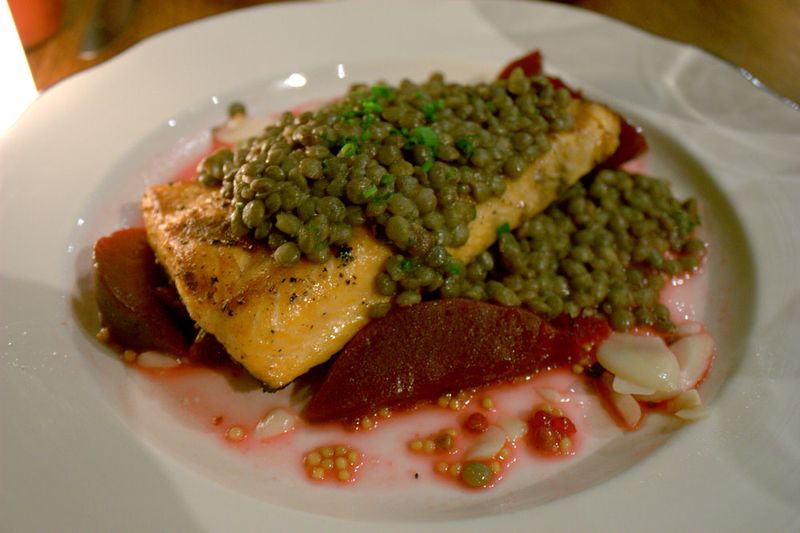 Meaty Artic char with lentils and beets clung closer to tradition. Pickled garlic was a nice touch.
Already having Buttermilk Channel and Chestnut walking distance from my apartment, it's not likely I will return to Ditmas Park for this satisfying yet not hard to find American style of cooking anytime soon. I am curious about fancified lechon, however, so Purple Yam it will be when the wait times simmer back down to normal.
The Farm on Adderley * 1108 Cortelyou Rd., Brooklyn, NY