T.G.I. Thursday's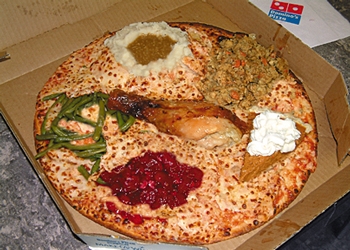 It's as if Thanksgiving is either for marathon kitchen duties or fine dining (even I'm guilty of perpetuating that). Who's to say you can't chain it up on our nation's day of gluttony?
Here is a selection of Thanksgiving options at chain restaurants. This is by no means exhaustive so  please let me know if you are aware of more.
Boston Market

This is kind of a duh Thanksgiving-wise since they sell turkey, gravy and the like year-round. You can eat a limited menu in-store or take advantage of their "Catered Holiday Buffets" starting at $9.99 per person that can also be delivered. Lane Cardwell, CEO of Boston Market says "Our traditional holiday meals help families spend more time making memories with loved ones and less time in the kitchen." The concept of intentionally making memories gives me the creeps.
Cracker Barrel
Starting at 11am on Thanksgiving
you'll be able to eat enjoy oven-baked turkey breast, cornbread
dressing, gravy, baked sugar-cured ham, sweet potato casserole with
caramel pecan topping, cranberry relish, your choice of a vegetable,
biscuits or corn muffins, pumpkin pecan streusel pie and a beverage
(excluding milkshakes) for a mere $8.99. Unfortunately, the nearest
Cracker Barrel to my zipcode is 47 miles away in Mt. Arlington, New
Jersey.
Dallas BBQ
Wouldn't a Texas-sized blue Hawaii (or even their new Bubbalicious cocktail with a shot of bubble gum vodka) and Hennessy wings be the perfect accompaniment for a turkey dinner? $14.99 will get you roast turkey, chicken vegetable soup, stuffing, baked sweet potato, cornbread, cranberry sauce and pumpkin pie at everyone's favorite cheapo rib joint Dallas BBQ. There appears to be no way to directly link to this special on their website but it is posted on Facebook.
Domino's
No turkey pizza but…they claim they will deliver 1.1. million pizzas in the US on November 26, a 50% increase over usual Wednesdays. "Thanksgiving Eve is one of our busiest days of the year," says Jenny Fouracre, Domino's Pizza spokeswoman.
Popeyes
Despite no hint of its fried nature in the official name, Popeyes' Cajun-style turkeys
have indeed spent some time in bubbling oil (though I don't think
they're cooked on site). You must place your order five days in
advance, but for some reason I have zero faith in the Court St.
location nearest me doing this correctly.
Ruby Tuesday
They are keeping it traditional with a $12.99 meal
that includes turkey medallions, mashers (a.k.a. mashed potatoes),
stuffing, cranberry chutney and snap peas. Not so traditional is their
apostrophe usage: "Thanksgiving Feast (Sized Just Right) for the Kid's"
You can actually reserve a table at the Times Square location (and
others) online. Fancy.
TGI Friday's
Did someone say half-priced loaded potato skins?. T.G.I. Friday's will be taking a contrarian approach and encouraging drinking and football over creating family memories. Says John Neitzel, president and chief operating officer, "We invite you to step away from the turkey and up to the bar this year. You'll find half-price appetizers including great new wing flavors, drink specials where they'll let us, back to back football games in HD and that 'Thank God It's Friday's' attitude you won't find anywhere else."
Thank God that attitude will be confined to 12 confined locations around NYC.
White Castle
Every year I say I'm going to try the slider stuffing recipe and every year I don't. This year I won't either but I like knowing that such a creation exists.
Thanksgiving pizza photo from Junk Food Blog.