Legal Sea Foods
Did I love it? Eh, it's purely a platonic relationship.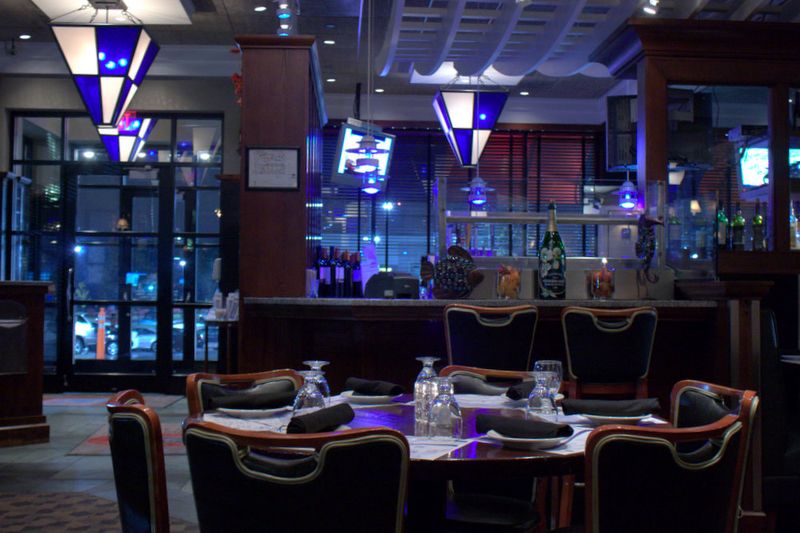 Not that I make a habit of frequenting higher end seafood chains, but my recent experiences at McCormick & Schmick's and now at Legal Sea Foods (not so much Bonefish Grill—I'm sad that I didn't have time to use my $10 ten-year [dating] anniversary gift card before it expired. If you don't mind giving out personal information, you can get promotional gift cards on your birthday and anniversary for registering on their site. I get off on crap like this) have felt a little desolate and dreary. I'm not sure if it's the economy or that I dine too late and the room has emptied out by the time I'm hungry (that's what eating sliders for lunch at 4pm will do to you). At 9:30pm on this particular Saturday, there were only five or so other tables occupied while on my previous visit in 2004 there was a solid 45-minute-wait.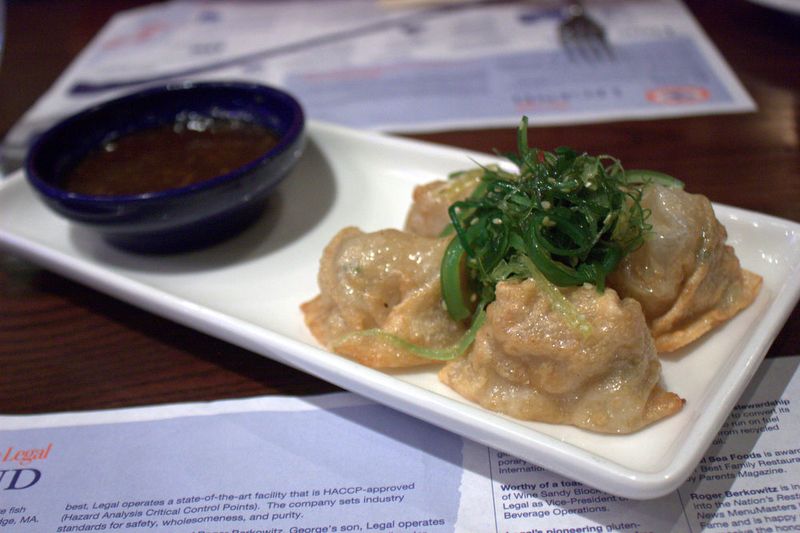 The shrimp dumplings–or rather wontons as they called them–were preferable to P.F. Chang's version. The shrimp tasted like shrimp and the wakame salad was refreshing for a chain appetizer.
Bizarrely, I liked everything about this special except the fish. The mahi mahi was overcooked and a bit lifeless, but I liked the Spanish-meets-fall flavors of kale, raisins and sweet potatoes. I'm not sure where the cashew crust fits in to all of that. I probably would've used pecans because that seemed more logical.
I've never been to a restaurant, chain or otherwise, so aggressive in talking up its wine. I don't need any prompting, as I'm one of those oddballs who always requires an alcoholic beverage with my chain dinners because I'm classy (one of the reasons why I don't gravitate toward fast food unless it's the daytime or super late night). But our server must've just attended a pep talk on promoting their Chilean wine, also boldly announced in an insert in the drink list. I think the Olive Garden servers are also supposed to highlight wine, but at least in the city they don't even make an effort.
We appeased him by ordering a glass of Cono Sur Pinot Noir, then he went into a spiel about how you can now take unfinished bottles or wine home due to changes in the law. (I was just going to say that I've never seen anyone actually take advantage of this, but the other night two women at Bocca Lupo ordered a second bottle between them. I admired their moxie. They did take a majority of that bottle to go, though.) Eh, I started with a cocktail so one glass was fine.
Speaking of wine, the next time I'm at the Garden State Plaza I'm totally eating at the Napa Valley Grille. There's something very twisted about attempting to emulate West Coast wine country inside a New Jersey mall. Even better though, would be eating at the Napa Valley Grille in Yountville. French Laundry? Never heard of it.
Legal Sea Foods * 1 Garden State Plaza, Paramus, NJ