Who Can Eat More Than Two Bowls of Pasta, Anyway?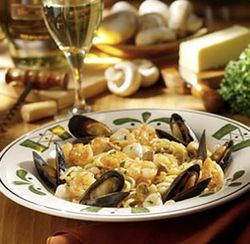 Times are tough for a chain. Red Robin is only giving kids a two-pack of blue and red crayons now instead of the four they used to provide. Bye bye green and yellow.
And even though I know suburban chains in NYC are often disappointing and expensive, I still paid a visit to the Chelsea Olive Garden Wednesday night. I was curious if they were honoring the Never Ending Pasta Bowl promotion that lasts until the end of this week.
When this Olive Garden first opened, it was packed and waits were long. Now, the handheld beepers are getting cobwebby. No one was waiting out front or in the lobby, we were immediately seated and empty tables abounded. And they were out of everything, the advertised Oktoberfest Sam Adams, the pork marsala in the glossy tableside advertisements. A total sinking ship.
And as on my last NEPB spot check, there is no evidence of the promotion anywhere on site. When you consider that my seafood portofino (which I chose because it was one of the few pastas under 1,000 calories—I'm one of those oddballs whose ordering is influenced by calorie posting) was $20.50—what food at real restaurants cost—why they keep the Never Ending Pasta Bowl under tight wraps is obvious. When we asked about the $8.95 all-you-can-eat special, our cheery but exasperated waitress (the guy sitting directly behind me in the attached booth was giving her and his date a horrible time, total domestic abuser) just handed us her corporate cheat sheet with the list of pastas, sauces and request that servers suggest unlimited meatballs to customers for an additional $1.99. I should've snapped a photo—who knows when these trade secrets could come in handy?
In the meantime, I'm curious about the all-you-can-eat-pasta night in the works at Locanda Verde. I suspect it'll be more than $8.95. Then again, you can get Spaghetti alle Vongole there for $1.50 less than Olive Garden's seafood pasta.