Sue Perette

1/2 Sue Perette, a play on superette, and possibly an homage to JOE'S S PERETTE down the street, home of famous prosciutto balls and missing letter U signage, recently opened on Smith Street in the former Café Dore space (which used to be a crepe place that I ate at back in 2001, way before I knew anything about Carroll Gardens and rapidly got a lesson in the laissez-faire, children run free local parenting style that wouldn't be tolerated in Sunset Park where I was living at the time). At least it's not another Thai restaurant.
Periodically I feel like a bad person for my lack of enjoyment in living in a desirable neighborhood and then resolve to try new things in hopes that I'll discover something to make me excited about Carroll Gardens. It's yet to happen. Sue Perette, thankfully, didn't add to my negativity, though.
At 7pm on a Wednesday, I was surprised that we were the only diners, and remained so until the very end of our meal when three groups slowly trickled in. I pegged Smith Street as an early bird zone considering that if you stroll around after 10pm on a weeknight you can literally hear crickets. A lot of passerbys did peek in the window and at the menu posted out front. I, myself, am hesitant to take a chance on an unproven restaurant with entrees over $20. Price could be part of it. Also new Wing Stop across the street might be more mid-week speed for many.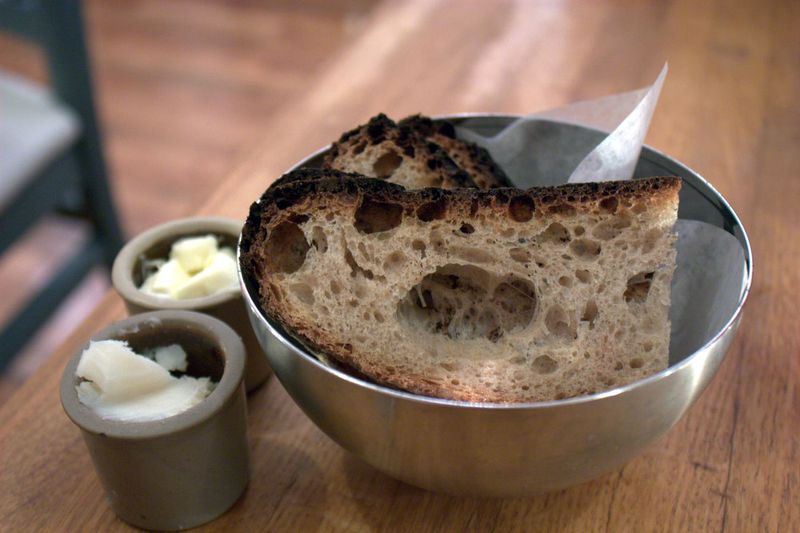 While a bit nondescript in looks, Sue Perette is more personable than generic–you know, the Luluc's and Bar Tabacs of the strip. It's one of those rustic, canning jar, no fear of lard restaurants. In fact, bread is served with both butter and pork fat.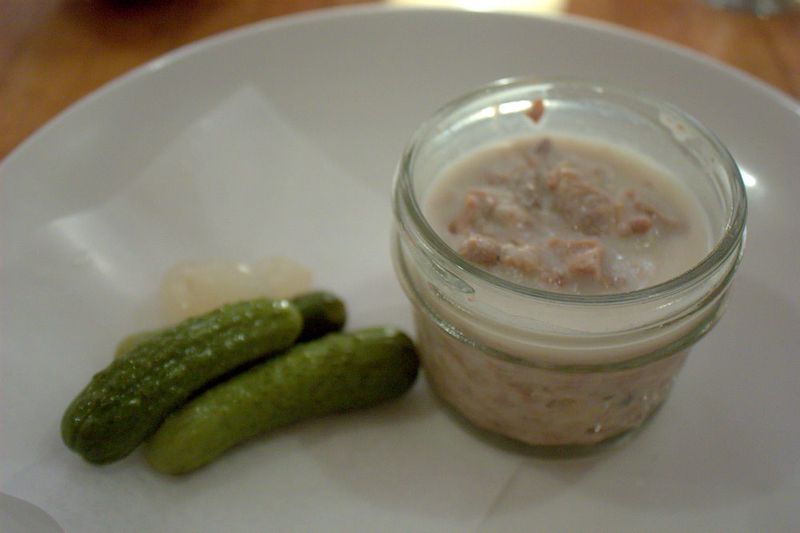 I didn't know that until after I ordered pastifret, a pate-rillettes hybrid, or else I might've thought twice about all the congealed white porcine products I would be ingesting and chosen something healthier. The creamy soft meat was served with traditionally sour accompaniments: pickled onions and cornichons.
The menu is brief and not radical in any way;  it's French country cooking that doesn't stray too far afield. I tried the double duck, a crispy rare breast cut into thirds atop scattered Brussels sprouts leaves glossy from chunks of confit. My original plan to only eat half and save the rest for another meal didn't work out. One, despite the richness, I still wanted to eat the whole portion, and two, duck is never the same after reheating, there's no way to preserve the skin and keep the meat from overcooking and turning livery.
I might be inclined to return and cobble together a meal from the snack section of the menu. The Brussels sprouts with duck confit can be found there served minus the breast. Polenta fries with parsley aioli also sound like they have potential.
We passed on dessert and had a nightcap at Brooklyn Social Club instead. Part two in my quest to ignite the flames of Carroll Gardens passion. I did like my Brooklyn (I just like rye—I wasn't going overboard in borough boosterism) but I wouldn't go so far as to say love.
Sue Perette * 270 Smith St., Brooklyn, NY