Caribbean Blues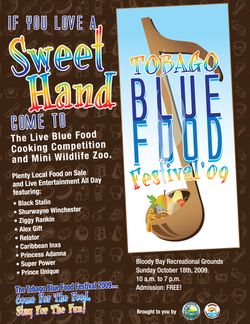 I've always had a thing for blue food—from the natural: soft blue cheese, to the invented: blue velvet cake, to exotica: Malaysian nasi kerabu.
That's why I was excited to hear about the blue food festival in Tobogo that happened this past Sunday. In my experience taro (which they call dasheen) really creates a more grayish mauvey blue, like how most Aviation cocktails turn out (though Rob Cooper's—the man responsible for the St. Germain blitz of '08–new more vividly violet Crème d'Yvette might just perk up the drink's visual impact).
The only examples I've found of food from this Caribbean festival aren't really blue at all, though the rundown on this blog is charmingly Bubba Gump-esque, "dasheen cheesecake, dasheen pizza, dasheen chicken with dasheen dip, dasheen ice cream, dasheen chips and cookies, dasheen pies, dasheen sweetbread and dasheen bread."
That's a lot of dasheen.