P.F. Chang's
Did I love it? Not until I had a few drinks in me and they began playing Morrissey (godspeed).
It's hard to judge a restaurant like P.F. Chang's. Compared to the Americanized Chinese food found on every NYC block, it's better on many levels. While it's pointless pitting it against Chinese Chinese food, I'd go as far as saying it's a suburban Shun Lee Palace. Less finesse and history, sure, but you'll get similar garishness and fanfare at a fraction of the price.
For comparison, P.F. Chang's has Philip's better lemon chicken, "Lightly dusted and quick-fried chicken served with broccoli in a tart, sweet citrus sauce" for $12.95 while Shun Lee Palace has $26.95 lemon chicken "Chicken breast coated with egg batter and rolled in water chestnut flour then fried till crispy, served with shredded lemon and a velvety lemon sauce." Ok, the latter does sound more alluring but I do wonder how different the two really are. And who eats lemon chicken, anyway?
Do not fool yourself into thinking this is Chinese food for those who can't handle it or are unable to discern the real thing. Initially, I was surprised at the number of multi-generational Chinese families waiting for tables at P.F. Chang's, but it's kind of silly to think that Chinese in America would only eat at restaurants with fluorescent lighting and delivery guys on bicycles.
Normally, I'm not one for sweet cocktails but you feel obligated to order one at a fancy chain. The lucky cat martini, despite containing vanilla vodka, pineapple juice and Chambord, wasn't that sugary. In fact, it was actually kind of bitter even though that makes no sense.
The dumpling heavy dim sum platter wasn't anything special. They steamed, filled crescents of dough weren't mushy but the fillings were all kind of dull and flat. Beef seemed indiscernible from pork and I prefer whole shrimp over a ground mousse. I do appreciate a crab wonton, though. The most fun was playing with the numerous sauces (there was an additional set off to the side). I'm a sucker for condiments even though the sauce they mix for you of hot mustard, soy sauce and chile paste seems kind of haphazard. What's wrong with eating each of those on their own?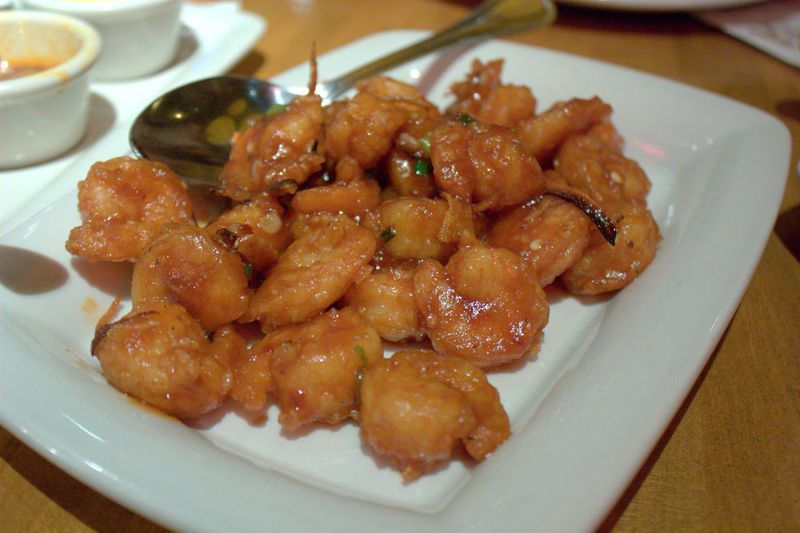 The entrees were stronger than the appetizers. Orange peel shrimp was tasty in that candied, crisp fried way that makes sesame chicken and general Tso chicken so appealing. The peel's bitterness did help balance the sweetness.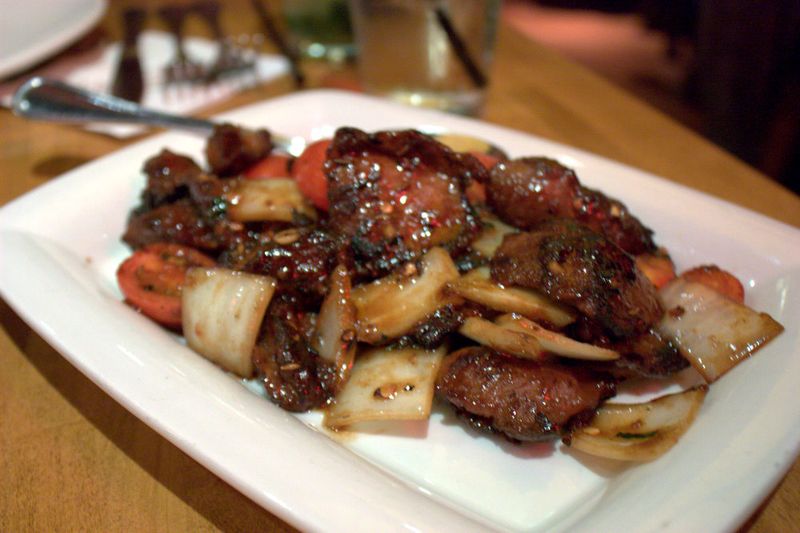 Chengdu spiced lamb contained thick, tender hunks of something. I'm not fully convinced that this beefy tasting meat was lamb at all. Even though this dish wasn't really like any Sichuan lamb I've had–it wasn't particularly cuminy or spicy– it was kind of good in its own way. The meat had a charred smokiness and the sauce had an unidentifiable savoriness, perhaps from a bean based chile paste.
$2 mini desserts seem to be the thing now. I also noticed them at Carrabba's. And they do suck you in. I would've said no to after dinner sweets but how much harm could a small treat cause? James had the small Great Wall of Chocolate. My incongruous lemon tres leches cake was confusing at it sounded. It was more like lemon pudding layered with graham cracker crumbs and reminded me of the desserts you find in Cooking Light. I frequently use the magazine for mid-week meals but their sweets are disappointing.
I got an eyeful of the plastic display Great Wall of Chocolate cake on its round metal tray on the way out and I'm almost convinced that you could spot it from outer space (urban myth be damned) it was that large. Mini desserts were wise.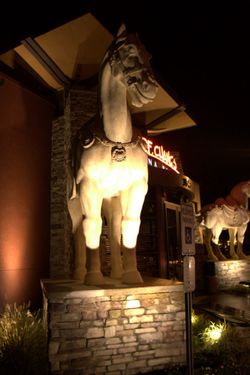 One chain hallmark is the music piped outdoors for the pleasure of patrons quoted one-hour-waits while being handed chunky plastic beepers. As I assessed this gargantuan horse statue of indeterminate dynasty, Suedehead was playing. The video with Morrissey gadding about Fairmont, Indiana, James Dean's hometown, tracing the young actor's steps, making a pop culture icon personal, an outsider surrounding himself in artifacts of no import. Riding a lawnmower, sitting astride an Indian bike, reading James Whitcomb Riley in a barn, passing time in a diner…um, and playing bongos in a cow field. 
Immersing myself in East Coast suburbs is a pilgrimage of my own. I can't help it that I get swept up eating American-Chinese food in New Jersey.
P.F. Chang's * 3545 US Hwy. 1, Princeton, NJ