Calexico

It's not really Calexico's fault that I've been so reluctant to try them. The neighborhood seemed excited to have their first bricks and mortar shop taking over the former Schnack space. I kind of miss Schnack and rarely have the craving for Ameri-Mex food.
Ok, technically this is Cal-Mex, and big burritos containing rice just aren't my thing. I'm still trying to pin down what Americanized yet served in Mexican-run taquerias style I took a shining to in Portland. These burritos were dense, compact and greasy, the size of a frozen grocery store burrito and crammed with meat like carnitas, sautéed onions arne refried beans, no cheese and definitely no rice. Very much not Mission-style. I miss these gut-busting anomalies.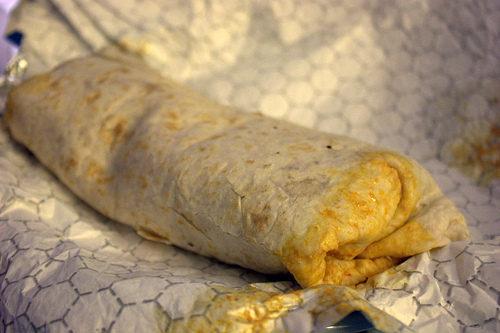 Calexico serves perfectly acceptable burritos with bold distinct seasoning. My only half-hearted beef was the uneven ingredient distribution; rice was on one side, beans on the other, and sour cream was all balled up at one end. I ordered mine filled with pulled pork that had an sweet-smoky flavor like the meat was bbq-sauced (I'm pretty sure it wasn't) and nice vinegary tartness from the pickled onion, but I'm not sure if it's that's what I want in a burrito. However, I could imagine this pulled pork being great on a torta or cheesed-up in a quesadilla.  
I'll probably try them again. Calexico is close to my apartment and inexpensive. This hefty fare is good for the cold weather that has set in coupled with lazy television watching. Sedentary stoner food, really. I've been so burnt out and tired lately—so much so that I forgot to take a photo of my burrito's insides—that pot is the last thing my body needs. But if it's your thing, you'd probably enjoy a Calexico burrito as part of the experience.
Calexico * 122 Union St., Brooklyn, NY