Belly

Even though I was only in Eugene for less than 24 hours, there was no way I was going to let any hippie food into my system. Brown rice, tempeh and soyrizo have a way of creeping up on you.
Not me. Instead, I sought out Belly, a pork-centric, small plates restaurant that had an Aviation on the menu. Could I get the same without leaving Brooklyn? Sure. At least I thought so initially. Now that I think about it, we don't really have a restaurant like this in my neighborhood or else I would go eat there and stop whining about Carroll Gardens. Belly is smaller and more rustic than, say, Buttermilk Channel.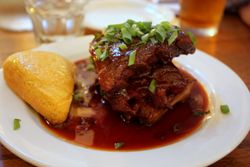 I dined with five others and shared a few dishes. Even the vegetarians were happy with options—that might be one difference between Eugene and NYC where you're likely to only find a token dish or two free of meat or else get used to eating pasta and salad.
The pile of stacked baby back ribs were served with a spiced molasses sauce that was actually pretty heaty. The cornbread was good for soaking (the word sopping kind of creeps me out) up the pool of sauce.
These might be the only vegetables I got in my system that whole week. Shredded beets flavored with mint were refreshing. While yogurt makes sense, I'm fairly certain the white dollop was crème fraiche.
My main dish was a bit hearty for late summer oxtail-stuffed tomato with spaetzle. I liked the tender shreds of meat against the springy pasta. 
I've never thought of oxtail as being an oddball meat—it's beefy—but it seemed to freak out an old college friend I was eating with and I happened to catch part of My Life on the D-List where Gloria Estefan took Kathy Griffin and Rose O'Donnell out to eat Cuban food and they were completely traumatized by the idea of eating oxtails. Flan, too, for that matter. That's just weird.
Belly * 291 E. Fifth Ave., Eugene, OR