Pok Pok

Originally on my list of Portland to-tries, I ultimately omitted Toro Bravo from my itinerary. I went Spanish on a recent visit to Philadelphia. Do I really need to try tapas, good as they may be, in every US city I visit?
The same could be said for Thai food, a cuisine I'm more particular about, maybe because it's so messed up so much of the time. I'll eat chorizo and gambas practically anywhere, no problem. I'm not taking chances on a weak, watery papaya salad that tastes of lime juice, sugar and nothing else, though. I already knew Pok Pok wasn't going to serve soggy pad thai doused in peanut sauce. Chef-owner, Andy Ricker has been all over the glossies as well as the blogs (as a Gresham native, I couldn't help noticing that Austin is from Sandy, Oregon). I imagine he knows what he's doing.
And it's not even close to a secret. Add Pok Pok to the list of Portland restaurants that don't take reservations for groups under six, engendering 45-minute-waits. I was on vacation and the food lived up to my expectations, so it didn't kill me. But if I lived in the neighborhood I could see it being a frustrating Lucali-like tease. This photo was taken as I was leaving and the crowds had died down.
The most unusual part of the Pok Pok experience is that in their striving for authenticity, half of the seating is outdoors. The thing about outdoor dining in Thailand is that, um, it's in the tropics and you're eating fiery food under intense heat and humidity, all punishing and part of the experience. Portland is all fir trees, moss, slugs and dampness, more pot roast and potatoes in front of a fireplace. The incongruity of a frosty Singha and tongue-searing som tam in these temperate environs was jarring. I've often said that I would enjoy Southeast Asian street food more if the weather was kinder. I just didn't picture it like this.
We took whatever we could get, as did the majority of the wiser Gore-Texed, polar-fleeced customers also waiting to dine. Who knows how long it would've taken for an indoor seat? On this sunless, late summer Sunday, the temperature was 60, if that, with intermittent bursts of rain. I was wearing short sleeves, a sweater and light jacket and was a touch chilled. In NYC they would've had heat lamps. Oregonians are hardier people.
Papaya salad with shrimp (I'm now wishing I'd tried it with the salted black crab) was the hottest thing on the table and I appreciated its intensity. Painfully spicy and tart, very much in a Northern Thai vein like most of the food here. This isn't a restaurant for rich, coconut-heavy curries.
The Aviation is having a moment in Oregon. I spied it on the menu at Belly in Eugene, as well as here at Pok Pok where it didn't make a whole lot of sense. I don't recall either places using Crème de Violette. Instead, I chose the Asian take on a whisky sour using tamarind, lime, palm sugar.
Just looking at this iced plate of mustard greens makes me shiver. What normally might be a refreshing accompaniment to tart, peppery boar collar seemed unseasonably cooling on this particular evening. The bitter greens did pair well with the rich, tender meat.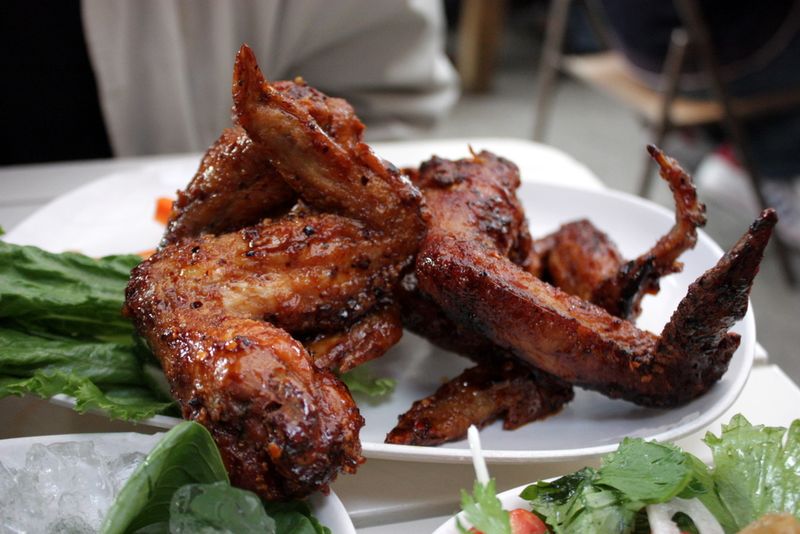 We made these Vietnamese fish sauce wings for a Super Bowl party this year. Ours turned out pretty well but I had nothing to compare them to. Grilled over charcoal, these had great char and lots of caramelization. A funky sticky-sweet crust forms around the edges. They got cold really quickly, though.
The pork belly salad was a balancing relief from some of the spicier dishes. This had a fresh, crisp quality from the Chinese celery, cilantro and onion slivers.
I just read that Pok Pok is opening a bar across the street, rather than sending expectant patrons to Matchless as seemed to be the routine to keep the front patio clog-free. This might help matters. As to other Andy Ricker projects, I just couldn't bring myself to stop by Ping because it replaced Hung Far Low, an Old Town icon (yes, I did note flyers advertising a benefit gig to restore the famous dilapidated sign). I spent so many nights nursing a whisky sour and sharing sesame chicken in the upstairs lounge. There's even a photo of me climbing up said stairs on inside sleeve of Casiotone For the Painfully Alone's, "Answering Machine Music." I'm like a New Yorker who fled for the suburbs in the '70s and is all freaked out by the new face of The Bowery.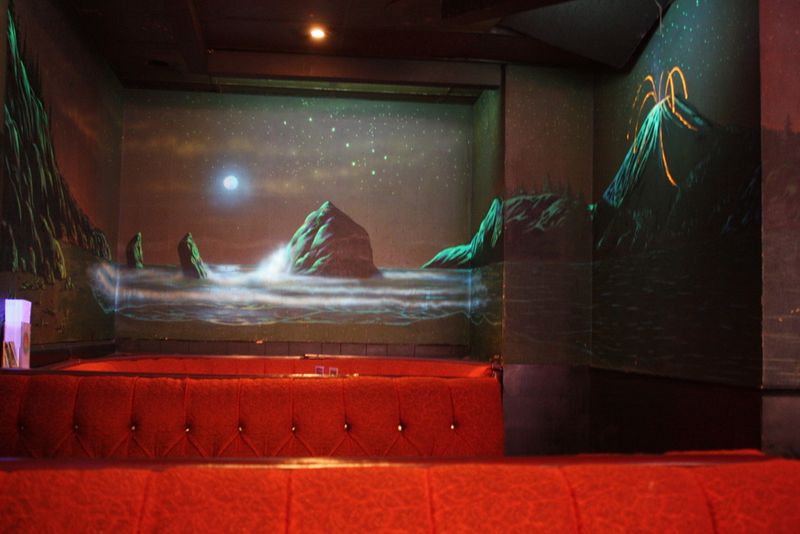 After dinner, I checked on the Space Room. And yep, the cocktails are still $3 a pop and they still have the creepy black-light murals of Haystack Rock and what I think is supposed to be Mount St. Helens being volcanic.
Pok Pok * 3226 SE Division St., Portland, OR