Clyde Common & Teardrop Lounge

As Stumptown set up its first dedicated NYC outpost in our new Ace Hotel, I was back in my hometown enjoying these exports on their own turf. Clyde Common is the restaurant affiliated with Portland's Ace Hotel, and really tried my ability to suppress the White Trash S. I know for a fact I sent a few emails to friends referring to the place as Clyde Commons and said Fred Myers on more than one occasion last week. (New Yorkers are hardly immune—I came back to see a story about mob ties to Lucali, which the Daily News called Lucali's.)
The cuisine is American and creative, in the vein of most popular seasonal/local Brooklyn restaurants of the moment, not screamingly Northwest. A college friend, Dassi, I visited in Eugene had recently stayed at the Ace Hotel and described the menu as "weird" and complained about $5 pimenton popcorn, the only thing she ate. I appreciate this skepticism, which isn't synonymous with yokelism. My two local dining companions on this evening thought tomato caramel sounded strange but were willing to try it, nonetheless. And let's just say that the decision to keep vegetables out of desserts was unanimous.
One surprise I found in my 11-year-absence was the pervasiveness of lines. I waited inordinate amounts of time everywhere I chose to eat. Don't think there isn't a 20-minute-line for Stumptown coffee even in Portland where it flows as freely as the Willamette. No one takes reservations for parties under six, which happens here too, but has never made sense to me. Why should larger groups be seated ahead of patient duos? At Clyde Common, my foursome waited about 45 minutes on a Saturday at 8pm, prime time, of course, so I wasn't that surprised though I suspect that we were forgotten because after James checked on the list that my friend Adam has added us to, the hostess seemed like she had no recollection of promising us a table in the first place.
I didn't mind the wait since it allowed me to sample the Norwegian Wood (Krogstad aquavit, applejack, Cinzano Rosso, Chartreuse, bitters) and catch up with chums I rarely see. Sometimes I do miss Portland, if only to hear Arlene Schnitzer references worked into funny yarns. We then moved onto a crisp Naia Verdejo Rueda, a total hit at the table. I'll admit up front conversation and drinking took precedence. The food was top notch but ingredient minutiae eludes me.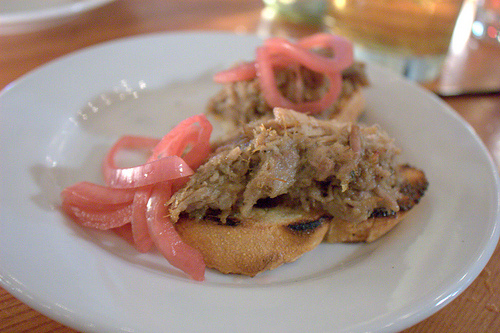 Pork still rules in Portland (actually if I were writing a regional trend piece it would be about chicken livers—they were everywhere) as evidenced by rillettes on toast and pork belly with fried green tomato, piccalilli and pocha beans (these also showed up two nights later at Laurelhurst Market). I always expect rillettes to be more flavorful and am surprised by their creamy blandness. 
The soft,  fatty pork belly was grounded by the crunchy, vinegary hodgepodge that sat atop it. 
Ok, I don't see trout much on menus here so that stood out, plus combined with lamb's tongue and a yolky egg? No ignoring. The fish had a lot of smoky char and just enough oil to keep the flesh flaky moist. There could be no complaining that the main ingredient was masked by superfluous elements since the trout dominated by far. I don't even remember the tongue and I couldn't even tell you what else was hiding beneath the sea creature.
Others ordered tagliarini, cherry tomatoes, basil and orange breadcrumbs, arugula, castelvetrano olive, pecorino, butter fried croutons and oregano dressing, grilled flatiron steak, lettuce wedge, smoked tomato relish and cabrales cheese, and something lamby with grilled chiles.
After Adam's choice of carrot gnudi being unavailable, being forgotten on the list and later being given the wrong dessert, James remarked, "I thought Krista was the only person this stuff always happens to." I've just always considered myself food and service unlucky, but it turns out that Adam is also constantly ignored/forgotten everywhere he goes. It's bizarre, he's completely concise and polite (just like me) and distinctive looking (he's a redheaded down-to-earth dandy with a silver tooth) so it's not as if you're blending into the crowd or being abrasive. We were both born the same week, the same year, July Leos, both at the same longitude 122 degrees (though he in Washington, I in California with 9 minutes, 57 seconds difference) so I'm convinced we've been cursed similarly by birth.
I recently went to pick up a prescription at CVS, was asked my name, told to wait and literally 2 minutes later was asked my name and what I wanted by the exact same counter woman when she saw me standing near the register patiently waiting as told. Adam was recently in Europe and ordered dinner at a restaurant only to have someone come over 30 minutes later and re-take his order like he'd just walked in. His theory is that he's speaking into another dimension and not being heard. I'm not so mystical but am starting to wonder. I call it the storm cloud theory, as I picture one hovering above my head at all times. Later in the week I was introduced to "manifesting" in Eugene, essentially the power of positive thinking. I say fuck that hippy shit.
None of us were gung ho on dessert until we noticed tomato caramel as an element in profiteroles filled with sour cream ice cream. It could either be repugnant or compelling. Why not at least share it four ways? Except that we were presented with a fig tart instead. Really, we just wanted to see what the hell tomato caramel was, I figured it was caramelized tomatoes cooked down into a jam, but our server was nice enough to bring us a little ceramic dish bearing the mystery sweet. And no, it was actually caramel that tasted of tomatoes.
And then they brought the full dessert too (comped, I might add). Sometimes whispering into other dimensions pays off. Throat-clenchingly sweet and vegetal, I didn't hate the pale brown sauce as much as the others. It kind of worked with the savory sour cream ice cream but I would hardly call it versatile or crowd-pleasing.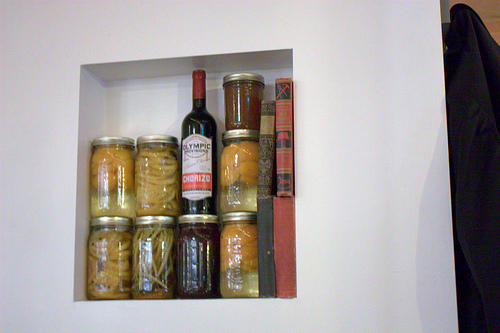 We admired this niche still life that looked like it could be the subject of an old-fashioned  jigsaw puzzle.
Afterwards, three of us moved onto Teardrop Lounge (one member of our party was rightly scared off by the crowd and ran home), a mixology paradise that exemplifies all that is wrong with the new Portland. The bartenders have the Windsor-knotted ties and vests look down, the right mix of old and new with the bar playfully stacked with tinctures in eyedroppers and glass vessels of flavored liqueurs (though Adam thought the one with floating peach halves and thyme sitting in front of us looked revolting). Serious cocktails. Serious bartenders, maybe a little too serious.
Oh, but the scene, the décor, the people. Neon, glowing lights, rounded edges, kind of Vegas and early '00s. Hip-hop videos were playing on a large screen. Bacherlorette parties with girls literally falling down and grabbing me for balance, black-framed glasses, silver-haired 50-something German architect types who probably have Dale Chihuly (omg, two random NW references in one post) art in their homes, young non-hip Asian (I don't know, I tend to think of Asians as being hip, these were just regular kids) 20-somethings and generally what we'd call bridge and tunnel though Portland only has bridges and most interesting people live on the other side of the Willamette not in the lofted and condo-ized Pearl District. James who never gets hit on was being prowled by a cougar (I know, if you're nearly 40, you're hardly cougar-bait) who kept telling him how much she liked his glasses. The only thing missing were opportunistic panhandlers waiting to see if you were going to finish your drink so they could sip the remaining dregs. One cocktail was more than enough. I had hopes of trying the new game in town, Beaker and Flask; sadly, it was closed both Sunday and Labor Day.
The Sophia Loren (Boulard Calvados, Cherry Heering, Del Maguey Chichicapa mescal, bitters)
Clyde Common * 1014 SW Stark St., Portland, OR
Teardrop Lounge * 1015 NW Everett St., Portland, OR