Aldea

Portuguese isn't a cuisine I've eaten countless times but I know enough to realize that wasabi and coconut milk aren't standard Iberian ingredients. Modern is definitely the keyword at Aldea, from the sleek, blond wood and white leather bi-level space to the flavor combinations that appear on the plate.
Aldea may not be an impenetrable scene but it there was a full house at 9pm on a Friday, for sure. Even with reservations we had a bit of a wait, which I don't mind when the staff is gracious and affable. I think they've hit the right note of professionalism and casualness in both service and food. The cooking is high caliber—chef, George Mendes was visible in the open kitchen—but never feels uptight.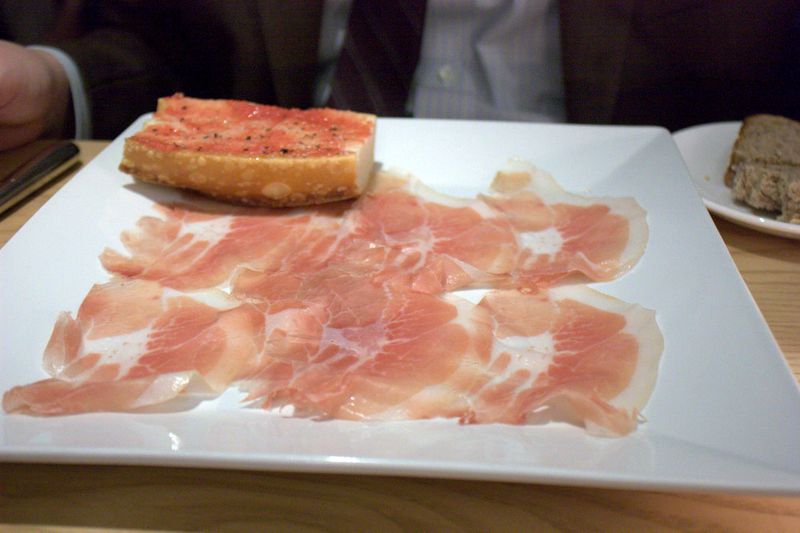 Presunto, cured Portuguese ham was offered alongside serrano and Benton's country ham. It was the obvious choice since I'd never tried it before. The thin slices weren't markedly different from Spanish jamon, maybe a touch lighter and less fatty.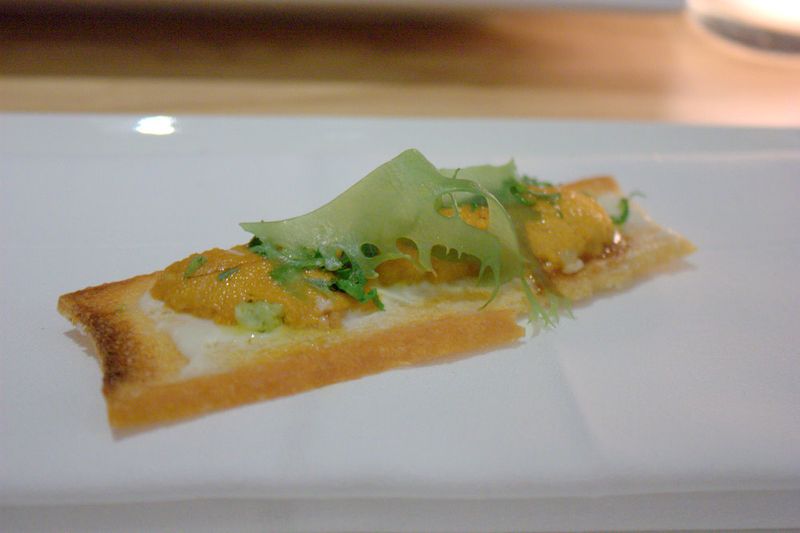 Sea urchin toast, cauliflower cream, sea lettuce, lime. Sure, I had a few glasses of vino verdhe in me but you wouldn't think my palate would be so out of whack that I tasted phantom wasabi in this. James didn't detect it and I'm not seeing it listed on the current online menu. I swear that off-white smudge wasn't pure cauliflower, which is kind of like the anti-wasabi in its blandness. My only complaint was that the snack was gone in seconds. I guess that's why it's called a petisco, a.k.a. little bite.
Baby cuttlefish, caramelized lychee, mentaiko, squid ink. This appetizer also rambled well beyond European borders; more liberties were taken with the smaller dishes. The coconut foam worked with the sweetness of the lychee and mild curls of seafood. I wish I had concentrated more on the cod roe.
Arroz de pato, duck confit, chorizo, olive, duck cracklings. Every mention ever of Aldea notes the duck rice so I played along. If the only meat included was the rosy, sliced duck breast, I might be disappointed. Sous-vide cooking certainly makes the dark poultry tender—and it wasn't close to mushy—but there's no point to duck unless it's accompanied by some of that glistening, fatty skin, all the better if it has been crisped up. The duck cracklings made this dish and the browned coins of chorizo added pleasantly to the oily richness. The little blobs of apricot sauce weren't out place; they provided a sweet-tart lift to this otherwise hefty bowl of rice. Fruity touches appeared to be a theme.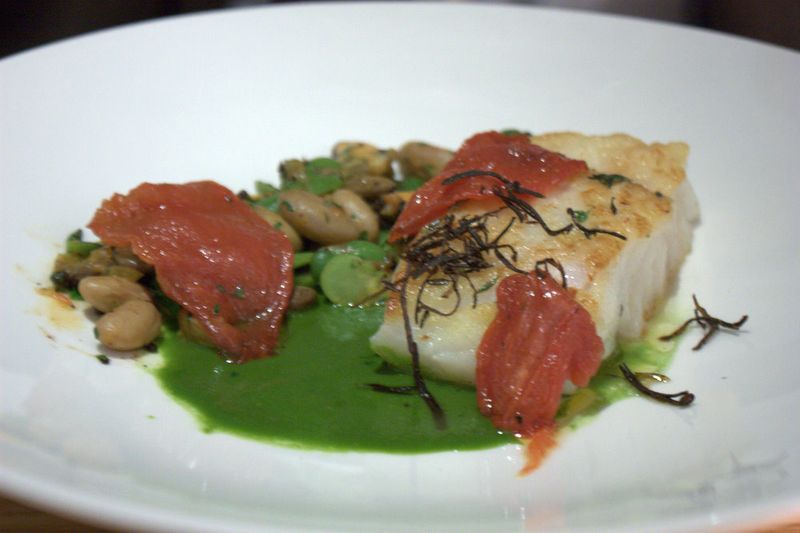 Sea-salted Chatham cod, market cranberry and fava beans, lemon-basil. Ok, you knew cod had to be on the menu. Not bacalao, though.
Sonhos, spiced chocolate, smoked paprika apricot, hazelnut praline. I feel like I've had this dessert before, obviously not with all three of these dips, I just can't remember where. And I'm not confusing it with churros and chocolate. I love having choice, but when it came down to it the dark chocolate had the most impact.
Parting sweets.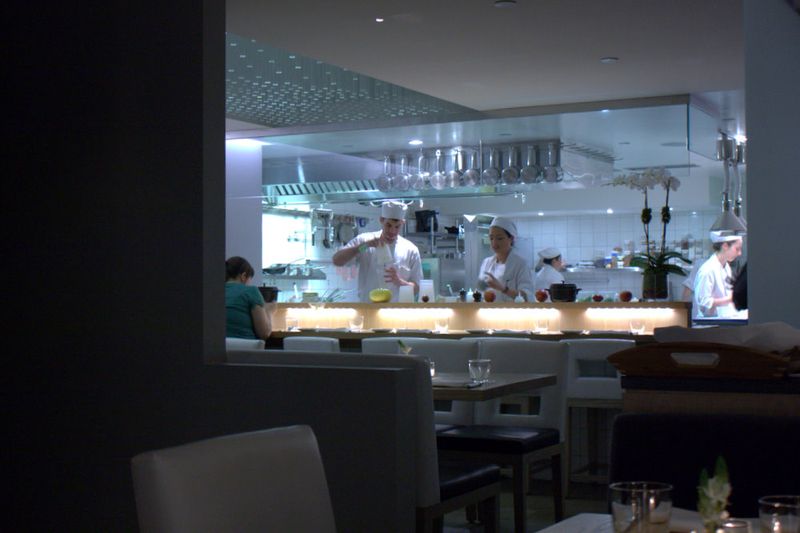 Aldea * 31 W. 17th St., New York, NY