Chain Link: Tim Hortons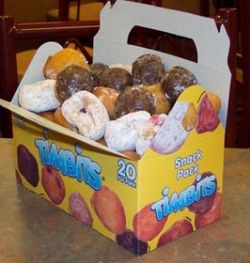 I cannot wait for the Clam and Ham combos and boxes of Timbits to invade Manhattan. I don't really even eat doughnuts (I really want to type donut) but Tim Hortons (love the unnecessary unapostrophed S) reminds me of being on vacation. And with all the poutine swarming the city, we might just have a mini Montreal on our hands.
I'm not sure which is worse, the fact that my boyfriend's mom gives him stuffed animals or that he keeps them. He used to have a toy rabbit we named Tim Horton but I haven't seen the thing in years. Ok, maybe naming stuffed animals is the worst.