Nurnberger Bierhaus

1/2 Like many rewarding experiences in life, the most fun are often those you never saw coming. While errand running in New Jersey I didn't imagine that by 11pm I would be surrounded by karaokers in a Staten Island German restaurant. It happens.
Relying on a GPS for food advice has rarely panned out. With its perpetual crowds out the door, cheap Tex-Mex go to, Jose Tejas, is unapproachable before 9:30pm. We turned to the Garmin Nuvi to find other nearby Mexican/Spanish options (I'll never understand why people think burritos and paella come from the same geographic region) and were directed to downtown Linden. I love the township's down and out fading Polish main drag and was once lured into a tavern, but wasn't sure I wanted to eat in the neighborhood (I only recently read about White Diamond and can't figure out why I hadn't encountered them yet). It turned out that both recommended restaurants, Don Alex and suspiciously named, The Mexican Restaurant, were nowhere to be found. Thanks for nothing, GPS.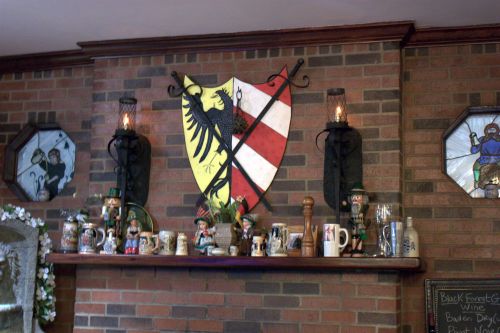 Apropos to nothing, I decided I could use something porky and big mug of beer. Easy, we have to go through Staten Island to get back to Brooklyn, anyway. My only sadness with Staten Island German (
Killmeyer's
being the other) is that they don't offer pork knuckle, one of the finest examples of porcine extremes: the crackliest skin housing a mound of tender, moist meat. I just realized that I've bemoaned the lack of pork knuckles and shanks in practically every German write-up I've ever posted. I guess I really like pork knuckles. They do a great rendition at Bay Ridge's
Schnitzel Haus
and possibly the best version I've had was at
King Ludwig's
in Hong Kong. Yes, Hong Kong—I can't live on congee and dumplings, alone.
Instead, I settled for
kassler rippchen
, smoked pork chops. They're nothing like a knuckle, all soft and yielding with little textural contrast, but there is charm to salty smokiness buffered by a scoop of mashed potatoes and a bed of mild sauerkraut.
Hmm, I thought we asked for the game sausage trio, the same appetizer we had on our last visit, but were presented with three all-the-same sagey links that I figured out where
rostbratwurst
, baby brautwurst. I'm not sure if we were misunderstood or if after 10pm (the remaining tables were all wrapping up by the time we sat down) you get what you get.
As we finished up leisurely, half the waitresses began changing out of dirndls and into street clothes and some of the staff began pushing dining tables to the edge of the wall and setting up speakers and lights. A new boisterous crowd, composed of quite a few revelers who barely looked out of high school, supplemented by a few middle aged men, slowly started trickling in. Laminated spiral bound books were being placed on tables. Ah ha, karaoke.
"Ok, time to go" immediately popped out of James mouth.
Not so fast. I wasn't feeling so quick to flee. "No, we have to stay for at least one song," I pleaded.
"This is going to be bad," James countered, not instilling confidence with his kill joyness.
"No, this is going to be good," I affirmed. And another beer would certainly improve matters, so we shifted to the bar to watch from a safer distance. I don't sing.
I will admit to brief hesitation, my only ever NYC neo-nazi encounter occurred in an outer borough German bar attached to a restaurant, but I can judge each far flung German bar in the city as an individual.
Would it surprise you that the first song was "99 Red Balloons?" Thankfully, that was the bulk of '80s nostalgia, things sped rapidly into the '90s with the exception of an older gent's rendition of The Eagles' "Take it Easy," a song I always associate with being made to jog in circles around the gym in grade school. (In a similar not terribly blood-pumping vein America's "Ventura Highway," somehow managed to get on my iPod shuffle I use at the gym and nearly conjures P.E. nightmares.)
No pork chops after 11pm, that's when the bar menu inserted on the front page of the song choice guide, becomes standard. I'm still marveling over the concept of "Bavarian Bizza." (6/14/09)
Despite a few somber, scary image problems, German food has always equaled fun to me, maybe in the same way that festive is synonymous with nachos and margaritas to others. I'm playing into stereotypes and kitsch but it's not as if there are tons of haute Teutonic options in the city (Austrian and Alsatian is another story). I'm sure young Berliners aren't clinking steins and hunkering over platters of sauerbraten.
I know I've mentioned Portland's
Rheinlander
before because it was the German food of my formative years. I don't even think it's all that German (my favorite dish of theirs was always fondue. Hmm, I just looked at their menu and it appears that they've changed with the times. They've added touches like lemongrass beurre blanc, mint-cilantro oil and "hand-formed" salmon cakes to their stodgy roster). The roaming accordion player, cuckoo clock, chalet-style eatery is where we very rarely celebrated milestones. It was special occasion food. At least I treated it that way.
My oversized Taz t-shirt loving stepsister that I thankfully never lived with, once horrified me while eating a Rheinlander chicken cutlet with mushroom sauce and saying to the waitress, "Those mushrooms were good. Can I have some more?" Um, since when were seconds standard restaurant practice? (I swear I read a reader comment on some Vegas travel or food site from a guy who said that he got received more of a dish he liked a L'Atelier de Joel Robuchon. Who would have the audacity to ask?) She got more mushrooms and gravy, though.
After trolling the Staten Island Mall and nearby Costco (I hate Manhattan shopping and needed to return a Liz Claiborne down coat that I'd purchased the week before and had only worn once because I decided that I hated it and the zipper was already giving me trouble and after Friday's massive rainstorm I realized I needed a hood. It wasn't until yesterday that I figured out that I'd left my new Metrocard in the pocket) we considered trying the parking lot Carrabba's because I'd never been to one and I enjoy feeling like a casual dining chain aficionado. Unfortunately, I'm quickly discovering that Saturday night mall restaurants are out of the question. The Applebee's and Outback Steakhouse were also nightmares. We almost went to the Chinese cocktail lounge, Jade Island, in a strip mall down the street. I've since discovered that it's high tiki and must return soon. At the time I was set on finding the other Staten Island German restaurant, not Killmeyer's.
After following some crazy Google Maps directions that put us down a tiny back alley called Regan Avenue, we were right in front of Nurnberger Bierhaus. It was a less cavernous place than I'd anticipated. The bar in front takes up nearly as much space as the dining room but tables line one side of the drinking area and are considered part of the regular seating. While waiting for an opening I tried a Paulaner. I later noticed the Nurnberger Sauerkraut on the drink list. Talk about a dirty martini—I'd never heard of a Bombay gin and pickled cabbage combo.
We had a generous four-seater before I was halfway through my beer. No faux beepers, crying kids or hour-plus waits. There were lots of heavy New York accents, moustaches and crew cuts, though. And everyone seemed to know everyone. We jokingly speculated whether or not we'd be embraced into the Aryan fold (not that anyone was even remotely racist, but I did have a charming vicarious neo-nazi experience at a Glendale German restaurant some time ago). For the record, the down-to-earth service was nice as can be, and the owners who had taken over a large round table to dine with a group of guys both made a point to wave and say goodbye to us on our way out.
Even though I'm generally indifferent to sausages (and loathe wieners, franks, whatever you call them—I don't enjoy hot dogs, one of my few food aversions) the game sampler sounded worth trying. Supposedly there was a rabbit, duck, boar and lamb link. Our waitress couldn't visually discern between the two ruddy brown cylinders in the middle of the row of meat and that's because I'm pretty sure they were both boar. Nothing on the plate tasted like poultry. The boar was close to the flavor of breakfast sausage, a little too Jimmy Dean for me. The rabbit was light and naturally spicy, my favorite.
I love sauerkraut (and cabbage in general) so I thought the double dose, white as a bed for my smoked pork chops and red in a separate small dish, was smart. I had to hold myself back from ordering the pork sampler plate like I normally might and stuck to the two
kassler rippchen
, hardly dainty. I was kind of hoping they'd have a massive pork shank like I had at Bay Ridge's
Schnitzel Haus
not too long ago.
The small Xeroxed ad in the front window for Saturday night karaoke didn't register until our waitress mentioned it to us. I was really tempted to stick around and see what type of crowd and music would possibly be on display but we didn't have the energy to kill an hour until the 11pm kick off. On my next Staten Island visit it's going to be a tough call between German karaoke and the tiki lounge in a Kmart parking lot. (3/7/2007)
Nurnberger Bierhaus * 817 Castleton Ave., Staten Island, NY