Amada

1/2 I don't really eat at places like Amada in New York. There's something Meatpacking District about the popular Philadelphia Spanish restaurant and its environs, which also includes sceney mega-eateries like Buddakan and Morimoto (both now with NYC outposts). I wouldn't go so far as to say Amada is style over substance; the food was solid but I don't think the bulk of their clientele is serious about what on their plate.
The small collection of kitchen-side counter seats a few steps higher than the rest of the room seemed to be the foodie section, and tellingly occupied by diners a good decade or two older than the rest of the couples and groups of men dressed in mirror image uniforms of untucked patterned oxfords and jeans like the sales guys in my office. I didn't even notice the women.
I also had my eye on Cochon, a pork-centric French BYOB, but settled on Amada because I like Spanish food. (Though it might've been folly since we were just in Madrid—do you really want to compare a cuisine on its on turf to a second or even first tier American city's version? I did.) Plus, Ecuadorian chef Jose Garces, who's developed a mini empire based on the cuisines of  Spain, Mexico and Peru (with a dash of China), had just won a James Beard best chef award for the Mid-Atlantic region. That must say something? I haven't even eaten at The Modern and Gabriel Kreuther was our winner.
I hate to say no when asked, "Have you dined with us before?" because it's not likely I'm going to be enlightened by whatever is coming my way. In this circumstance, I acquiesced and we were prodded to order three-four dishes per person. That initially seemed a bit excessive. Then next thing I knew we were picking wildly from the menu, trouble that stemmed from a 9:45pm reservation without a proper lunch to cushion the two pre-meal gin and tonics at a dive down the street (perhaps I should've compromised with a single $12 violet tequila martini called Talk To Her—yes, the cocktails are all Almodovar inspired). "Small plates" can wreak havoc when ordering on an empty stomach. In the end we definitely picked too many—seven items in total—and easily could've done with one less dish, probably two, and should've asked for our cheese at the end.
No dainty amuses here, this was a tuna-based dip, akin to something you might see stuffed into a pequillo pepper, with crackly flatbread triangles. It got ignored because within minutes everything non-cooked came out in overwhelmingly successive waves. There was too much going on.
Serrano ham was fine but nothing special. We didn't really need this. The accompanying cornichons, mustard and caper berries were totally Gallic and a little off-kilter even though they suit cured fatty meat.
Caña de cabra with fig-cherry marmalade, Manchego with lavender honey and Roncal with black olive caramel. I guess we didn't have to order three cheeses but I like sampling a variety. I expected to be drawn to the olive caramel (which I can't even remember and blurred with the fruity jam) but was surprised at how amazing the Manchego with honey was. Normally, I'm kind of creeped out by the gooey cloying sweetness of honey and I never would eat it straight (I felt doubly vindicated after recently reading Ruth Reichl doesn't like the bee product either, doubly because I had read that sentiment before) and I hate eating flowers too, but something about their pairing created a magical savory reaction. We ended up using it for all the cheeses and futilely looked for a jar among the many Amish stands at Reading Terminal Market selling honey (and separately, lavender flowers) but clearly it's not a specialty of the region.
Deconstructed patatas bravas were reminiscent of the tiny filled cylinders we just had at Sergi Arola Gastro in Madrid. These were fatter and rougher, a lot more potato per aioli dollop, though not mealy like the traditional version can be.
I will never not order a sweet-meat combo even topped with cheese so the coca with duck and dates was impossible to ignore. It was certainly classier than a ham and pineapple pizza but the concept isn't all that different.
The paprika-dusted rounds of octopus and potato were tender and zapped with flavorful char around the edges. We could've eaten twice the amount. I do need to look into why squid is always cheap but octopus is often pricey.
Ok, we had to squeeze some vegetables in. Warm limas and favas in a vinaigrette were substantial and had great texture. Who knows why lima beans have such a bad reputation.
The breaded lamb chops stuffed with goat cheese and sitting atop blobs of romesco came late in the game so I didn't have the appetite to appreciate them. One of the most expensive dishes at $19, these weren't a necessity. Now I know.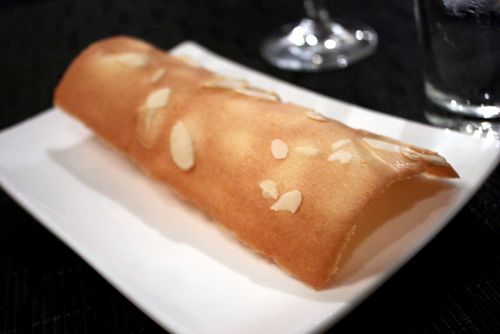 Way too full for dessert (but not for a midnight run to both Geno's and Pat's) we were sent off with a simple thin almond cookie.
Amada * 217-219 Chestnut St., Philadelphia, PA