Tripoli

Dining at 10pm on a Friday in the Carroll Gardens environs isn't as easy as you'd think. I wanted Middle Eastern but not Zaytoons, and that still left plenty of Atlantic Street options. Normally, I would head to Waterfalls but they close at 10:30pm. Yemen Café, another favorite, didn't strike me as a promising candidate either. I felt remiss in never having tried Lebanese Tripoli, which on the surface is the grandest of the lot.
But not so grand that bringing a bottle of Charles Shaw Shiraz caused much shame. Honestly, I thought the bargain wine was a better than decent, fruity compliment to the rich food. We all conceded that it was more likeable than the random red "Vinos de Madrid" we'd been drinking earlier that cost three times as much.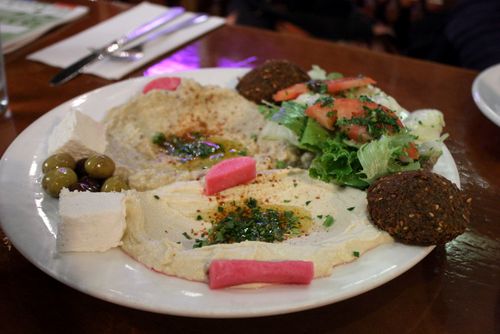 This was an appetizer plate shared among three. There was plenty of everything: salty cheese cubes, olives, hummus, babaganouj, falafel and my favorite, pickled beets.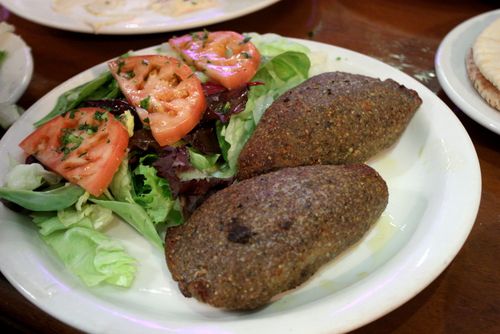 I was expecting the kibbeh, or as it's called here, kibbee mishwiye, to be cut in squares like at Waterfalls, but these were dense ovoid lamb patties. Beyond cracked wheat and onions I'm not exactly sure what rounds out the ground meat mix. That's fine, it'll keep me coming back for more. I saved the second blob and some salad for later, and with a smear of hummus, it made a great sandwich enrobed in toasted multigrain bread (pita would've been ideal but I didn't have any).
As to my never fully explained phobia of being the last diner in a room, it still came true. I thought we'd be safe with an 11pm closing time but we still ended up victims of lights being turned off and chairs being shuffled. Either I need to get over my irrational concern or find later night restaurants in the neighborhood.
Tripoli * 156 Atlantic Ave., Brooklyn, NY