Moghul

I just can't seem to stay out of the suburbs. I've been in New Jersey the past two Saturdays…by choice. There was some reason why we needed to go to Home Depot and Wal-Mart, but I couldn't tell you why now. Light bulbs? A mop? I clearly have issues with Brooklyn if I'd rather drive 26 miles (hey, that's a marathon) to accomplish simple errands.
But it does allow me to explore the dining world outside of New York City. Jackson Heights is fine but Edison's Oak Tree Road is hardly shabby. A few weeks ago while doing some non-blog research, I tried assorted mithai, paneer poppers and a vada pav at Sukhadia's, a vegetarian fast food joint. Sure, we have one in midtown too but I never seem to get up there.
One of my favorite spots in Edison is a strip mall with an Avon storefront, pool supply shop, and a Chili's in the parking lot. Oh, Indians and their love of fiery food. And apparently we'll be selling to them on their home turf soon. Actually, I'm not sure what the hubbub is over, the chain has existed for some time in "spicy" countries like Malaysia, Indonesia and Mexico. I wasn't surprised in the least to find one inside the Petronas Towers.
Behind the run of the mill stores is a mini Indian complex, complete with a Bollywood-heavy theater (X-Men Origins or Mitrudu, it's up to you) and a clump of eateries that I think are all affiliated. Moksha is non-vegetarian South Indian, Ming (where I've never eaten) is Chinese-Indian, Singas (which has a location walking distance from my apartment that I need try for at least novelty's sake at some point) has individual pizzas served in strange bags, Mithaas is like a Desi Starbucks but with emphasis on sweets by the pound and meat-free snacks, not coffee (it just has that '90s leather chairs cafe look—check out their ambience page if you don't believe me)
We decided to try Moghul, the fancier than usual Indian restaurant with photos of the owners with Jon Corzine and Mother Teresa in the foyer. It's almost like a Cheesecake Factory in there—lots of ironwork, travertine and intricate light fixtures. The type of place where people bring their own white wine (they don't serve alcohol, which we discovered too late to do anything about). Absolutely no connoisseur of Indian food, I was still able to tell that what was being served was more balanced and wide ranging than what you see on a typically see on NYC menus.
I had no idea what to expect from the aloo papri chaat, but I liked the yogurty hodge podge. There were chickpeas, dumplings, wonton-like creations they call "flour crispies" and potatoes, all drizzled with tamarind chutney and plenty of cilantro.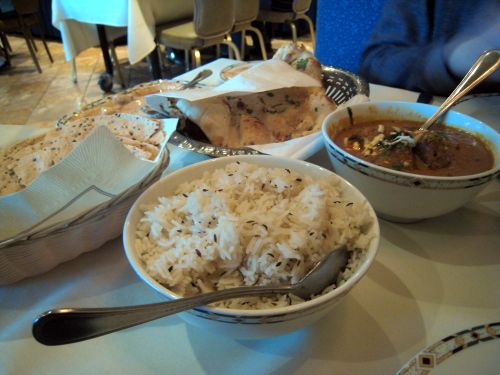 You like starch? Well, here's basmati, papadums and garlic naan. I have remind myself that bread and rice should be either or.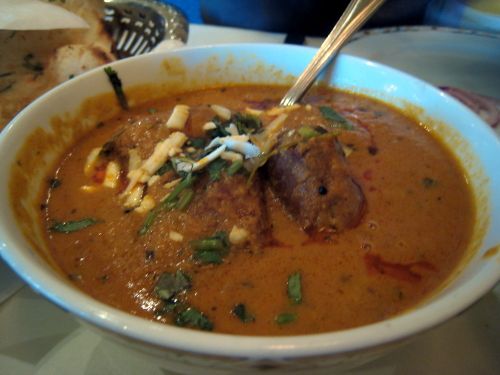 I should've ordered a real vegetable after all that but I wasn't thinking. Kafta naramdil are Twinkie-sized cheese dumplings stuffed with "dried fruit" (I honestly couldn't say which) smothered in a mild creamy curry. This can't possibly be healthy, which means that it was tasty.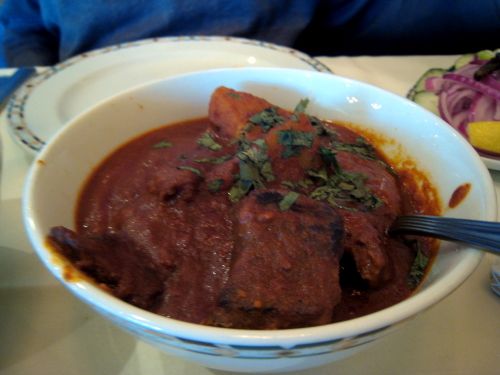 There were plenty of more outré lamb dishes and tons of tandoori items that I would've explored if we had more people to share with. But the lamb vindaloo was surprisingly good, much spicier than anticipated and vinegar tart to stave off any richness overload.
My sugar-free weekday existence is always thwarted on Saturday. I'm like a binge drinker with candy (and well, alcohol too, on occasion). First, I couldn't resist a box of Crunch & Munch at Wal-Mart (I have a serious weakness for caramel corn, though I prefer the classier more caloric Poppycock) so I was determined to ignore Mithaas on the way back to the car. But it just couldn't be done. I was restrained and only chose half a pound of goodies.
I get the sense that not everyone is a fan of these colorful sweets that are practically all variations on condensed milk and sugar. To me, they're irresistible  even though many have the texture of Play-Doh. I like them even more than kueh, another colorful candied obsession. But I must admit the Malay treats that are practically all variations on glutinous rice and coconut milk aren't always as compelling in the mouth as in a display. Mithai totally have better payoff according to my palate. Now, I just need to learn all of their names so I can do more than just point at pans. Or better yet, they could put up little signs. Just for me.
Moghul * 1655-195 Oak Tree Rd., Edison, NJ
Mithaas * 1655-170 Oak Tree Rd., Edison, NJ