Clover Club
While I would've been content sitting at home with a Hitachino red rice ale watching bad SCI FI monster schlock like Wyvern, around midnight I decided a Valentine's drink was necessary even if it was technically the 15th by then.
I'd never been to Clover Club, having lost interest after a failed mid-week attempt right after they opened. They're about seven months in, right? Time for a spot check. The bar looked full from the outside but there were a few open two-seaters. Perfect.
I like my spirits brown—and manly, apparently. Only dudes had this drink in front of them. I don't like sweet beverages and The Improved Whiskey Cocktail was a fine example of this dry genre. Rye, Maraschino, the requisite absinthe (is there a cocktail that doesn't either employ the once forbidden spirit or elderflower liquor?) and a dash of bitters created a bitter, herbal cherry blend. The massive cylinder ice cube could either be construed as thoughtful measure to ensure little dilution or as a way to make small amounts of alcohol look more plentiful. Glass half-empty or half-full?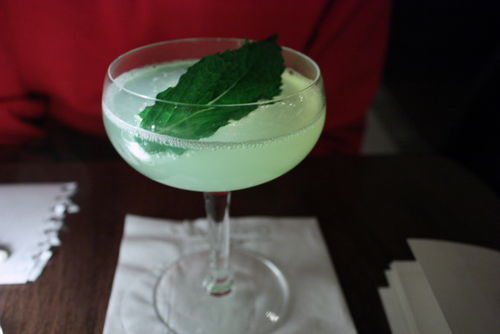 The Southside Fizz, not mine, kind of riffed on a Pimm's Cup with cucumber, mint and gin and club soda. I know there isn't any mint in a Pimm's Cup but similar idea, and with a big fat leaf, no less.

I couldn't tell you what the three cheeses on the cheese plate were because our server was completely unintelligible and I didn't have the heart to make him repeat himself. We originally tried ordering something with bacon (I can't even remember what) but it turned out we'd incorrectly been given the brunch menu.
The namesake Clover Club cocktail (gin, lemon, dry vermouth and raspberry syrup) and a ginger cocktail that I drank but can find no evidence of online (I don't understand eating and drinking establishment that set up websites, then never add anything beyond a homepage).

By 1pm the large room had thinned out considerably. Unsurprising, since South Brooklyn is sleepy that way. Yet I shouldn't have spoken so soon because within ten minutes of each other two giant groups showed up and commandeered rows of tables on both sides of us, pinning me in claustrophobically. It's like when a subway car is 20% full and two people decided to inexplicably sandwich you on the bench. 
So, yes I scoff at the Cobble Hill elderly who can't stay out past 1am, then I become the
fuddy duddy when surrounded by raucousness. It didn't really matter; two $11 cocktails is my financial limit anyway. We moved on to Brooklyn Social where it's not exactly rock bottom either but at least I had a settee to myself.
Clover Club * 210 Smith St., Brooklyn, NY