Patois

After hearing that Patois, one of the Smith Street pioneers, was closing this weekend, James made reservations for Friday. Of course, now it seems that they will simply relocate across the street, but at least I had the opportunity to try one of the many eateries along South Brooklyn's restaurant row that I normally walk past without a glance.
And Patois was very much what I expected: charming in a rustic cozy way (who can resist a roaring fireplace in the dead of winter?) with serviceable food. I can see why a French bistro would be something to celebrate in 1997. Now, there's a lot of competition. Restaurants in this Gallic vein can be found all over Smith Street (Provence en Boite, Café Luluc, Robin du Bois, Bar Tabac) and environs (Jolie, Pit Stop, Quercy).
The slab of pate (on the right) was creamy, spreadable and more memorable than the coarser country-style slice beneath it. The accompaniments–cornichons, grainy mustard and tart vinaigrette–were all sharp, almost too much so. A stronger sweet component would've added balance. And now that I'm looking at the photo, I realize there are blobs of what must've been a fruity syrup yet I don't recall tasting it at all.
I loved the fries in my steak frites. The medium-rare beef was also well cooked. The only detraction was the cornstarch-thickened poivre sauce. We were sitting next to a drafty windowed door (completely my own choice. I initially liked the less hemmed in corner table. It wasn't until we got settled that I realized how much of the frigid air was seeping through the wall behind me) so it didn't take long for the thin peppery sauce to cool off, exposing a gluey consistency. Not that this deterred me from taking home leftovers.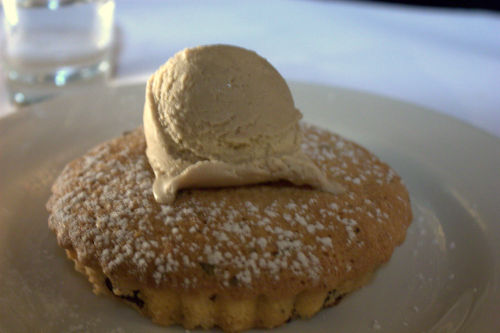 The financier was larger than I had expected and not overly sweet. The insides were springy and studded with bits of melted chocolate, the outer edges golden and firm. What sold me was the scoop of coffee ice cream, though. I tend to choose based on extras not the feature.
Everything at Patois was perfunctory but lacking in small harmless ways. I left without a strong feeling one way or the other. I'll be curious to see how the new location will differ, if at all, though I don't know that I will return in the immediate future. It might be worth it for the mid-week prix fixe.
Patois * 255 Smith St., Brooklyn, NY