Kampuchea Restaurant

Kampuchea was considerably more winsome than bumbling Cambodia Cuisine, but it's also one of those places where you order soup, sandwich and a salad and next thing you know your bill has snuck into the $80+ range. (Yes, alcohol has a way of adding up. As an aside, I'm still not sure how my request for Torrontes was interpreted as Cotes du Rhone. I just went with it because I'm easygoing that way.) Even though I'm not a recession panicker yet, I'm always price conscious.
I went in with every intention of trying a noodle soup (NY Noodletown was the original after work plan) but after skimming the menu I broke down from sandwich deprivation. And I honed in on the most expensive offering, the $15 oxtail that I will try to refrain comparing to a $2.75 banh mi (ok, they're like four bucks now in Manhattan Chinatown, right?) because you don't generally eat Vietnamese sandwiches amidst even a hint of décor and they're probably not making their pate in house or using Duroc pork.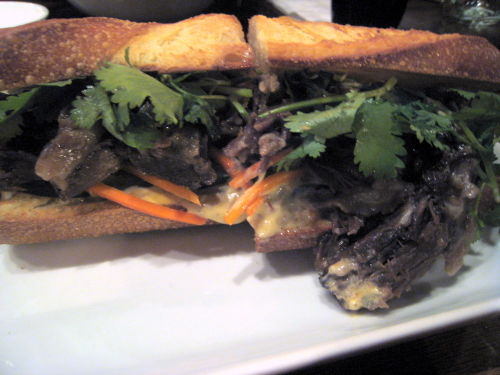 There was a large amount of tender beef, broken into large hunks, and a spiked mayonnaise that resembled Thousand Island dressing. At least I think it was mayonnaise despite the tamarind-basil descriptor to throw you off. I was not disappointed by this sandwich. While you can never recreate the toasty bread, warm meat and crisp vegetable combination the next day, I still was happy to have a softer room temperature half for lunch Saturday.I'm looking forward to creatively named Num Pang if it ever opens.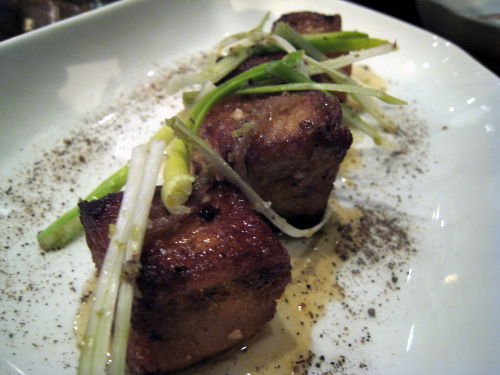 Pork belly cubes were a must and had a high meat to fat ratio (one of my two squares was almost too lean for my taste). A sharp sweet-andsour effect was created with honey and apple cider vinegar. Strangely, all of the cracked black pepper made little impact.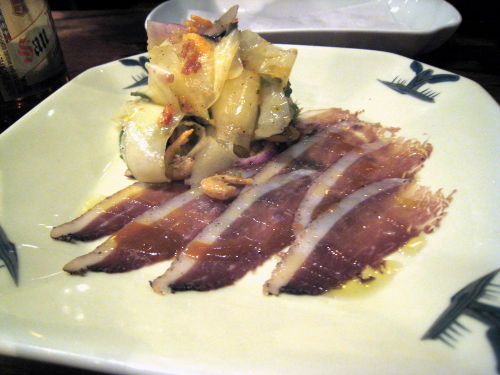 Smoked duck was served carpaccio-style with ribbons of green mango speckled with salty dried shrimp. I only wish that the portion was a little more substantial.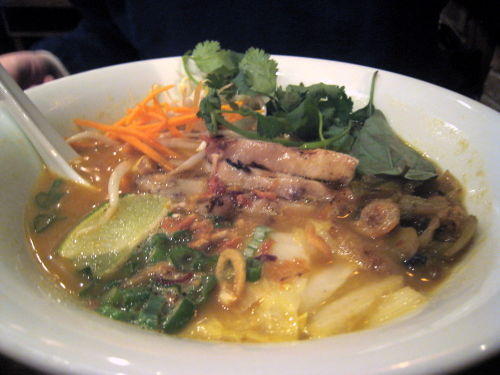 This is an impressive looking bowl of soup chockablock with pork belly and shoulder as well as mustard greens and herbs. Unfortunately, I didn't even try a sip so I can't compare it to anything taste-wise. I immediately though pho, though the broth appeared cloudier, visually closer to a tonkotsu ramen base. I tend to think the ingredients were more flavorful than the liquid they were bobbing around in.
I left tipsy, well fed and still thinking everything on the menu could stand to have a few dollars shaved off the price.
Kampuchea Restaurant * 78 Rivington St., New York, NY