Vesta Trattoria

We have a zillion Italian-American, Italian-Italian, wine bars, pizzerias and small plates joints in Carroll Gardens and environs so maybe I'm blasé. I wouldn't think twice about Vesta Trattoria if it were on Smith Street.
But Astoria is a different matter. That part of Queens has never been my stomping grounds, so I'm not a good judge of the neighborhood. But from what I can tell, there doesn't seem to be much going on way west on 20th Street. Maybe that's one of the reasons why the brand new restaurant was filled beyond capacity on Saturday.
At least they understand the power of softening an hour wait with a free drink. I don't know how many places, particularly small places catering to locals, seem hospitality deficient. You think that would be especially vital in the first few weeks when opinions are being formed.
The menu isn't wide-ranging. There are a handful of starters, three pizzas, four pastas and on my visit, three entrees. I wasn't taken by the standard sounding chicken, salmon or steak. Maybe they were prepared wonderfully, warm lentils and prune reduction doesn't sound half bad, but they didn't entice me with their simplicity.
Instead, I shared a lemony cracked wheat salad. I don't always want something delicate and leafy when it's freezing out so this fit the still light but more substantial bill. This is the type of thing that would be horribly dull if I made it myself, probably because I always underdress salads.
Pizzas are very crackery, which I like, though I know not all do. The margherita was a little tomato and basil sweet and not terribly cheesey.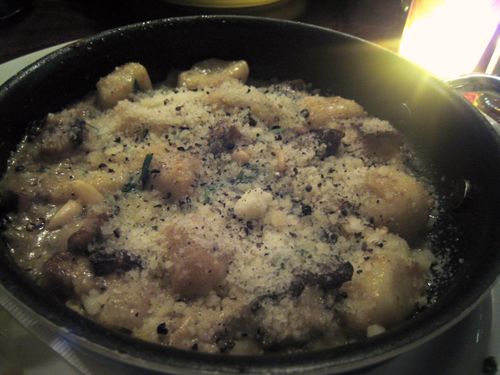 Pastas come in cute individual casseroles, which struck me as something Gordon Ramsey would suggest to perk up business on Kitchen Nightmares. Not that any nightmares occurred here (well, sort of, if you consider being smooshed next to a furiously groping couple who insist on sitting side-by-side on a shared banquette, horrifying. I particularly liked it when James inadvertently got brushed by the grabbing hands an inch from his body).
Gnocchi with oyster mushrooms in a cream sauce more than compensated for the oddly light starters. This was hearty, though not relentlessly dense. The parmesan crumbs and meaty fungi kept the dish interesting.
"Sunday dinner style" lasagna, whatever that means. I did not sample this, and worried for a second, considering it was Saturday's dinner.
I'm not clear what atmosphere they're trying to cultivate, maybe it's evolving. The Scorpions and Poison that were initially playing seemed a little off but I kind of got it and didn't think it was completely ironic as the crowd leaned middle of the road. As the night wore on Vampire Weekend came on, as if one of the waiters had finally got a chance to play his mix.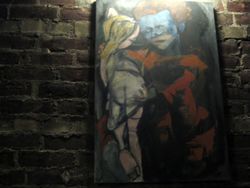 This is the strange little artwork that I looked at during most of my meal. For no particular reason, it made me think of the "The Nightman Cometh" musical from It's Always Sunny in Philadelphia's season finale. I suppose that's a good thing, not sure if it's appetite stimulating, though.
If you feel compelled to pay a visit and intend to drive, beware the folly of Google maps. Type in 20-02 30th Ave. and it gives you 80-02. Drive there and you'll end up in a residential neighborhood near La Guardia trying to figure out where you went wrong.
Vesta Trattoria * 21-02 30th Ave., Astoria, NY