Tanoreen

3/4 On my first and last visit to Tanoreen a few years ago, I was underwhelmed. Not majorly, I just had high expectations and I think much of the so-so-ness had to do with poor ordering. I hate to say it, but misguided picks befell me again this weekend.
My main reason for heading to Bay Ridge was to satisfy a craving for Middle Eastern lamb that arose while reading an article on Turkey in this month's Gourmet (I'm still in denial that there's no alfresco photo spread). No, Tanoreen isn't specifically Turkish. If I'm correct the owner is Palestinian and the restaurant's cuisine borrows from all over the region.
But I knew they would have lamb, and specifically a lamb shank special. I had a precise image of the type of mutton I wanted, though I couldn't place exactly where I'd had it before. It had to be on the bone, definitely not kabobs, and not a chop either. Nothing dainty.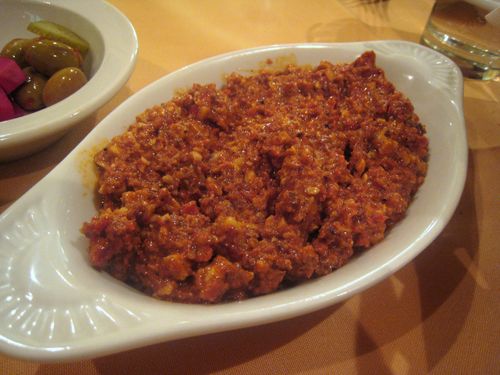 It was with the appetizers that I went astray. There are tons of choices, both hot and cold and part of the regular menu and specials list. I got a little overwhelmed. Muhammara was an easy choice. I'd made the roasted red pepper walnut dip before but had never actually tasted how it's supposed to be made. Tanoreen's version was chunkier and nuttier than mine. I could see this rich, sweet spread as an '80s suburban canape layered atop a swath of cream cheese on a Ritz cracker. Who says I'm not classy?
James ordered something (I can't recall the exact name) described as a pie topped with shankleesh, a Lebanese cheese, off the specials. This seemed ok, too.
Where we tripped up was deciding to share the lamb shank at the last minute (at $24 it's the most expensive thing on the menu) and instead of getting two full entrees each to try a third appetizer. Normally, I never ask staff for suggestions because I'm a decisive person. Maybe I'm the weird one, but I can never figure out diners who spend five minutes asking their server questions. I should've just gone with my instincts and picked the Brussels sprouts or one of the many eggplant preparations. Instead, I asked our waiter what he'd recommend and was offered something called musakhan with chicken and almonds. I was a bit thrown off since it sounded so much like moussaka (which apparently, they also do) but I'm down with nuts and poultry.
The musakhan turned out to be kind of an Arabic pizza. Something about chicken on a pizza seemed kind of California Pizza Kitchen, but the spicing and almonds were very un-chain-like. This appears to be a modern interpretation of traditional dish using chicken, pine nuts and lavash.
This is the appetizer James ordered, also a pizza. Hmm…I didn't really need to eat two pizzas for dinner, not that they both weren't good and distinct from each other. I'll admit that I'm not a Middle Eastern cuisine know-it-all, I rarely ever cook it, and this innocent looking pizza was complex. It took me a while to figure out that the tartness was coming from sumac. The overriding flavor was pungent and floral goat cheese, almost creepy (to me, because I don't like flowery tasting things) in its funkiness. One notch stronger and the taste might've been offputting but it was just enough to encourage another bite to figure the combination out. I'm fairly certain that the brown hue, which makes the topping look like ground meat, was za'atar, a spice blend that includes a lot of everything with thyme and oregano shining through.
Ah, the lamb. If you ignored the accompanying rice and preceding dishes, you could almost picture yourself sitting down to a British Sunday roast, carrots, potatoes, parsley and all. The meat was moist and almost too juicy, a fine specimen but not what I was looking for, no fault of the poor lamb shank. I was thinking of something less saucy, maybe stringier and kind of charred, closer to what I've encountered at Yemen Café and A Fan Ti.
This was a strange case of perfectly good food that didn't satisfy my particular craving. We definitely encountered more interesting items than on our first visit, and perhaps three times will be a charm.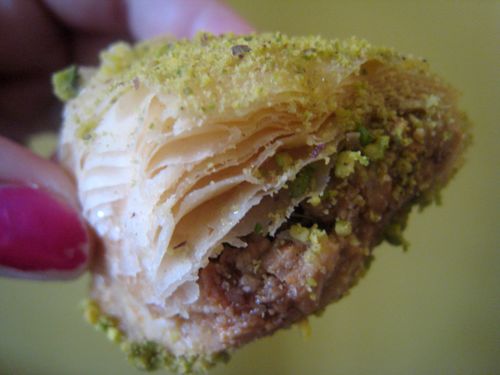 Flaky, not syrupy-sweet baklava taken to go.
(10/3/08)
Maybe I misunderstood what I'd heard, or maybe they've revamped their menu. But I was expecting a menu filled with a cornucopia of Turkish goodness, listed for the picking by number. I wanted lots of little treats, Middle Eastern tapas, not a meal, meal. Not that the entrees didn't sound appetizing. Really, many of the dishes are up front in a display case, so it's not as if you couldn't just point and pick.
I found cauliflower with tahini and pomegranate molasses, an improbable combination that worked, to be a nice sized dish. The molasses acted like balsamic vinegar, and mixed well with the sesame paste's nutty oiliness. We also had baba ganouj, and I tried a chicken schwarma type sandwich, which was fine (though for that sort of thing, I prefer Waterfalls). I'm sure there were better menu choices, but I wasn't in the mood for a major entre.
The unexpected fun of the night involved walking and driving through pockets of Bay Ridge I'd never seen before (for some reason I've never gone west of Third Ave.) I'm not sure why looking at large, unattached homes with lots of flags and "support our troops" signs equaled fun, but it did. For better or worse, you can temporarily pretend you're not in New York City. (3/27/08)
Tanoreen * 7704 Third Ave., Brooklyn, NY