Dang Lai Palace

1/2 I accidentally took part in meatless Monday this week. Eating a vegan lunch and near-vegan dinner in the same day isn't my usual M.O. It just turned out that I had the mid-day urge for Little Lad's when I'd already planned to eat at Dang Lai Palace later.
I've only eaten at Zen Palate once (when I first moved to NYC, my sister, mom and grandma all converged here at the same time and my sister wanted to go to Zen Palate. My grandma made a stink about it being too expensive and how she'd just as well eat the Chinese food near my apartment on Fresh Pond Road. Well, somebody keeps those one-per-block takeout joints in business and the Union Square Zen Palate did go out of business, so maybe she was on to something) but that one visit was enough that I can see Dang Lai Palace is drawing heavily from their menu, right down to the names of dishes.
You kind of have to dig fake meat to appreciate this style of cuisine and there are plenty of people who would rather just shun flesh and not mess with blobs crafted from wheat gluten and bean curd. I happen to like the taste of mock morsels (though I'll never understand the logic behind substituting Ritz crackers for real fruit in an apple pie). However, I'm not convinced that there's anything particularly healthy about pseudo-meat from either a well-balanced diet or caloric perspective.
This is the Dang Lai Platter, which is meant to be an entrée, but functions as a perfectly nice starter to share. It's a lot of food for two, though. The meatloafy rectangles are vegetarian duck, which taste nothing like poultry. I have no idea what makes autumn rolls fall-like; they're crisp-fried just like a spring roll but the skin is made from bean curd sheets that happen to be red for some reason. Mushroom and cashews is a take on cashew chicken. Sesame protein in sweet and sour sauce is a fairly obvious rendition of sweet and sour pork but the chunks are pliable and soft rather than battered and fried. 
We had to get some greens in so a fresh kale and tofu salad fit that need.
Spring comes to the world. It's strange because real ham wrapped around vegetables would never appeal to me in a Chinese context but this dish was very satisfying. Strands of enoki mushrooms and zucchini slivers are wrapped in vegetarian ham and fastened with a black mushroom knot. The soft and crunchy textures were nice and the ham was very hearty. The sauce is very light and comes with wedges of tomato and gingko nuts. I gave it a boost with chile oil because it was almost too delicate for me.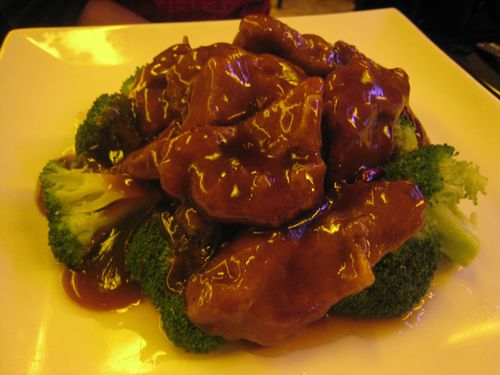 Orange-flavored beef with broccoli wasn't mine, but the one bite I had was appropriately sweet, lightly spiced and gloopy. I mean that as a compliment, it's like takeout but with springier blobs of protein.
I'm not clear on the alcohol situation. When I showed up Sherri already had cracked open a bottle of Malbec she'd been OK'd to bring in, then towards the end of our meal our waiter mentioned that we could have a free glass of wine. Huh? I wouldn't assume you could byob if they had a liquor license and then I wondered if they meant "wine" in the same way they served "meat." No pomegranate mock wine for me, thanks. But no, it was real red wine of some sort. I don't turn down free drinks, even house wine.
One thing I'll say about this type of food is that it's filling as heck. Granted, we ordered a lot to eat and I ended up taking some home, but by 1am I was still so full I could barely fall asleep. The next time I eat vegetarian Kosher (did I mention it's Kosher too?) Chinese food I will be less gluttonous.
Dang Lai Palace * 180 Third Ave., New York, NY