Mariam

  Vowing not to write off all West African food after my Ghanaian mishap at Meytex Cafe,  I was happy to attend a group dinner (Pete from Word of Mouth, Dave from Eating in Translation and a few message board regulars were also present) at Clinton Hill's Mariam, not to be confused with South Brooklyn's Israeli cuisine chainlet, Miriam.
The owners are from Guinea, and the menu reflects that country's offerings as well as nearby Senegal's. Frankly, I know little about either so sampling a wide variety was a must. Hopefully, I won't misidentify too wildly. I'll start with the high points.
Poisson frit with achecke in mustard sauce was a hit and more complex than simple fried fish on a plate. I'm guessing the fish was tilapia because it's common and it had that not unpleasant soil taste that you often get from the bottom-feeding species. The mild white flesh was encased in rightly crispy skin. Acheke is a fluffy fermented cassava-derived starch that only had the slightest tang, and it paired well with the sharp mustard-flavored onions.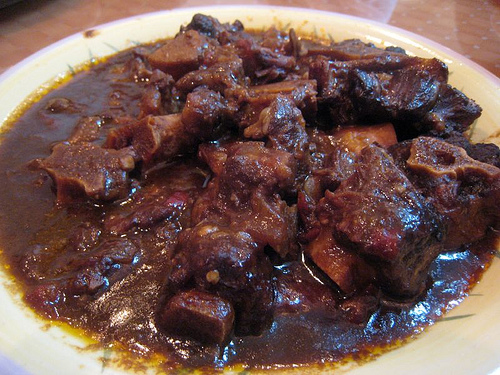 I really liked the stewed oxtails but how can oxtails be bad? The bones had a nice amount of meat attached as well as bits of gelatin.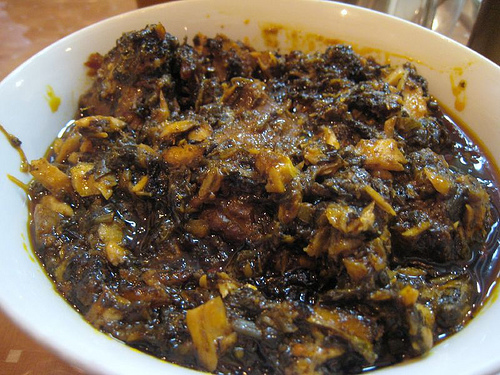 Sauce feuille patate. Our first choice was cassava leaves, but they only had potato leaves. Not that I would be able to detect the difference. I didn't even know potatoes had leaves—I do wonder if they meant sweet potato? This dish is described as containing meat, but I'm not certain what meat as I didn't sample any brown hunks. Interestingly, a welcome fishy shrimp paste flavor colored this dish.
The guinea fowl was a bit dry and tough, not the most successful dish. We chose the same accompaniments that the fish came with. I did appreciate the half-cube of Maggi bullion even though I didn't understand its purpose. Were they attempting to display quality? A table across form us had an enormous jug of Maggi sauce sitting on it–this was clearly an MSG-friendly zone.
We ordered callaloo but I swear this isn't predominantly the leafy green, which is akin to chard. There was some serious mucilaginous action occurring that could only be attributed to okra.
They don't only employ couscous look-alikes acheke-style, but the mini grains, themselves. The sauteed onions, hard-boiled egg half and green olive were a nice addition. There's something almost Moorish about this.
Ok, I wouldn't say that sweets were Mariam's strength. I wasn't sure what to make of one described as being served with tomato sauce. That couldn't have been a typo, right? We ordered one, which was essentially yogurt mixed with canned fruit cocktail. This was thaikry, couscous tossed with sour cream and vanilla extract. I wouldn't say that it's wildly cravable, but was slightly more satisfying and sweeter than I'd expected. I might occasionally eat it for breakfast instead of Trader Joe's instant oatmeal or Greek yogurt if given the option but it's not the most stellar dessert.
Unrelated to food, this restaurant happens to be a mere two blocks from that fancy condo complex that I'm mildly obsessed with. I strolled by and took at look since I had 20 minutes to kill before dinner. The building isn't shabby,  but it might be hard to justify a $1 million price tag with little more than car washes, storage units, 24-hour adult video store, check cashing joints, McDonald's, Golden Krust, and yes, a pretty nice Guinean restaurant, in the immediate vicinity. Well, I have always complained at the lack of 99-cent stores in Carroll Gardens…
Mariam * Fulton St., Brooklyn, NY