1/2 It must've been sometime around Labor Day that I decided to finally check out Korhogo 126. It had transformed from Bouillabaisse 126 quite some time ago but I'd never been compelled to pay a visit. I'm not sure why, it didn't seem casual enough for a weeknight and it never crossed my mind on a weekend. Unfortunately, it was closed with only a handwritten sign about being on vacation. That seemed a bit suspicious since summer was over by most standards (not mine, but many).
Instead, I just went to Alma, acceptable Mexicanish food not worth writing about more than once, around the corner.
After hearing they were open again and with lower prices, I figured now was the time to return. That block of Union Street is a bit wonky with hours (House of Pizza and Calzone used to be closed randomly, Ferdinando's also keeps weird hours and…well, not related to hours but is Calexico really that good? I'm glad that something's going into the Schnack space but I'm not convinced that I will be crazy about these burritos, Vendy award winners or not) so I half expected Korhogo to be closed. But on a prime Friday night, Halloween, no less, lights were on and a decent amount of diners were scattered throughout the back patio than the main room. I prefer dining indoors during all seasons.
I recall there being a crab cake on the menu, which seemed to have been replaced with $6 cod fritters. And in addition to the sparse selections of wines by the glass hovering around $10, there was a $7 white and red on offer. I've already forgotten what the red was other than that it came from France, and I ordered it. But other than that, I couldn't say how the prices and menu have changed.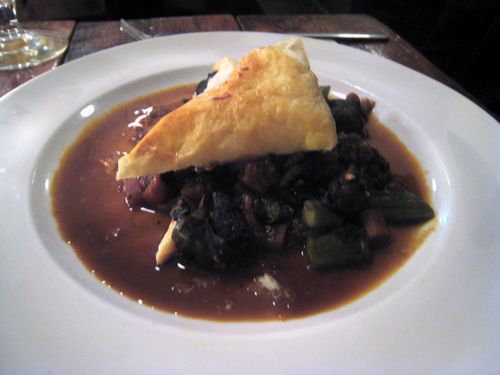 We split the escargot kedjenou because how often do you get to try snails served atypically, sans garlic butter and parsley? From what I understand, kedjenou is a tomato-based Cote d'Ivoire stew that typically uses chicken. This dish exemplified chef Abdhul Traore's style:  heavy on the French with small nods to Africa. At least I don't think they're using puff pastry, escargot and asparagus near the Gulf of Guinea. I immediately realized this was going to be refined food, nothing earthy and gritty (I don't mind a little earth and grit).
The ratatouille-like sauce was subtly perfumed with licoricey star anise. The snails didn't have a pronounced flavor and if no one told you what they were you might think the firm dark blobs were meaty mushrooms.
My lamb shank, a perfect mix of tender meat, cripsness and fat, owed more to Northern Africa. This was exactly what I had been wanting last month when I landed at Tanoreen with a lamb craving (and this one is $7 cheaper, I might add). Oddly, here too, the accompaniments were very western: super buttery mashed potatoes, green beans, carrots and squash. I tend to think hotel food when I see that combo, but I wasn't bothered so much. I bet it would've been great with attieke, a false couscous made from cassava that I recently became acquainted with.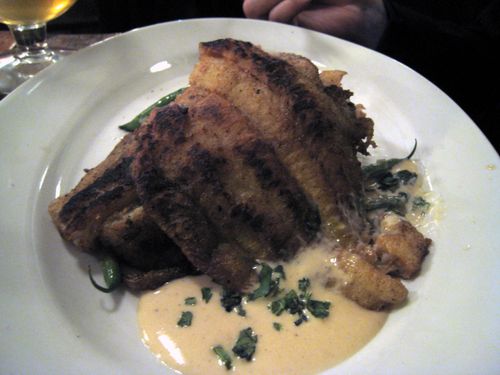 This was a flounder special, which I did not eat. The sides were similar to the lamb.
As we were finishing, a group of Nigerian women (and one male) showed up to celebrate a self-proclaimed girl's night out. I wouldn't have described the place as a destination restaurant but I'm glad that it is attracting clientele beyond Carroll Gardens.
Korhogo 126 * Union St., Brooklyn, NY