Cambodian Cuisine

1/2  It's closed. (12/08)
I really hate it when you want a restaurant to be successful yet they do everything possible to mess up your first impression. Cambodian food is crazy scarce in NYC. We only have Kampuchea on the Lower East Side (which I've always avoided for no good reason) and the aptly named Cambodian Cuisine on the Upper East Side which was formerly located in Fort Greene where Smoke Joint is now.
The Brooklyn spot was a semi-hole-in-the-wall that also did generic Chinese food, mostly for take out. The new incarnation has more aspirations. The bi-level room is big and sort of minimalist zen with brick walls and a few baskets and folk art sculptures carefully placed throughout. The entrée prices are well into the teens. It's all keeping in line with owner's wish for a "real restaurant" as mentioned in a Salon article from last year about the dearth of Cambodian food in the US. 
 Thai food has been a runaway hit for years, Vietnamese is pretty mainstream too. Cambodian? I don't think I've ever tasted it. A good friend in middle school, Valida, was Cambodian and never once did she offer up any window onto the cuisine. (As opposed to our mutual friend Lema whose Filipino family fed us constantly.) I have no idea what her family even ate (other than Cinnamon Toast Crunch cereal) because they were secretive and odd; she never wanted me to come inside their house, which was a lone mobile home off of I-26 in this woodsy patch of nothing.
I could never figure them out. They had chickens running around outside but drove a Peugeot, and Valida always wore way more expensive clothes than I did. My family never shopped at Nordstrom like hers. I had the sense they were well off but lived weirdly, and from what I gathered her parents were mentally unstable and physically abusive. I suppose if you'd escaped the Khmer Rouge, you'd probably be testy too.
Valida was a super smart goth outcast who was clueless about middle school things like shaving, makeup and menstruating. After we ended up going to different high schools she turned totally hot and started dating jocks and eventually joined the military and (unintentionally) married a gay marine when she was still in her teens. I haven't seen her since the early '90s but I'm fairly certain she's still in the military. And more to the point, I never got one clue what Cambodian food was like from her. Asking such a mundane thing seemed off limits.
I was surprised how crowded Cambodian Cuisine was. Sure it was a Friday night at peak dining time but the entire first floor was filled. That was a good sign, I figured. Manhattanites must like Cambodian food. We were given one of the only remaining tables way in the back and provided with water and menus fairly quickly. Our order was also taken in timely manner. Not so for the twosome who came in after us and walked out after being ignored. Things started falling apart around that point.
We ordered cocktails because they had a list and it seemed like a novelty. I don't know if that was the mistake. But 45 minutes later we still only had our glasses of water. Oddly, the table next to us ordered at the same time we did and had already gone through an appetizer and beers. I started getting antsy. There only appeared to be one waiter who was understandably flustered (and bizarrely, I swear he was our waiter last month at a restaurant called Asiana in Murray Hill that I never wrote about because it wasn't worth mentioning) and like ten guys bussing tables and topping up water. I never take things out on servers, and I didn't on this occasion, but this was starting to get out of control. If it were up to me I would've left but I was getting paid to write a review. Maybe the kitchen was backed up but could they not at least pour a drink?
We never got our mai tais, nor the beef salad starter. After nearly an hour, the three mains finally showed up all at once. Was it worth the wait? Eh, not so much. It's not like Spicy Mina where you stew for an hour in exchange for supposedly mind blowing Bangladeshi fare (I have never been to their new location because I was so traumatized on my initial visit). The food was fine, perfunctory, what I'd expect Southeast Asian on the Upper East Side to be, a solid two shovels but not cravable.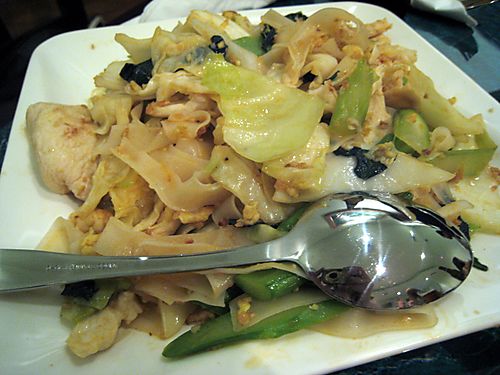 Chhar kuey teo koke. The noodles were nothing like their Malaysian namesake char kway teow. They tasted as pale and ghostly as they appear on the plate. They were in desperate need of a chile-based condiment. I do not waste leftovers, even so-so ones, and plan to doctor these up with some nam prik for lunch today.
Ok, this was good. If I'm correct, ahmok is more commonly made with fish and is akin to Thai haw moek or Malaysian otak otak. The meat, in this case chicken, is blended into a mousse-like consistency, mixed with a lemongrassy curry paste and coconut milk and steamed. The taste is rich, creamy and a little hot. This version was kind of freeform like a big omelet instead of being parceled in banana leaves.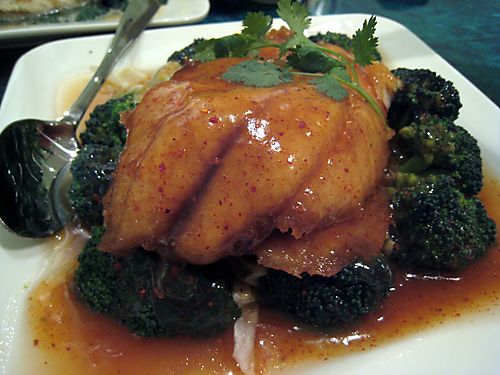 Fried tilapia was nothing special. Now that I'm looking at the menu I realize that it states filets but I had been hoping for a whole skin-on crispy fish. My mistake. The sauce was lightly spiced and a little gloopy sweet, not far off from Chinese take out.
Getting the bill was also an exercise in patience, and as I'd feared our phantom beef salad was on it. The harried waiter told us he'd never seen so many people in the restaurant at once and they'd had "six times as many customers than usual." I'm not sure what to make of that. It is a large space but you would think they would be equipped to handle the room if it actually filled up. I mean, that's the size they made the restaurant.
Taking nearly two-and-a-half hours from sit down to departure, it was one of the longest simple meals I've ever experienced. And the poor timing bit me in the ass the entire sweaty, grueling ride home. Once a night begins to go out of whack, the rest of the evening tends to follow suit. Did I upset some cosmic balance? Every single subway was pulling away the second we got to the platform. We missed the 4 by seconds, then the 6 took off instead of waiting for transfers at Union Square and the clincher was the F at Broadway Lafayette shutting its doors when I was only a foot away.
I don't think I will be spending an hour traveling to try Cambodian food any time soon (I might cave and try Kampuchea, though, especially since I hate creating a category with only one thing in it–it's the librarian in me). But I wouldn't want to discourage anyone who happens to live in the immediate area from giving them a chance. Maybe this Friday was an unfortunate fluke and I would love to be proven wrong.
Cambodian Cuisine * 1664 Third Ave., New York, NY