Chaps Pit Beef

To be honest, I was kind of disinterested in pit beef. I knew that it was a regional form of barbecue but I'm not one who goes gaga over piles of smoked (which this isn't, technically it's grilled) meat. But as I've often found with vacation food, you never know what will be a hit. We ended up at Chaps two days in a row, despite a big poster of Guy Fieri near the order window. That's saying something.
You generally eat pit beef, cooked rare and sliced thin, as a sandwich on a kaiser roll. It's nothing like Arby's, though on the surface that's how the sandwiches appear. But they do have a horsey sauce kept on ice in one of a handful of squeeze bottles provided for doctoring. Plain thick horseradish is the traditional condiment. I added the chilled spicy white sauce, Tabasco sauce and a few pickles. Perfection.
With a side of fries and an indoor picnic table (I'm very pro-air conditioning) you have a fine meal. It's not as if the outdoor view is particularly noteworthy anyway. Chaps is next door to a gentleman's club and this strip of the Pulaski Highway is lined with liquor stores, adult book stores, convenience stores and little else.
Of interest to me because I'm a reuben fan despite rarely eating them, was their special board advertising its sister sandwich, the rachel. I've heard of this treat that swaps corned beef and sauerkraut for turkey and coleslaw but I've never seen one first hand. I still haven't seen one up close. A guy in line behind us ordered one but I didn't want to stare.
We got sandwiches and ribs to go on the way out of town and I'm glad we did because there's nothing grosser than a New Jersey turnpike rest stop Sunday night at the tail end of a holiday weekend. I did have to wait in a 40+ deep line to use the bathroom at one point but I wasn't about to queue for heat lamp Roy Rogers fare when we had the real deal in the car. We did grab some paper bags and napkins from the chain to use as barriers on the storm-soaked picnic tables beyond the parking lot, though.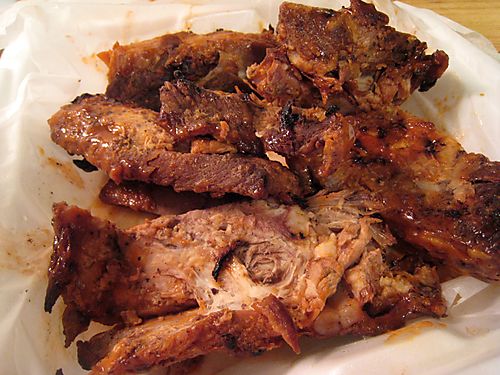 We ate the ribs for dinner when we got home around 9pm rather than the anticipated late afternoon. I don't think we will be driving anywhere July 4, 2009.
Chaps Pit Beef * 5801 Pulaski Highway, Baltimore, MD