La Cabrera

1/2 La Cabrera is the perfect starting point for Buenos Aires restaurant rehashing (which I'm trying to keep short and sweet) as it's where we wildly indulged in steak on the day we arrived and the day we left the city. Of the four parrillas we tried, this was easily our favorite.
It's definitely baffling because they kind of embody much that I hate: long waits, stifling crowds and rickety tables cramped closer together than the worst Manhattan perpetrator. And normally, being passed over when all the other customers waiting outside for seats were being handed free glasses of champagne would've been the last straw. But yes, the fact that we returned six days after our first visit is a testament to their allure.
It did have the advantage of being a ten-minute walk from our apartment, just across the railroad tracks, but that was just a happenstance bonus.
The steakhouse is not traditional in that it's a touch more stylish them some (though not slick). The décor is typically woody and rustic, but the music is more ambient techno than acoustic guitar folksy, and instead of standard papas fritas on the side, you're plied with baker's dozen of ramekins containing pickled and creamed vegetables and starches, banchan-style. The portions are enormous, completely high quality and were priced well below our expectations ($61 for meat, sides, dessert, bottle of Malbec and glass of champagne, all for two). It set the standard for the rest of the week where meat wasn't always so monstrously sized, wine glasses weren't filled so tall and desserts not as decadent. We practically peaked on night one.
Bread basket and pimento cheese spread. Southern hemisphere meets the American south.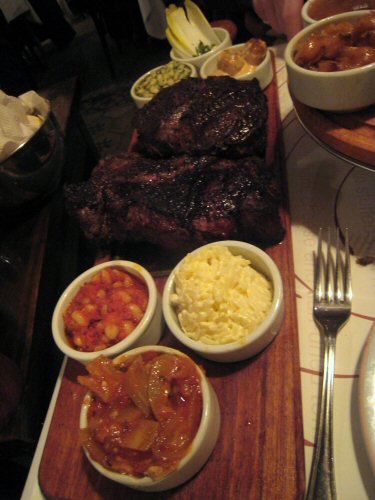 We couldn't gauge portion sizes based on price because everything seemed reasonable by NYC standards. We initially ordered a bife de chorizo (sirloin) and an ojo de bife (rib eye) and thankfully were told that that was insane (I think my Spanish classes are finally starting to pay off—while I still can barely speak coherently, I understood way more on this trip compared to Mexico City last May, and had little trouble communicating). Instead, it was suggested that we order media portions of each, which still ended up being gargantuan at half-size. Being big leftover advocates (which is kind of frowned on here, but I just can't waste food), we were excited to learn that para llevar is completely normal in Buenos Aires and we were offered doggie bags throughout the week for things that even I wouldn't normally bother wrapping up.
The sides on the plank include white beans two ways, one with parsley the other with tomatoes, an eggplant caponata, endive with creamy dressing, baby potatoes in another creamy sauce and the only accompaniment that scared me: cold rice tossed with what I suspect was mayonnaise.
As you can see the ojo de bife on the right is a little pinker because I asked for it "jugoso." I'd heard horror stories about overcooked meat, but that never turned out to be a problem even when doneness wasn't specified.
Clockwise from the top: whipped sweet potato, mashed potatoes, black olives in a tomato sauce, creamed mushrooms, roasted garlic, raisin applesauce and onions pickled in red wine vinegar in the center.
Here's what I hate to admit: I swear I can't tell the difference between grass-fed beef and our corn-fed style. I don't doubt that I could detect nuances in a side-by-side taste test but I only eat steak in the US maybe two or three times a year so the flavor wasn't easily conjurable.
I've never been beef-crazed, but while in Buenos Aires I found myself wanting more and more meat, seriously, even while chewing I was already planning ahead to where we could try more the next day. When I thought for sure I would burn out after two meals and the opposite occurred, I realized something unusual was going on.
Most beef here is just boring, that's the problem. This meat had some chewiness, the flavor strong and pure. Much of the wow came from the contrast between outer char and inner tenderness. I do think they trim their meat less, leaving desirable (to me) pockets of fat.
I love dulce de leche filled crepes, a.k.a. panqueque. This was a fancy rendition with fresh cream, peach slices and ice cream that tasted like nutmeg and cinnamon. For someone who's not supposed to be eating sugar, this is the type of tooth-achey concoction I'll make an exception for because I like my desserts super-sweet and gooey, all or nothing.
We did receive a complimentary glass of champagne after dessert, which nearly made up for being alcohol-slighted during our 45-minute stint outside. Yes, even while trying to relax on vacation I hold grudges.
* * *
Luckily, we were able to squeeze in a lunch before having to head to the airport and I finally got my morcilla. The dark innards inside the casing were very moist and soft and slightly sweet. If they weren't called blood sausages, I don't think Americans would be so scared of them. Ok, I guess the blobs look scary, too. They cracked out chimichurri (which doesn't come with most steaks in Buenos Aires, contrary to the condiment's ubiquitousness in US Argentine restaurants) as well as an oniony tomato puree.
We ordered half an ojo de bife. Interestingly, the sides weren't exactly the same this time and included hummus which was a tasty oddity. And yes, we took the steak remnants to go, packed them in a suitcase and ate them for dinner back in Brooklyn. Quite possibly the best souvenir ever.
La Cabrera * Cabrera 5009, Buenos Aires, Argentina