Unguilty Pleasure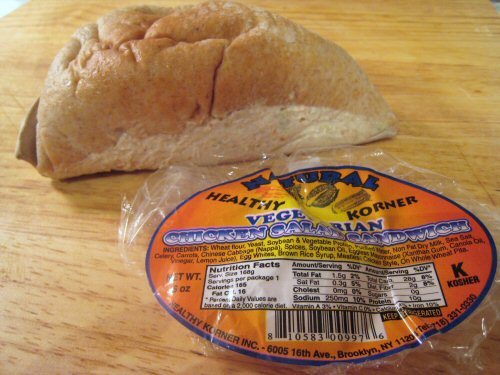 I not only love old-fashioned chicken salad (light on the mayo, though—I've only shed my fear of the thick white condiment in recent years), but practically any permutation, Kosher vegetarian included.
These Healthy Korner pitas are inexplicably tasty. How can boring carrots, cabbage, celery, eggless mayonnaise and brown rice syrup (whatever that is) meld into a creamy, crunchy and satisfying light meal?
Carnivores and herbivores have been known to find the whole mock meat thing gross, but I love the chewy texture of pseudo proteins. Vegetarian Dim Sum House has mastered the Chinese approach, which appeals to my Asian food love.
But I don't stop there. I have no love for hippies yet I'm a sucker for weird health food store prepackaged sandwiches. And as much as I like to rip on Oregon, I do miss the occasional Bhima Power Burger. I wish you could buy The Higher Taste products here. This isn't the type of food I want to eat for dinner but I would take it over the deli salads and boring crap I normally eat for lunch.
I do draw the line at raw parsnip pinenut sushi, however.