Remind Me, Why do Goldfish Need to Wear Sunglasses?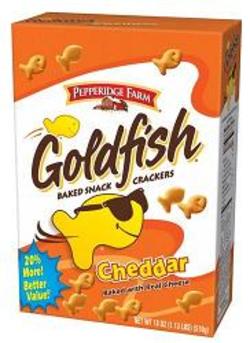 Pepperidge Farm Partners With Natural Food Chef, Bethenny Frankel, To Debut Baked Naturals Crackers and Encourage People to Take Back the Snack!
Funny that they don't mention her current role as the single Real Housewife of New York City who can't get her boyfriend who already has three children to commit to her and make more babies.
Instead, Pepperidge Farms has played her up as the "break-out star" from a 2005 Martha Stewart Apprentice spot (the gal clearly loves her camera time).
I suspect it's because it's hard to sell the concept of  taking back snacks when the woman subsists on lychee martinis and air. I keep waiting for her to eat something, one little nibble—she's a "healthy foodie," right? But no, just cocktails.
On last night's episode Bethanny was bragging about her friend's restaurant Table 8 in Miami and the whole scene filmed there was her sitting at the bar drinking and getting a lecture about her eggs no longer being fresh (admittedly, someone talking about my eggs like they're a farm product would make me want to slam a few oranjitas, myself). What's the use of pals with restaurants if you don't get free food?
But you seriously think I'm going to read a book called, Gain 25 Thin Thoughts. Lose 25 Heavy Habits and Be: NATURALLY THIN! written by a drunkorexic?