Centro Vinoteca

I've decided that Wednesday nights right after work are perfect for dining out and that there's no shame in being a mid-week early bird. Last Wednesday I was on an inexplicable burger rampage and this Wednesday one my irrationally un-favorite cuisines, Italian (I think I'm turned off by the blind American fetishizing of Tuscany. You can't turn on a home and garden channel without getting the crap scared out of you by a hideous Olive Garden-inspired kitchen oozing travertine, marble, granite and horrific grape and/or wine motifs. And you can only watch so many leathery divorcees looking at brokedown yet charming Tuscan villas on House Hunters International) began to seem alluring for no reason at all.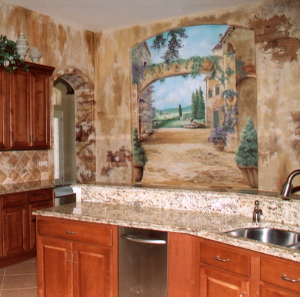 This is not Centro Vinoteca
You have to go with these gut feelings. I considered newish, nearby, weirdly located Bar Tano, but ultimately nixed Brooklyn. I wasn't up for anyplace super new either. Centro Vinoteca is one of those places I was never inclined to visit when it opened, so why not now. It is a handsome little space: clean, modern and thoroughly non-Tuscan.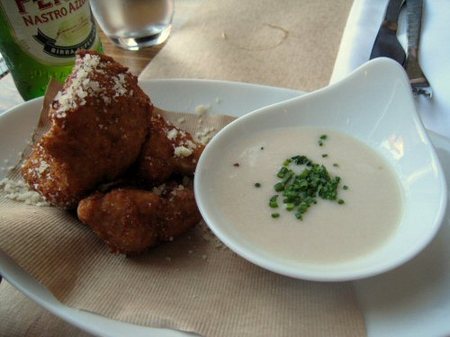 We chose one item from the list of piccolini, which are more like bar snacks than small plates, though you could certainly cobble together a meal from them. The off-white sauce tasted almost like pure garlic, and it sort of was; agliata is no more than garlic, bread crumbs and vinegar. Our cauliflower fritters had a parmesan zing but could've used a little more salt and this comes from a chronic under-salter. If I think something's under seasoned, it's seriously in need of saline.
The grilled shrimp with panelle was a smart choice. I'm not sure if it was an herb or a  dressing component, but something lemony lifted up the whole dish while the light chickpea wedges were earthy and Indian-feeling, possibly from cumin, not like the Sicilian versions I've had before.
I didn't take pictures of food that wasn't mine but an appetizer special of soft-shell crab and favas with an aioli looked amazing. I don't like ordering the same dishes as fellow diners so I was polite and conceded this super spring-like pairing to James.
I've never been into pasta (though I love Asian noodles) and am presently starch-limiting, but figured pastas were a strength and were unlikely to be massively portioned. No, they weren't gut-bustingly huge, but mine was heavy and wintery considering the weather (this was the day my office decided to prematurely turn on the air conditioning). It was a strange warm day for rich boar ragu, hefty gnocchi and fried onions. Abstractly, I enjoyed the deep, bittersweet flavors but I was burning up; the sun streaming through the floor-to-ceiling windows overheated the small space like an oven. There's a good reason to only dine after sundown.
I got into the quartino in lieu of single glasses of wine, which yields about a glass and a half per serving. I tried two wines from Alto Adige, a rose first and a pinot noir with the ragu. The boar could've handled a bigger red, but I'm not a genius at pairing.
Off the subject, but I really liked the woman who cleared plates and that might've been a server (I don't understand front of the house restaurant dynamics). All the others were perfectly professional young, metro/homo sexual men, ours possessed a vague Karim Rashid look. But the lone female could've come straight from a New Jersey diner or possibly a woman's prison. She was a little rough around the edges, kind of wild-eyed, tattooed, middle aged (or maybe just a candidate for 10 Years Younger) and said things that a poised male staff member couldn't get away with. Upon asking us how we liked our food, to which we enthusiastically replied "oh, we liked it." she glanced down at our just-shy-of-clean plates and kind of huskily cackled, "I can tell." A West Village guy can't tell you that you've been a pig without being rude.
Also, I don't understand young women who go out to a relatively nice restaurant with tons of creative options and order a salad, pasta and tap water. I would just as well stay home with a nice aluminum tin of Pasta Hut or actually partake in Carroll Gardens's fine Italian offerings.
Centro Vinoteca * 74 Seventh Ave. S., New York, NY