Athens Tavern

I hate to admit that there's a food I don't like because I prefer to believe I'm open minded. But I have to say that I'm not crazy about rabbit. There, I said it.
It's definitely not something I grew up with, but then neither are most meats beyond chicken, ham and ground beef. When I ordered rabbit two birthdays ago at Cookshop the taste weirded me out. I thought it was a fluke, though. Yet the same thing happened again with this creative Greek preparation employing cinnamon and bergamot. The sea of orange is mashed sweet potatoes.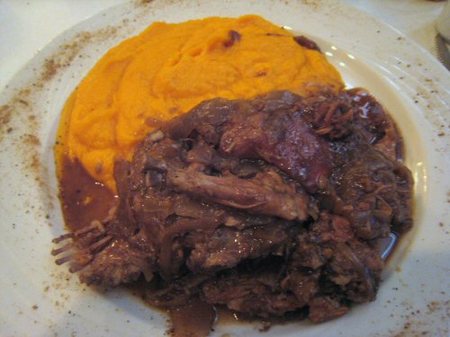 I don't have issues with offal or venison or heck, even horse. Game is fine but there's something about rabbit that's tangy and sharp, hitting my palate high and towards my throat almost like vomit. Literally like I threw up in my mouth a little. It's definitely doesn't taste like chicken.
Athens Tavern is interesting in that it doesn't fall into either predominate NYC Greek category: Manhattan haute Hellenic and dully traditional fare in Astoria. Athens Tavern sits in said Queens neighborhood but it's far more ambitious than grilled octopus and spanakopita.
We were given three dips from the appetizer menu gratis. No complaints there. From left to right: mavromatika, a black-eyed pea salad, melitzanosalata, garlicky eggplant mash served with barley rusks, taramosalata, a carp roe puree that I seriously couldn't stop eating. I don't understand how fish eggs, lemon juice and olive oil can be so good.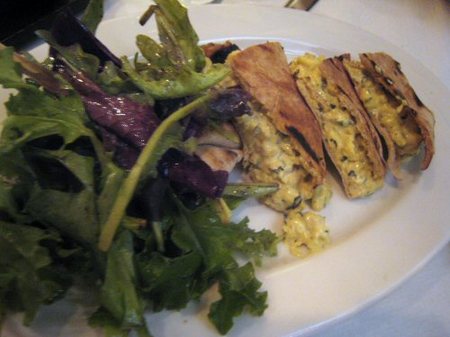 Kypriakes pittes gemistes me pikantiko kotopoulo is a mouthful. All you need to know that all those words equal curried chicken salad in crispy pitas. Kind of strange, actually. The English description made mention of pie, so I was hoping for something more flaky and pastry-like.
James ordered a whole grilled fish, possibly a porgy, but the photo was even blurrier than the ones I've included here.
We didn't order dessert but were brought two anyway and glasses of Muscat. I wasn't sure if this was hospitality or special treatment. Not that I do anything to warrant freebies. You might think that furtively scribbling notes or taking photos in a restaurant would draw attention, but it rarely does. I think New Yorkers are blasé.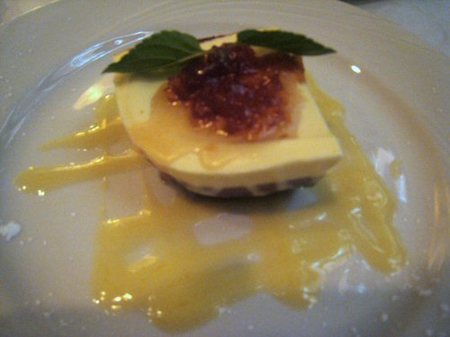 Pineapple phyllo and rose flavored chocolate mousse were both very alluring but unnecessary since we'd already eaten our fill. Ok, since I let my rabbit hesitancy out of the bag, allow me another admission that will make me seem like a pickier eater than I am. I absolutely gag at the thought of eating flowers, and even flavors like violet, rose and orange blossom give me trouble.
In high school I occasionally smoked Jezebel cigarettes perfumed with rose and gardenia. I thought they were the coolest because they were pink and magenta with gold tips and matched my hair color. But they were so sweetly foul they'd induce instant nausea. This is how I feel about flowery desserts.
That is not how I feel about Athens Tavern, however, just rose water. Read my positive review on nymag.com.
Very strange…the day I finally got around to posting this (I wait until my listings get published, which can lag anywhere from a few weeks to many months from when I actually ate the meal) a bit shows up on Grub Street that the restaurant might be history. Well, I just typed all this nonsense so there's no deleting it now.
Athens Tavern * 23-01 31st St., Astoria, NY