Schnitzel Haus

1/2 I've never actually eaten a schnitzel at Schnitzel Haus and that's because the pork shank, a.k.a. schweineshaxe (I can't believe I've been able to use that word twice in a month) is so irresistible. And yes, I'm still doing my part to hype up German food as the new culinary hotness.
Because I was feeling gracious I allowed James to order the pork this time and I branched out with the sauerbraten. This was a dry, boring mistake. While the sauce was tart and meaty and the dumplings were carby fun, the meat was kind of eh. I don't buy into that death of entrée bullshit but I did get bored after a few bites.
The schweineshaxe was as decadent and crackly as ever, though there was one obvious change from last year's visit. What used to be the standard size is now listed as a special for twenty-something dollars while the version on the regular menu is a little cheaper, tinier though hardly dainty. I did say that the original shank easily made three servings, so they must've wised up.
We tried the smoked trout appetizer, which pretty much tasted like smoked trout. I'm not sure what was in the spread that accompanied it. If I didn't know better I would say it was cream cheese whipped with horseradish and something sweet like applesauce, though I doubt they actually used applesauce. My only gripe was that you need something starchy with smoked meats (at least I do) and we asked for bread and no one could seem to get around to doing this, despite a breadbasket sitting on everyone else's tables. Complaining about bread and moderately slow service is very old-lady-ish but I can't help myself.
On this particular Friday night we were treated to a full band warbling Steely Dan and Jimmy Buffet renditions (more and more it seems that Mr. Buffet is the prime choice for cover bands) and Killepitsch girls (who looked nothing like the model on the brand site) trying to sell promotional shots of herbal liqueur. I was curious, but not $5 curious.
I hear there is a buffet on certain weeknights. You don't see many, if any, German all-you-can-eat offerings in NYC, and it's doubtful there's much demand either. But if unlimited spaetzle and brats are your thing, Bay Ridge is the place to be. (12/12/07)
Keeping it simple with my nymag.com review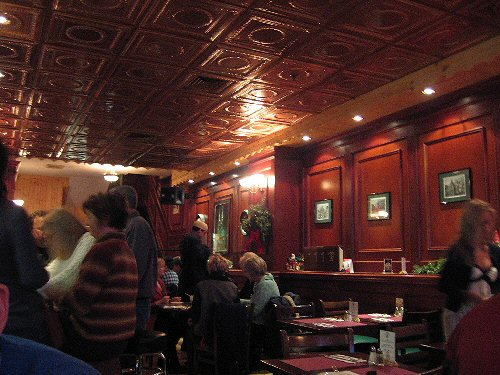 "The Killmeyer's chef is now at Schnitzel Haus" doesn't have the same stop-the-presses effect as say, Pierre Schaedelin exiting Le Cirque
(that doesn't actually mean much to me either—just trying to be à la
minute). But as the venerable taxidermy, cuckoo clock and beer stein
haunts (and the Germans who patronize them) of Glendale and Middle
Village begin to dwindle, they're not dying out altogether. They're
just being reincarnated into modern renditions. Not modern in the sense
of Loreley or Zum Schneider but suburban and shiny like Manor
Oktoberfest, which just opened in the bizarro Shops at Atlas Park,
and Schnitzel Haus, which appeared a few months ago in Bay Ridge on
that moderately quaint chunk of Fifth Avenue that completely changes
character the second step under the BQE and out of Sunset Park.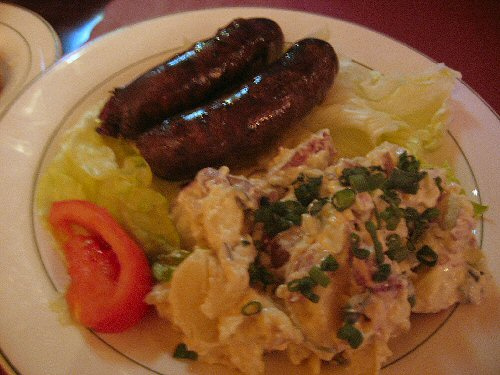 German
food doesn't really get much respect in these parts—it's hearty, heavy,
clunky—but it has a time and place. The deep-freeze that set in this
past weekend was crying out for dark beer and sausage (painfully humid Hua Hin,
on the other hand, couldn't tempt me with brown bread and brauts no
matter what) and Friday nights I usually stick to Brooklyn. I don't
even know of any other German options in the borough, so Schnitzel Haus
it was.
The scene is pretty easy to grasp: valet parking,
glowing Christmas tree, holiday tchotchkes on the walls, live solo
entertainer alternating between George Benson hits and carols, and a
bar filled with non-ironic mustached men and their dolled-up
middle-aged wives. Kind of an NYPD/FDNY vibe (though later on a large
group of young, outdoorsy-hip types came in with the Park Slope version
of teen flash-in-the-pan Jackson Pollis). I loved it.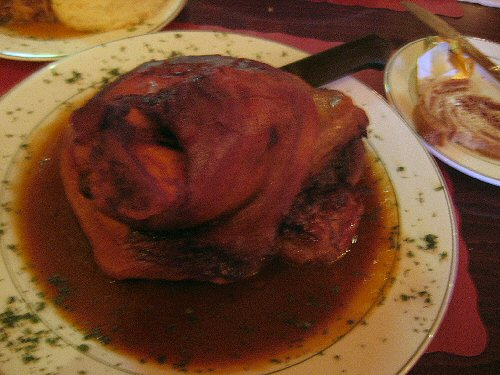 I
was tempted by the meat salad listed in the appetizers but decided to
go with something, uh, lighter: the venison-cherry sausage with potato
salad. Hey, there's fruit and vegetables in that. Oh, and crumbles of
bacon stuck between wedges of mayonnaised starch.
I didn't even know where to begin with the entrees. There's a whole
page of sausages and every meat gets the same voluminous treatment. It
had to be pork. I was hoping the schweinshaxe hofbrauhaus would
be like alpine lechon; fatty, tender flesh encased in a crackly skin.
And it was, though I was knocked out by the size of the shank, which
took up so much room that the accompanying mashed potatoes and
sauerkraut were served on a separate

plate. The meaty hunk was so gargantuan that I ate it for dinner the
next night and still couldn't finish it. I can see why they've
instituted a $2 plate-sharing fee. With the exception of the daintier
specials (a meatloaf that I spied on the table next to us and a pork
loin hollandaise dish that I thought sounded odd but James ordered
anyway) the mains could easily be split two ways at the very least.
Dessert was out of the question. Instead I ordered a third beer and
savored the warbling of "On Broadway" being sung only feet away. (12/12/06)
Schnitzel Haus * 7319 Fifth Ave., Brooklyn, NY